- Cllr Alta de Kock opened up her home to a squatter
- This shocked her friends and family
- However, she says she's giving him a chance to uplift himself
PAY ATTENTION: Click "See first" under the "Following" tab to see Briefly News on your newsfeed!
A councillor in Vryheid, KwaZulu-Natal, has left her family and friends in disbelief after taking in a homeless squatter.
Cllr Alta de Kock took the decision during a mission to rid an open field of illegal squatters last week, Briefly.co.za learned.
According to Vryheid Herald, Alta noticed a polite and neatly dressed young man who was helping everyone else. His name was Thembelane Mhlongo, also known as "Five Rand."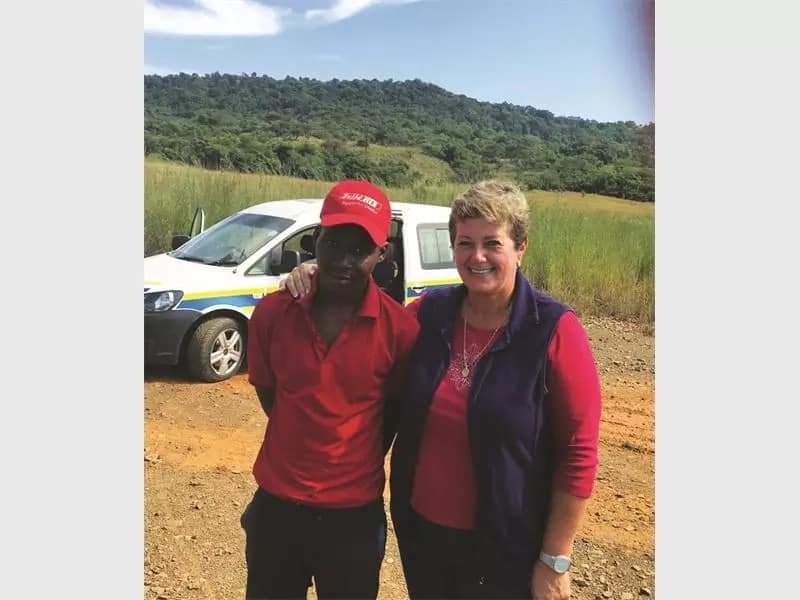 Alta spoke to Five Rand and learned that he didn't have anywhere to go. She said:
His father had died while he was in Grade 10 and his mother passed away the next year. After losing both parents, he also lost his home. After [the police] questioned him, I asked Five Rand if he wanted to come home with me, and he did.
The following day, Alta took him to a local school to check if he could be enrolled to finish his matric. However, he couldn't because he was already over 21.
READ ALSO: Dario Gouveia: The smile and joy that he gave me motivated me to collect more shoes
The councillor helped Five Rand apply for an ID at Home Affairs. She allowed him to live in her outbuilding in return for doing her garden once a week.
In addition, she got him a job as a gardener at a wedding venue, where he now works twice a week. From his income, he will pay Alta's housekeeper a small amount for his meals.
READ ALSO: 14-year-old wonder boy tipped to be the next greatest footballer
Alta brushed aside her friends' concerns about taking in a stranger. She explained:
I trust my gut and I believe that the Lord opens my eyes in specific cases. Even if Five Rand proves me wrong, at least I know I gave him an opportunity.
Yes, there are some poor people who just sit back and take handouts, but there are others who just need a chance. They just need to find their footing. They just need somebody to give them an opportunity.
Do you have a story to share with us? Inbox us on our Facebook page and we could feature your story.
To stay up to date with the latest news, download our news app on Google Play or iTunes today.