Boko Haram leader Abubakar Shekau: What we know about him
Abubakar Shekau, the leader of Boko Haram, the Nigerian militant Islamic group, is one of the most feared terrorists in the world. The operations of his group have frustrated the residents of northeastern Nigeria, wreaking havoc. The infamous leader also has a record of threatening to conduct terror attacks in Nigeria and the USA. However, as a feared man, he is also believed to have several lives, as he has survived several military attempts on his life.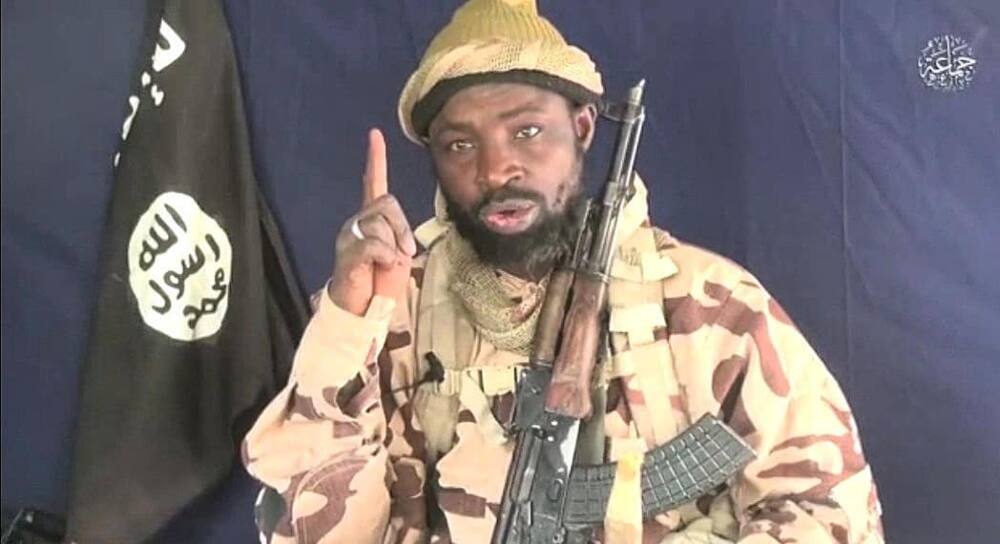 On 7th June 2021, the world woke up to news confirming that Abubakar Shekau had been killed. While most people find it difficult to believe the details, his biography uncovers his life and how he rose to become the feared man. The details also give an account of his inhumane acts and how his death happened.
Abubakar Shekau profile summary
Full name: Abu Mohammed Abubakar bin Mohammad al-Sheikawi
Nick name: Darul Akeem wa Zamunda Tawheed or Darul Tawheed
Death: 19th May 2021
Place of birth: Yobe State, Nigeria
Nationality: Nigerian
Spouse: Mallam Fitdasi
War: Boko Haram insurgency
Languages: Hausa, Fulani, Arabic, English
Abubakar Shekau's biography
Where is Abubakar Shekau now? In 1990, Abubakar relocated from his hometown to the Mafoni area in Maiduguri. In Mafoni, he studied under a traditional cleric before joining the Borno College of Legal and Islamic Studies, currently known as Mohammed Goni College of Legal and Islamic Studies. However, he did not complete his studies. Instead, he left for ideological reasons.
After quitting, he met the founder of Jamaat Ahlus Sunnah li Dawah wal Jihal, Mohammed Yusuf, and became one of his deputies. In July 2009, he was appointed to be the group leader after Mohammed Yusuf's death during the Boko Haram uprising. During the uprising, the Nigerian security forces shot him in the leg, although he survived.
How old is Abubakar Shekau?
Abu Mohammed Abubakar bin Mohammad al-SheikawIi, known to many as Abubakar Shekau, was born in Shekau town, Yobe State, Nigeria. His year of birth is unknown, although some claim he was born between 1965 and 1975. Therefore, according to the speculations, his age could be between 46 and 56.
What is Boko Haram fighting for?
Who is Shekau, Boko Haram leader? Before delving into who he is, it would be prudent to unveil what Boko Haram is about. Mohammed Yusuf formed Boko Haram in 2009. The group's main objective was to push for establishing an Islamic State under Sharia law in Nigeria. The group's secondary objective was the imposition of Islamic rule beyond Nigeria.
Boko Haram leader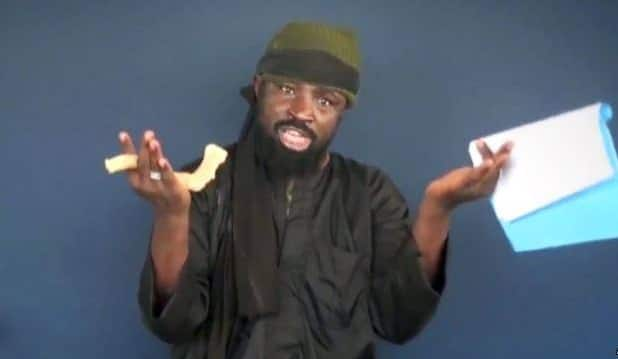 Abubakar's leadership faced challenges. During his tenure, he received a letter from al-Qaeda advising him about his operations, although he did not heed. His erratic leadership also led to a fraction of the group breaking off to form Jamaat Ansar al-Muslimin fi Bilād as-Sudn. The breakaway group included his military commander and religious advisor.
As a result, Abubakar engaged the breakaway group in conflict, and his army killed the religious leader. The Nigerian government arrested the other leaders of the breakaway group; hence, the group did not challenge Abubakar's leadership. The breakaway group later became defunct in 2015.
Terrorising the locals
Abubakar's fellow jihadists became uncontainable and would harass and abuse the populations within their jurisdiction. Their actions led to the formation of the Civilian Joint Task Force to fight them. In 2012, the United States Department of State recognised Abubakar as a terrorist; hence, they froze his assets in the US. The department also promised a $7 million reward in exchange for information about his whereabouts. The Nigerian army also offered a $300,000 reward for the same.
Abubakar Shekau videos
While governments put in efforts to take him down, Abubakar posted provocative videos boasting of his invincibility. For instance, in Abubakar Shekau's speech, he would mock several armies while referring to himself as unstoppable. In addition, he often said he could not die except by the will of Allah.
In one of Abubakar Shekau's videos, he boasted of owning armoured tanks and combat vehicles. He also made multiple threats to attack the USA.
What happened to kidnapped Nigerian schoolgirls?
In his provocative video in 2014, he took credit for the abduction of more than 200 school girls. He went further to state that the girls had been converted to Islam. He also confessed to promoting jihad against Christianity. Joint operations by the Nigerian military and the Zamfara state police department culminated in 279 school girls being rescued from Boko Haram.
Abubakar Shekau killed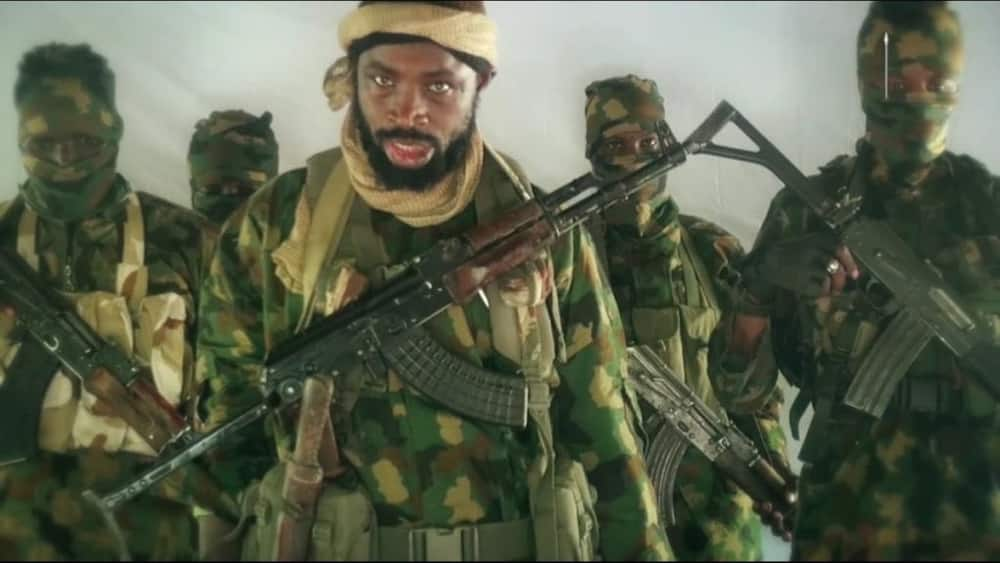 The head of Nigeria's most-feared terrorist group is reportedly dead. Abubakar Shekau, the infamous Boko Haram leader, is said to have blown himself up. In the recording, a man identified as al-Barnawi alleged that his fighters had tracked down Abubakar on the orders of the Islamic State leadership and caused crashes at the Boko Haram insurgents until Shekau escaped. Barnawi stated that Abubakar had killed himself by detonating an explosive claiming he could stand being humiliated.
A report by the Nigerian intelligence reiterated that Shekau is dead. Abubakar Shekau was allegedly killed on several occasions in the past twelve years. On one occasion, the military announced his death only for him to appear in a video.
Abubakar Shekau's wife
The name of Shekau's wife is Mallam Fitdasi. Mallam is reportedly feared to have been killed in October 2017 in a military airstrike. According to the spokesperson of the air force,
Battle damage assessment had indeed revealed that the aerial attack set off a fire, causing damage to the insurgents' structures within the settlement.
According to the claims, Mallam died while representing Shekau in a coordinating meeting on the day of the airstrike. She passed on among other members of the Boko Haram.
According to a political analyst, Shekau's death could result in the end of the violent rivalry between Boko Haram and ISWAP. His death might enable ISWAP to absorb Boko Haram fighters to consolidate Boko Haram's territory in northeastern Nigeria. His death might also allow ISWAP to focus its attention on the military and government, whose war efforts are dwindling.
READ ALSO: Idriss Déby age, children, wife, religion, dead, Boko Haram, worth
Briefly.co.za published shocking details about Idriss Déby, the former president of Chad. He was one of the longest-serving African leaders.
Idriss Déby was famous for leading Boko Haram confrontations. In 2020, he claimed victory after stating that he had destroyed the terror group's bases. However, he was killed in April 2021 while in the frontline during a fight against the northern rebels.
Source: Briefly News