- Matt Suttner was so moved by this random act of kindness that he felt an overwhelming need to share this beautiful story
- In this amazing and heroic story, the hero didn't wear a red cape, but drove a red bakkie
- What Matt realised while witnessing Red Bakkie Guy's kindness is that maybe we can all be like Red Bakkie Guy, and just look after each other
PAY ATTENTION: Click "See First" under the "Following" tab to see Briefly.co.za News on your News Feed!
The hero in this story didn't wear a red cape, he drove a red bakkie.
'And what made him a hero' you may ask? Well, while the entire world was going about their daily routine, Red Bakkie Guy, as he has been aptly named, stopped to hep a fellow citizen in need.
The unknown man climbed out his car, while leaving the engine running, to help an elderly man cross a busy road.
This is the kind of spirit we need in South Africa.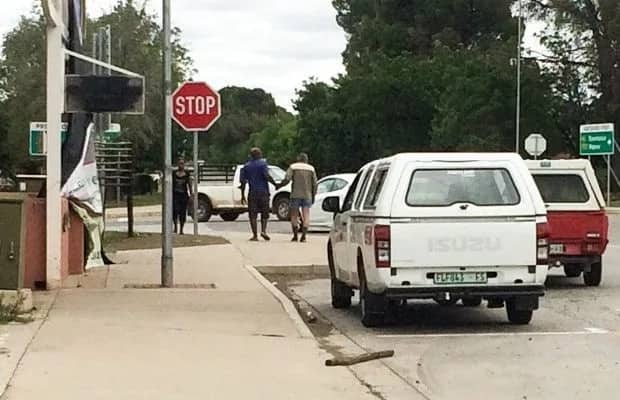 READ ALSO: 7 interesting facts about Isibaya actress Ayanda Borotho
Briefly.co.za gathered that Matt Suttner was so touched by what he witnessed, that he felt an overwhelming need to share the story.
According to Good Things Guy, Matt said: "I thought with all the 'crap' that's going on around here you might need to hear this story."
When Matt stopped in the tiny town of Smithfield while on their way to the Eastern Cape , he expected only to stretch his legs, but what he witnessed that December day instead touched him so much.
"After a little while, I noticed an old white guy walking very slowly along the opposite side of the road. Having just come from the city, the bystander effect so typical of Jozi people kicked in and I automatically assumed the guy was ok… 'Shame,' I thought, 'he's probably having a nice walk, getting some exercise the old chap'."
Matt said he's ashamed to say he didn't give it another thought: "Because, well, we exist in a city where so many people are crying for help, we learn to look the other way very effectively."
Recounting the events of that day, Matt said he didn't even notice the elderly man stopped and looked in trepidation at the 'probably really intimidating task of crossing the road'.
In comes our hero, Red Bakkie Guy.
The driver of the red bakkie was driving down the same road. Suddenly, the sound of tyres screeching caught Matt's attention. Red Bakkie Guy stopped in the middle of the road.
Unlike the usual, Red Bakkie Guy didn't stop to give a taxi driver the finger, or tried to avoid a huge pothole...No, Red Bakkie Guy stopped to help the elderly man cross the road.
READ ALSO: Competition turns to camaraderie in Absa Cape Epic Cycle Race 2018
"The driver, a black guy probably in his early 40s, got out and without hesitation walked across the road and carefully offered his hand to the old man, who accepted it, looking relieved.'
Smithfield's very own superhero then proceeded to hold the old man's hand and helped him not only across the road, but all the way into the post office...All while his trusty stead, his red bakkie's engine was still running.
"Who knows, maybe they knew each other and were old friends, but I'm pretty sure they weren't."
Before hitting the road again, Matt said he and a woman named Kim stood on the side of the road and shed a tear. Smithfield's Red Bakkie Guy stole their hearts.
"It's easy to get swept up in all the negativity in South Africa at the moment, and certainly, we should be fighting back against anyone who tries to oppress or violate the rights of anyone else, but it's good to step back once in a while and realise that there are good humans out there," Matt said.
"One day maybe we can be like Red Bakkie Guy, and just look after each other."
Do you have a story to share with us? Inbox us on our Facebook page and we could feature your story.
To stay up to date with the latest news, download our news app on Google Play or iTunes today.