- Mbokota village in Limpopo is the home of a multi-talented artist named Lucky Ntimani
- A true human resource all on his own, he has built a mini industry in the village which attracts tourists and provides items to trade
- Ntimani is also an avid supporter of social development and skills acquisition and has taken it upon himself to pass on his wealth of knowledge to a ready supply of youngsters who are eager to learn
PAY ATTENTION: Click "See First" under the "Following" tab to see Briefly.co.za News on your News Feed!
For many people, "human resources" is just a fancy name for the people who handle the admin to do with hiring and firing workers. However, Mbokota village in Limpopo knows the true meaning of the term human resource. For them it is multi-talented artist in residence, Lucky Ntimani.
Briefly.co.za learned that Ntimani produces amazing work and has also taken to social development in transferring his artistic skills to the youth in and around the Mbokota village.
An artist with an almost magical ability to translate his imagination into reality from almost any piece of wood, it is as if Ntimani possesses the ability to see into the soul of the wood he is working with, seeing what it will be rather than what is looks like to everyone else.
In addition to his wood sculpting talents, Ntimani can play any traditional musical instrument familiar in Southern Africa with ease as if he were born to do so.
He even creates musical instruments of his own, using a small table, steel plate and a piece of wire, and people visit him from all over the globe to see what he has made.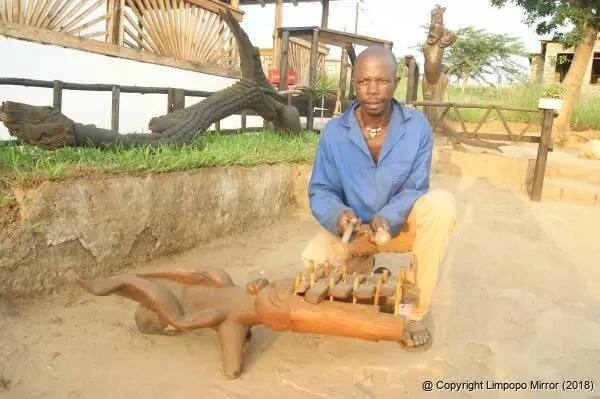 "This is one music instrument which I invented – and my regular guests from Germany, London, Australia, Netherlands and France love it," he said. "When I play it, they get intrigued. It fills them with wonder and awe to see that one can use discarded material to produce an amazing music instrument."
Not wanting to keep the knowledge all to himself and very aware of the need to pass on his abilities to the next generation he has begun to run arts workshops and skills-transfer programmes for the local youths.
As he teaches, they all come. He found so many youngsters flooded his yard after school that he was forced to built an all-side open shelter which he uses for a classroom.
"My children are quite amazing; they grasp the basics so fast and challenge themselves to produce the best of sounds or sculptures," says the artist with obvious pride. "We also have a big marimba troupe. I made the marimba instrument myself and gave it a unique tuning."
While Mbokota village in Limpopo is well known, even internationally for producing acclaimed sculptors, Ntimani is hailed as one of its finest sculptors ever.
His evolution to the life of an artist followed his traditional rites of passage, although he maintains that he was born an artist. "I started noticing that I was an artist at the age of 14, when I told cultural stories to my peers and composed songs of my own," he told a local newspaper some years ago.
"I breathe life into my art," he said and, as if to prove his point, his yard is decorated with statuettes and other creations of different sizes and shapes.He even takes commissions, and anyone interested in his art and his other artistic activities can phone him on 063 720 3114.
Source material and photos: Tshifhiwa Mukwevho, original article here.
If you are interested in videos. Check out the Briefly.co.za YouTube Channel where you can like, subscribe, or share our videos like this one about the five richest men in South Africa...
Do you have a story to share with us? Inbox us on our Facebook page and we could feature your story, or follow our editors on Twitter @BrieflySA, for live updates on breaking news.
To stay up to date with the latest news, download our news app on Google Play or iTunes today.