- Two Department of Justice employees have been suspended after they referred to a black colleague as a baboon and a monkey
- Lourens Botes and Natascha Steynberg Roos have been accused of racial misconduct following posts on Facebook about another work colleague
- The Department of Justice is investigating Wisani Mkhari's complaints
PAY ATTENTION: Click "See First" under the "Following" tab to see Briefly.co.za News on your News Feed!
In several Facebook posts, employees at the Department of Justice referred to a colleague as a baboon and monkey as they discussed work politics.
Lourens Botes and Natascha Steynberg Roos first communicated about Wisani Mkhari on March 25, 2017.
Steynberg Roos wrote a post to Botes on her timeline saying: "Did you see that baboon send email to chief director about overtime period from 2am and the computer stolen."
In a later post to Botes that day she wrote: "That baboon dink dit is sy company [thinks it is his company] ek haat hierdie mense [I hate these people] yesses! he must voetsek already!"
Botes responded: "haha praat more. delete post pls."
On June 1 Steynberg Roos posted to Botes on her timeline: "Did you hear what your bobbejan friend Mr Wisani did today?"
On November 1 Botes wrote a post to Steynberg Roos saying: "Did you see that monkey request leave audit?"
On November 20 Steynberg Roos posted yet another message to Botes saying: "That baboon is going to a disciplinary hearing!! God is goed [God is good]."
Briefly.co.za learned Mkhari, 41, was alerted to the posts two weeks ago and laid a complaint. The posts have since been deleted.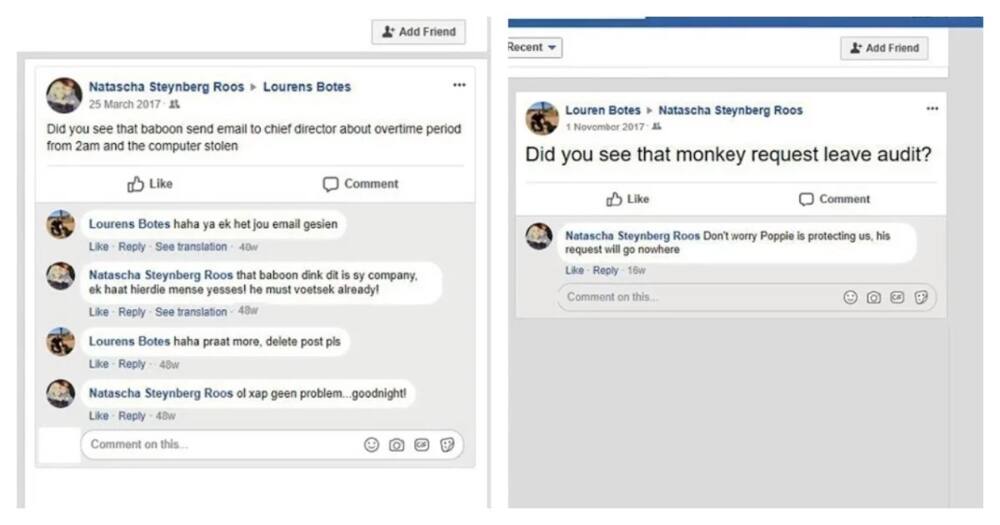 READ ALSO: Winnie Madikizela-Mandela: Roadmap of a legend
"It is the same as calling someone the K-word. The fact that they posted it on Facebook several times means they are used to calling black people all sorts of derogatory names," Mkhari said, adding that he had raised issues of alleged unfair discrimination in chief financial officer Louraine Rossouw's department in Pretoria, to no avail.
Justice Department spokesman Stephens Mahlangu said the department was investigating and that Steynberg Roos and Botes had been suspended.
"All such allegations are considered in a serious light by the department, and therefore a decision was taken to immediately remove the individuals from the workplace, firstly by arrangement between the supervisor and the colleagues and subsequently via precautionary suspensions, after due process was followed.
"The department initiated a forensic/technical investigation, which included independent services, and this included an assessment of the cellular telephones of the colleagues against which the allegation were made.
"After completion of the technical assessment, the matter was referred to the employee relations component for possible misconduct investigation, [which] should be finalised soon."
National Health Education and Allied Workers' Union chairman Dennis Mulidzwi said the department had not given any support to Mkhari.
"The department was supposed to send Mkhari for trauma counselling.
"In the past we have lodged several racial and discrimination cases in the department of the chief financial officer.
"Some of the cases go nowhere because the majority of the people who hold senior positions are white and they protect each other," Mulidzwi claimed.
However, Mahlangu said of the 266 filled posts within the CFO branch, 38 were filled by white employees.
He said all five chief directors were black, as were six of the eight directors, nine of the 13 deputy directors and 22 of the 27 assistant directors.
HRC provincial manager Buang Jones said the complaint had been brought to its attention last week and a preliminary assessment determined that there was a prima facie violation of the right to equality and human dignity.
"The commission will consult with the complainant and thereafter determine whether to institute legal proceedings in the Equality Court or whether the complaint merits a full investigation," said Jones.
READ ALSO: Tshwane sinkholes eroding city budget with repair costs of between R30m and R45m each
Do you have a story to share with us? Inbox us on our Facebook page and we could feature your story.
To stay up to date with the latest news, download our news app on Google Play or iTunes today.