These Streets teasers for September 2021: Will Asmita agree to marry Ridoy?
These Streets telenovela has won the hearts of many because of its fascinating storyline, endless drama, and talented cast members. For instance, Asmita does the unimaginable to stop her highly anticipate marriage. On the other hand, Beauty is determined to ensure Paro ends up with Shantanu. Here are These Streets teasers for September to give you a sneak peek of what to expect from your favourite show.
Shantanu and Asmita do not seem to run out of tricks. The two are doing everything possible to avoid their prospective spouses. On the other hand, Ridoy is not ready to let go easily even though he has noticed Asmita's heart is elsewhere. So, what next?
These Streets teasers for September 2021
How far can you go if someone forced you to marry someone you don't love? Below is what to expect from These Streets cast in September:
Episode 66: Wednesday, 1st of September, 2021
Asmita and Shantanu become emotional after he agrees to tie the knot with Paro. However, Asmita is not convinced about Shantanu's decision. As a result, she stops Shantanu's marriage to Paro.
Episode 67: Thursday, 2nd of September, 2021
Nivedita welcomes the prospective wives of Shantanu and Ridoy into the house. Is she having a change of heart about Shantanu?
Episode 68: Friday, 3rd September 2021
Asmita is not comfortable spending the night with Ridoy in the house. Thus, she comes up with an excuse to leave the house and goes to her father's house. Ridoy has realized that he is forcing himself on Ridoy.
Later, Ridoy apologises to Asmita. Surprisingly, he promises her that the wedding will take place once she is ready.
Episode 69: Monday, 6th of September, 2021
Dadi Bua manages to separate Shantanu from Paro. She tells him to head straight to the hospital. Later, Beauty gets mad at Dadi Bua and blames her for being a hindrance. As a result, she decides to end her life.
Episode 70: Tuesday, 7th of September, 2021
Beauty briefs Paromita about her evil plan about Asmita and Shantanu. Later, the two arrive at the Majumdar house to finalize their plan. Beauty reveals a picture of Shantanu and Asmita in a comprising position. Unable to defend herself, Asmita agrees to take a test to prove her innocence.
Episode 71: Wednesday, 8th of September, 2021
Shantanu is infuriated with Paro and Beauty's evil scheme. As a result, he scolds them for being illiberal. On the other hand, Ridoy gets mad at Nivedita for embarrassing Asmita in front of everyone.
Later, Beauty convinces Paromita to initiate the marriage as soon as possible. Beauty is afraid that Asmita might win Shantanu's heart before her plan goes through. In a turn of events, Shantanu comes up with an excuse to avoid the wedding; he takes a 3-month celibacy vow.
Episode 72: Thursday, 9th of September, 2021
Asmita walks in on Shantanu, who is relaxing in his room. She requests him to fill his forehead with vermillion powder.
On the other hand, Nivedita gathers all the family members to make a significant announcement. She informs them that they are proceeding to court to register the marriages.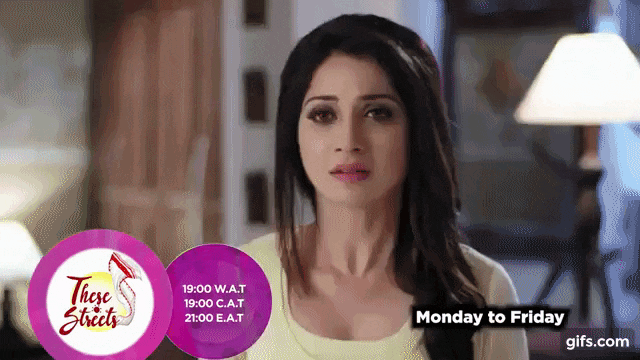 Episode 73: Friday, 10th of September, 2021
Ridoy convinces Shantanu to plan their honeymoon. His primary reason is to avoid the endless family drama that is toxic to some of the family members.
Asmita devises a plan that will help her monitor Nivedita's move. So, she approaches DSP Rane, who helps her to bug Nivedita's room. Later, Shantanu is shocked to learn that Asmita intentionally avoided the wedding; she took sleeping pills to avoid getting hitched to Ridoy.
Episode 74: Monday, 13th of September, 2021
In today's These Streets episode, Ridoy wants Asmita, but the green light is not forthcoming. Finally, however, Shawn prays that Asmita will loosen up and allow Ridoy to show her some good loving.
Episode 75: Tuesday, 14th of September, 2021
Paromita discusses Beauty's pregnancy with Mohit's child and her refusal to abort the baby. On the other hand, Asmita eavesdrops Nivedita and Shantanu's discussion concerning attempting to get a job done and the resolve to go with Shantanu. But then, Paromita spikes his milk and allows him to sleep with the negative mindset.
Episode 76: Wednesday, 15th of September, 2021
Beauty informs the family about the news of Paromita's pregnant state, and Nivedita becomes sorrowful after hearing this. Then, Asmita, who feels betrayed, becomes devastated and is afraid of how Shantanu changed from bad to worse.
Episode 77: Thursday, 16th of September, 2021
After Shantanu confronted Paromita, Paromita blackmails him emotionally so he could accept that he is the father. She does this by taking advantage of his memory failure.
Episode 78: Friday, 17th of September, 2021
The following day while the Sarasvati Puja is ongoing, Asmita narrates the ritual of 'Hatey Khori' to the media and ridicules Beauty for sermonising. Nevertheless, Nivedita requests Asmita to get Ridoy's walking stick, which is nowhere to be found. Paromita casts blame on Asmita for conniving to humiliate Ridoy.
Episode 79: Monday, 20th of September, 2021
Shantanu discovers Asmita's devious acts. After that, Ridoy manhandles Asmita; he also asks why his love has disappeared from her heart. Nivedita meets Asmita and inquires if the need for an unknown location is why she does not want to go for the honeymoon. After a while, Nivedita traps Paromita.
Episode 80: Tuesday, 21st of September, 2021
Chanda summons Shantanu and makes him swear that he knows nothing about Arindham's disappearance. After a while, a criminal lawyer, Vani Kapoor, shows up at Majumdar's apartment and informs the family that Arindham's case has reopened and would defend Shantanu in court. On the other hand, Shantanu and Asmita agree to love the yet-to-be-born child as much as they could.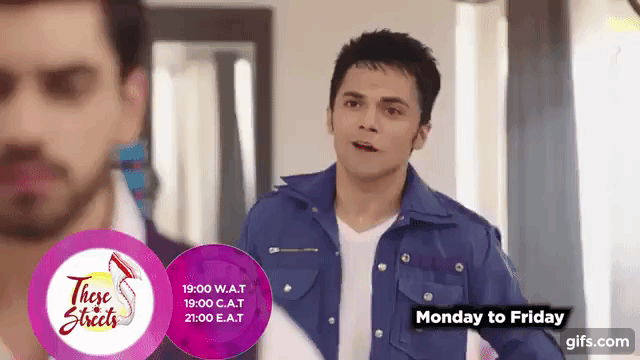 Episode 81: Wednesday, 22nd of September, 2021
From today's These Streets story, Nivedita convinces Shantanu to bring Paromita along to the temple the next day. But, unfortunately, Bijoy organizes a stampede that leads to an unfortunate death. Asmita sees Mohit at the clinic and devises a way to find out the truth from him.
Episode 82: Thursday, 23rd of September, 2021
Asmita wants to get to the court early. However, the judge does not give a new date for adjournment and is about to pass a verdict on Shantanu. During Nivedita's pregnancy, Shantanu's evil pasts and his devious plans to kill Ridoy in the womb become known to everyone. But, on the other hand, Asmita thinks Nivedita is a bad person and plans to expose her as revenge.
Episode 83: Friday, 24th of September, 2021
Ridoy is visibly displeased that Asmita forgot about his birthday. Meanwhile, Ridoy thinks the only way Asmita can prove herself right is to come along with him on a romantic trip, but she wants nothing to do with him. Beauty tells Nivedita that Arindham's brother, Neelambar, is her spouse and has done something great by getting Shantanu out of prison.
Episode 84 - Monday, 27th of September, 2021
Ridoy detests Shantanu but gives a statement in his favour during the final case hearing. Nevertheless, the court releases Shantanu but wants the police to bring Arindham's body to the court 24 hours before the judge decides on the case. Elsewhere, Niveta's spouse wants Arindham killed, but Nivedita opposes the idea because she needs him to sign the necessary documents before handing over the properties to Ridoy.
Episode 85: Tuesday, 28th of September, 2021
Asmita confesses the secrets to Ridoy during the Kali Puja. Meanwhile, Shantanu and Asmita are reminiscing about their childhood at the Puja when Nivedita overhears them. Also, Nivedita trails Asmita, who is searching for Mohit, and discovers that she is Puchki.
Episode 86: Wednesday, 29th of September, 2021
Shantanu discovers Paromita's deceits and vows to accept his union with Asmita in the presence of the world. Inexplicably, Nivedita and Shantanu have a discussion that leads to sending Asmita out of the house when she appears in a bridal dress.
Episode 87: Thursday, 30th of September, 2021
Nivedita's game is exposed. Before then, she had threatened Shantanu about setting herself and Ridoy on fire. Elsewhere, Shantanu demands an answer from Nivedita concerning a tricky question, and she is dumbfounded for a while. Finally, however, Nivedita manages to persuade Shantanu against marrying Asmita. Elsewhere, Beauty has Mohit hostage again and plans to murder Asmita.
Shantanu
Shantanu continued to play tricks about his marriage. Initially, he makes his mind about marrying Paromita, but he doesn't seem serious about it. At some point, Beauty discovered that he is not interested in Paromita. Together with Paro, they tried to frame him about sleeping with Asmita.
Asmita
Asmita did everything possible to avoid marrying Ridoy. However, when invited into the house by Nivedita alongside Shantanu and Paro, she comes up with an excuse to leave to her father's house. She can't imagine sleeping with him, let alone marrying him because her heart is elsewhere.
Eventually, she decided to take sleeping pills to avoid the wedding. Ridoy has already come to terms that Asmita is not interested in him. Even so, he allows her some time to make her mind. However, Asmita is busy creating ties with Shantanu.
Beauty
Beauty is determined to stop Asmita from marrying Shantanu. Instead, she wants Paromita to marry Shantanu by force. As a result, she tried all her tricks on Shantanu, and when she couldn't manage, she attempted to frame him. She plans to make sure the wedding takes place as soon as possible because it benefits her.
No doubt, These Streets teasers for September 2021 are proof that the show is worth watching. The telenovela gets better and better every day. For instance, the drama continues as Shantanu and Asmita intentionally avoid getting hitched by their prospective spouses.
READ ALSO: A Magical Love Story Teasers for September 2021: What dangers await the Khans?
In a related post, Briefly.co.za shared an update on the episodes of A Magical Love Story for September 2021.
For instance, Shayari appears for an interview in Rehan's workplace, whereas someone uses a drone to monitor the Khan's house, but they do not know about it.
Source: Briefly News