- Mandi shared the image on a Facebook group
- It soon went viral and warmed the hearts of thousands
- She was helping out because her helper was "exhausted"
PAY ATTENTION: Click "See first" under the "Following" tab to see Briefly News on your newsfeed!
A South African mom has warmed the hearts of thousands of people online by breastfeeding her helper's baby.
Mandi Barensché shared the amazing image in a Facebook group, Briefly.co.za learned. She wrote:
My sweet helper (who I consider my friend, my sister and my family) has been struggling with PPD and pure exhaustion with this little guy keeping her up all night with colic.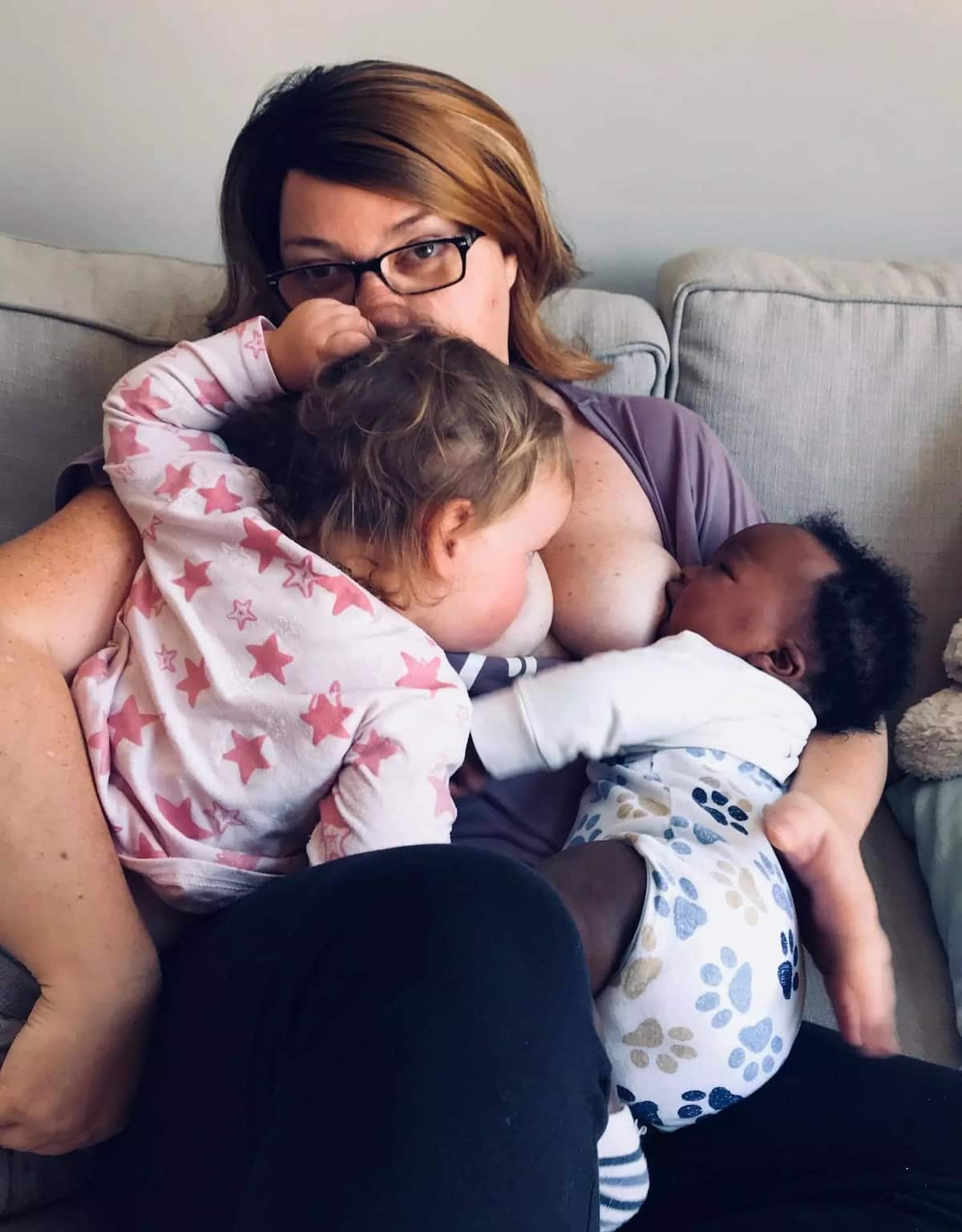 Mandi continued:
I have expressed for him a few times when Mom was still establishing her supply and now he just gets directly from the source.
My 20 month old little girl doesn't mind sharing but has to have boob at the same time. #ItTakesAVillage.
My 15 year old son took this pic and said Mom, please share this on the internet. Show the world because this is love
READ ALSO: Gayton McKenzie calls Juju a "small boy"
The act of breastfeeding someone else's baby is known as wet nursing. Mandi received plenty of praise for her kind act. One commenter wrote:
This South Africa is true love. There are ordinary human beings sharing unconditional love each day! #ittakesavillage #lovehasnocolour #chooselove.
In an interview with Goodthingsguy.com, Mandi appreciated the support:
It's not even a great photo – but the message and unity it has sparked is quite incredible.
She helps me raise my children, and I made a promise to her that when she was pregnant that I would help her raise hers too. We are a team. We are family.
READ ALSO: Malema calls Bathabile Dlamini "drunkard of the nation"
Watch Mzansi's billionaires in the video below from our Briefly - South Africa YouTube channel.
Do you have a story to share with us? Inbox us on our Facebook page and we could feature your story.
To stay up to date with the latest news, download our news app on Google Play or iTunes today.
Source: Briefly.co.za