- A woman who lost her leg when a gas cylinder exploded in her kitchen says she is happy to be alive
- Despite only having one leg she still enjoys wearing pretty things and is more sturdy on one high-heeled shoe and a crutch than many abled bodied women are in high heels
- Having been on a waiting list for a prosthetic leg through state health for some time, her friends and work-mates are now asking for help or donations to get her help privately
PAY ATTENTION: Click "See First" under the "Following" tab to see Briefly.co.za News on your News Feed!
Lungelo Sukazi, a 33-year-old administrative clerk at the Secunda Police Station, doesn't let having only one leg stop her from dressing smartly and displaying her stylish flare.
Her personality and drive, also serve to distract those who deal with her from the loss of her left leg.
Briefly.co.za learned Sukazi has adapted so well to her disability. It was only a year ago that she lost her leg when a gas bottle, being used during a power outage, exploded as she removed it from a hot stove top.
READ ALSO: Ayanda Ncwane: A widow's birthday message to her husband
Sukazi was staying with her parents, in eMbalenhle while on maternity leave. Her son was only three weeks old at the time.
"We had visitors from KwaZulu-Natal and my mom wanted to prepare breakfast for them before they left, but the electricity was off. She placed a gas bottle grill on top of the electric stove plate, and prepared food for the guests," explained Sukazi.
Later, when her nephew asked her to make breakfast, she told him to wait, unaware that he had already turned on the stove plate. The electricity had meanwhile been restored and the hot stove plate was heating the gas cylinder standing atop it.
"My neighbour and I notice the odd shape of the gas cylinder. She suggested I take a dry cloth and remove the bottle from the stove. I had scarcely picked up the cloth when there was an enormous blast," recounted Sukazi.
The young mother said she vividly recalls the details of the moment that the explosion took place as if time was standing still. After the explosion she noticed her injuries.
"I looked at my leg and thought it must be broken, although I later realised the bottom part was attached by a mere piece of skin. I kept hearing the hissing sound of gas being released and I dragged myself out of the kitchen. I saw my dazed nephew crying outside, my father with tears running down his face," she said.
The first thoughts she had was fear that someone might take a photo of her and post it on Facebook. She said she remembers seeing pieces of flesh lying around but decided it wasn't hers since "the texture was all wrong!"
"My mouth was dry, but no-one wanted to give me water. The ambulance came and I had to pull myself onto a stretcher. Then waves of pain came flooding in. I felt weak. I woke up in Evander Hospital. Ndalo had to be breastfed and checked out. He was unharmed."
One of Sukazi's nephews also nearly lost part of his foot, and was transported to a hospital in Pretoria while Sukazi was flown to Witbank where a surgeon amputated her leg at the knee.
Since she could no longer do the work she previously did at a wedding rental outlet in Pretoria Sukazi found herself without employment and back living with her two children at her parent's home.
She eventually found work as an intern working at the police station in February. However, since she isn't a permanent employee she is not a member of the medical aid.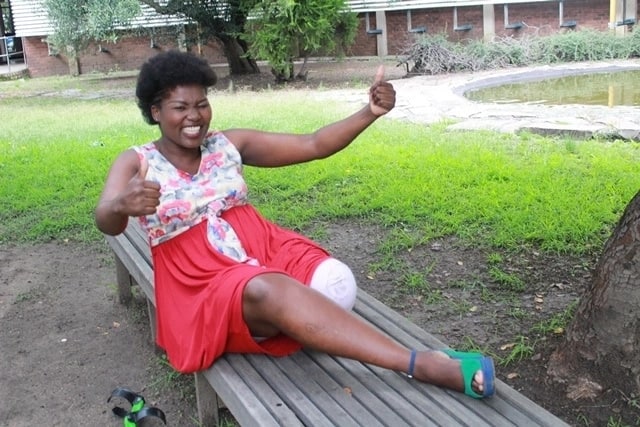 Her co-workers say they can't believe that the vibrant lady who inspires them so was once a shy, timid and reserved young woman.
Sukazi gives all the glory to God for bringing her through the days after her accident. "This was a very dark time for me, but I thank God for faith and mercy.This journey has made me a stronger person and I am now able to stand up for myself."
Sukazi says people's attitudes is what makes the difference in their abilities far more than their physical issues.
"I believe a disability is not always that which one can see. Some people are fully able-bodied, but their attitude is their disability."
Her colleagues are seeking any help or donations for a prosthetic leg. Anyone who is able to help can contact her at 082 059 4321. Please share this story, the person who can help her might be on your friends list.
READ ALSO: Sorry boys, Shonisani is taken
When you think of miracles. What African pastors immediately spring to mind? Check out this fascinating video we have compiled about African miracles for you! Then check out and subscribe to - Briefly South Africa's You Tube Channel.
Do you have a story to share with us? Inbox us on our Facebook page and we could feature your story or follow our editors on twitter by following @BrieflySA.
To stay up to date with the latest news, download our news app on Google Play or iTunes today.
Source: Briefly.co.za