- The Gupta brothers left the country in such a rush that two of their favourite vehicles are still parked at the Oakbay Investments office in Sandton
- A bulletproof multi-million rand black Infinity QX80 and a black Porsche Cayenne have been parked in the same spot since the brothers fled the country
- The vehicles form part of the restraint order obtained by the NPA's Asset Forfeiture Unit, but have as yet not been seized
PAY ATTENTION: Click "See First" under the "Following" tab to see Briefly news on your News Feed!
If anyone needed proof that the Gupta brothers left South Africa in a hurry the fact that two of their favourite vehicles are still parked at the Oakbay Investments office in Sandton should do. A bulletproof multi-million rand black Infinity QX80 and a black Porsche Cayenne have been parked in the same spot since the brothers fled the country.
The brothers are known to have favoured travelling to and from work in the armoured Infinity QX80. Office workers have confirmed that both vehicles have remained in the same spot since about the time the brothers fled from law enforcement officials.
READ ALSO: Farmer hands himself over to police after allegedly driving over EFF member in racist attack
The two vehicles are valued at around R5 million and form part of the court issued restraint order obtained by the National Prosecuting Authority's (NPA) Asset Forfeiture Unit (AFU) on 11 April, but as can be seen, the vehicles have yet to be seized.
Briefly.co.za gathered that a standard Infiniti QX80 retails for about R1.4 million, but the added security which included level B6 armour plating, bulletproof windows and run-flat tyres pushed the cost to an estimated R3.2 million.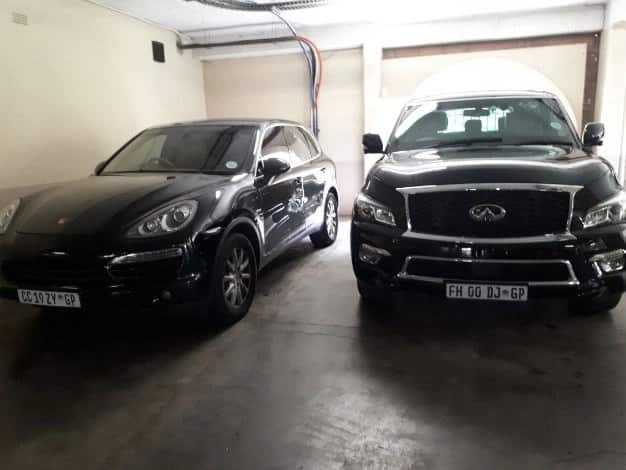 Infinity Melrose confirmed a QX80 model was sold to the Gupta-owned company Confident Concepts in late 2015. The dealership refused to comment on the actual purchase price or additional specification of the vehicle in question.
Infinity Melrose did confirm the vehicle was fitted with level B6 armour which is sufficient to withstand an attack from an AK-47 rifle.
The assets are connected to the Guptas in the Vrede dairy farm case and in total are worth an estimated R180m.The long list of assets included numerous houses, the most well-known being the compound in Saxonwold, as well as cars, coal mines, the private jets and helicopters.
The court order also indicates that any person or third party who are in possession of any of the listed assets should surrender these assets to the appointed curator.
The Guptas have through their legal team stated they would challenge the AFU's restraint of asset order.
The current whereabouts of the Gupta brothers remains unknown, although it is thought they are still in Dubai.
READ ALSO: The blessed life of Jacob Zuma's 24 year-old fiancé revealed
Do you have a story to share with Briefly? Visit our Facebook page where you can send us a message or leave us a comment. Your story could be shared online.
To stay up to date with the latest news, download our news app on iTunes or GooglePlay today.