- A fireman from Nelson Mandela Bay, touched by the story of a young amputee, went out of his way to find out more about her life and do what he could to improve it
- Siphosethu Ncandana, an orphan, was born with a condition where her bones didn't grow correctly resulting in her losing both her legs amputated at the age of two
- Firemen, Alton Senekal and colleague, Lungile Mni, are helping to ensure Siphosethu, now seven, is able to get "on her feet" and walk
PAY ATTENTION: Click "See First" under the "Following" tab to see Briefly.co.za News on your News Feed!
When a fire broke out at Kwanobuhle, in Uitenhage in 2015, little did Siphosethu Ncandana realise one of the the fireman she saw fighting the fire would end up becoming her personal angel, eventually helping her to walk and wear shoes again.
Briefly.co.za learned that Alton Senekal, a Nelson Mandela Bay Municipality fireman, was touched by the child's story after encountering her on a call-out.
The fireman decided, along with the help of a colleague, to make sure she will be able to walk and wear shoes like other children.
READ ALSO:
Siphosethu was born with hypomelia, a condition where growth of the bones below her knees were affected and consequently had both her legs amputated by the age of two.
Senekal's colleague, Lungile Mni, being known to the young girl's family was able to arrange an introduction between the two.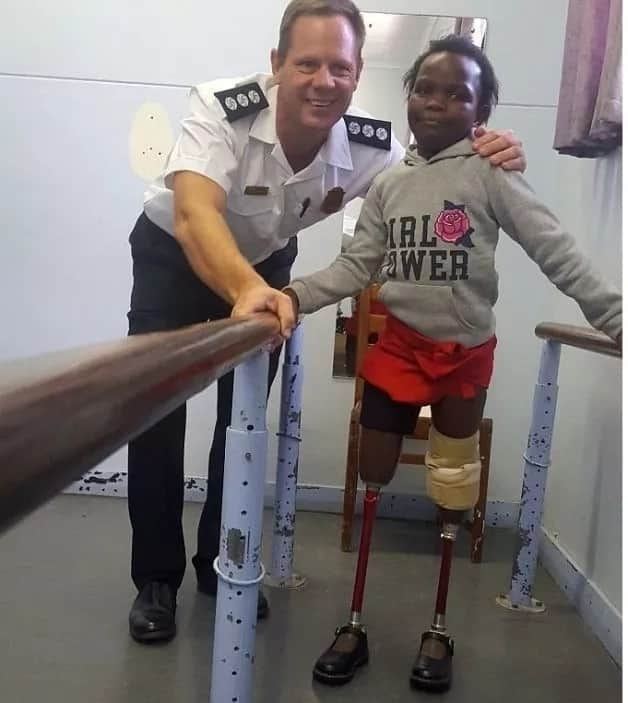 At that first meeting Senekal learnt that Siphosethu was an orphan. The young girl lived with her grandmother, Pinky Ncandana, who at 71-years-of age, was her primary caregiver.
Ncandana was only able to care for the child with help of another family member, 27-year-old Yolandi Jaftha.
The firemen set to work on how they could improve the lot of the family.
Among the interventions they organised was financial and practical assistance for the granny undergo an eye operation.
They also paid to transport Siphosethu to and from the hospital for corrective amputation surgery as well as getting her a wheelchair.
Just looking after the little family medically wasn't all the two firemen did. Going further than the call of duty they even took it upon themselves to provide groceries for the family.
Wednesday was for all concerned, the pinnacle of their interactions.
At an event organised by the two firemen, Siphosethu was given prosthetic legs - enabling her to walk for the first time and wear shoes like other children her age.
"I am doing this to encourage others to do good as well. If every person extends a hand to only one other individual to help, this world will already be a much better place," Senekal said.
Jaftha said the young Siphosethu had always dreamed of wearing her own shoes just like other learners at Stephen Nkomo Primary School where she is doing her Grade 2.
"I am very happy that she got legs and that she will be able to walk on her own, she liked to play with other children at school, but she would fall because she didn't have legs like other children," Gogo Ncandana said.
READ ALSO:
Do you have a story to share with us? Inbox us on our Facebook page and we could feature your story or follow our editors on twitter by following @BrieflySA.
To stay up to date with the latest news, download our news app on Google Play or iTunes today.