- Theresa was shopping when she realised that her wallet was missing
- She received a call from two Good Samaritans who had caught the thief
- They returned her wallet and handed over the thief to police
PAY ATTENTION: Click "See first" under the "Following" tab to see Briefly News on your newsfeed!
A Durban North resident has praised two Good Samaritans for recovering her stolen wallet and handing over the thief to the police.
Theresa Hoogewerf was shopping at Kensington Square recently when she realised that her wallet was missing, Briefly.co.za understands.
She soon noticed several missed calls on her phone. When she called back, the two Samaritans told her that they had her wallet.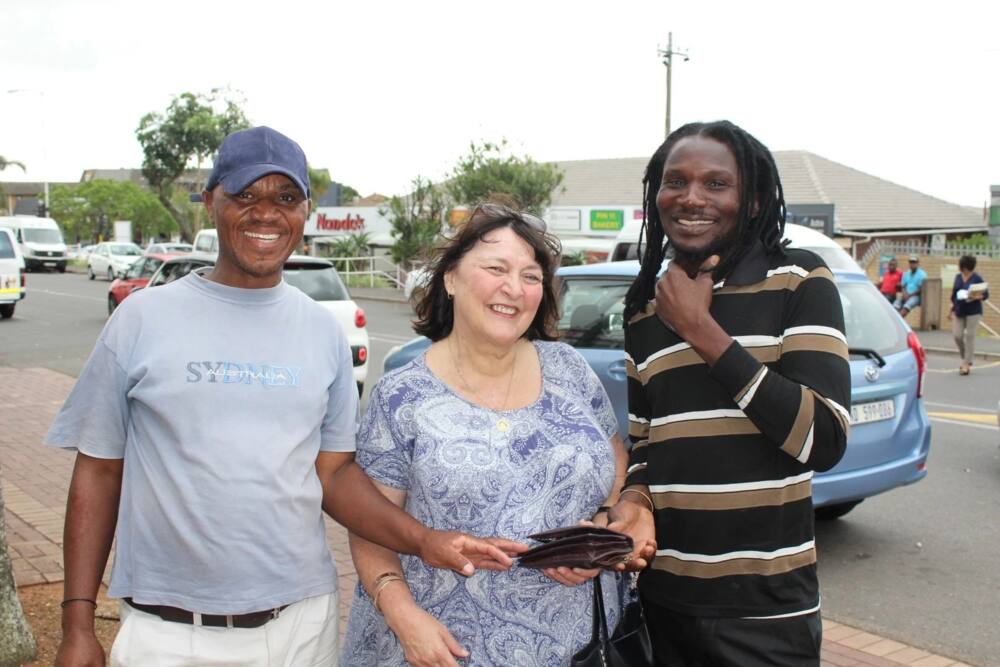 The thief was quickly nabbed.
Andrew Ngubane, a taxi rank manager, and Ernest Ndlovu, an onlooker, noticed a man behaving suspiciously. Among other things, he wanted to book an entire taxi to leave the taxi rank immediately.
Andrew explained:
He ran across the road and jumped into the back of an empty taxi which immediately I found suspicious. He then tried to hand me the money for the trip and that's when I noticed the purse.
I said let me see that purse and when I opened it I discovered a photo of Mrs Hoogewerf's granddaughter. We immediately detained him and Ernest called the number on one of the post office receipts found in the wallet.
READ ALSO: Esther Mahlangu to be awarded another honorary doctorate
My guardian angels.
Theresa was grateful for the kind help of the two Samaritans. She even called them her "guardian angels:"
I'm forever indebted to these two men who are my guardian angels. I was so happy that they managed to catch the thief and recover my valuables.
There was also a chain with a little angel clipped to my purse that had sentimental value to me. It was given to me by a member of our parish who was celebrating her 90th birthday and I was amazed the thief hadn't taken that off.
READ ALSO: South Africans blown away by hardworking loo cleaner who declined tip because she's just doing her job
Discover African proverbs and their meanings in the video below from our Briefly - South Africa YouTube channel.
Do you have a story to share with us? Inbox us on our Facebook page and we could feature your story.
To stay up to date with the latest news, download our news app on Google Play or iTunes today.