- After reading tons of comments on fair wages, Kyla Mills decided to share her story
- Mills grew up with a domestic worker, whom she considers one of her mothers, Ma Lina
- She added Ma Lina did everything for her- even if it meant not being with her own children
- Thus, Mills learned domestic workers offer up a lot to have an income to support their families in areas where water and electricity are luxuries
PAY ATTENTION: Click "See first" under the "Following" tab to see Briefly news on your News Feed!
Kyla Mills, a former lecturer at International Pre-University College, shared an inspirational story of how her parents' domestic worker shaped her understanding of South Africa today.
Mills shared a photo of her and Ma Lina on her Facebook account, where she explained the role the black woman played in her life and how she would never forget it.
She started of by saying Ma Lina is one of her mothers- she loved her from even before she was born.
Her experience with Ma Lina shaped the way she would always see, and treat, a domestic worker. From paying them R350 for five hours to her domestic worker use her shower- Mills feels there is a certain way people should treat those who work for them.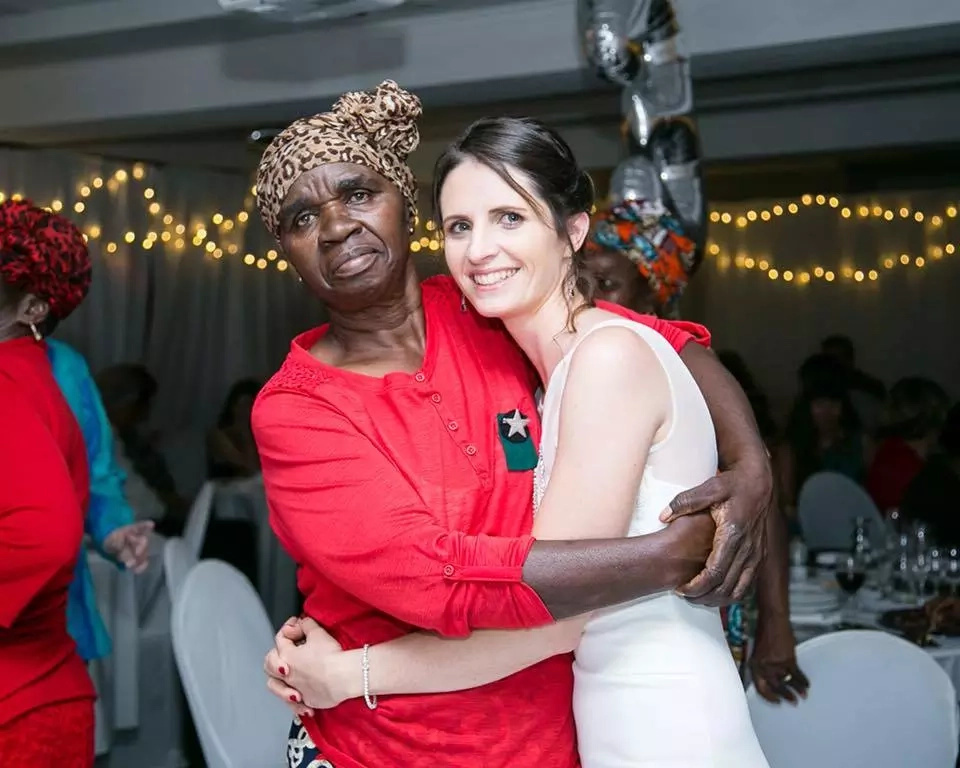 READ ALSO: Mangaliso Ngema learns his daughter never died at birth 25-years-ago, she was sold
Her post read:
This is one of my mothers. I'm thinking of her tonight after reading comments on one of my Facebook groups on fair wages
"Ma Lina knew I was a girl before my parents did. She knew because she loved me even then. She'd given her heart away to my brother and patiently waited for her next child from another woman."
"Ma Lina lived with us. Her son, Lucas, and the niece she was raising, Dipuo, lived in a township. Growing up I seldom thought about who was bathing and feeding them while Ma was doing that and more for us."
When Ma went home for December when I was 2, I refused to eat or wear clothing. People who were not my "mother" were trying to do the things my "mother" did.
I was 7 when Nelson Mandela came into power. My biological parents and white teachers had different explanations of what that meant to the explanation Ma had. Of course they did. I remember Ma showing me her "dompas" and translating that word for me. To me, she was anything but stupid. My whole life she'd always had the answers to everything, even when my parents didn't.
When Ma Lina went home for good when I was 26, I went to visit her. I saw how she and her sisters lived. And then I REALLY thought about Lucas and Dipuo. When Dipuo passed away about a year later, I informally adopted her son. How do you repay someone who spent about 90% of her childhood knowing her mother was away from her, raising you. (My boy, Itu, is 18 years old now and becoming more of a man every day despite having an absent father).
When I employed my own domestic worker I felt sick. All the food we didn't use and had to discard after their best-before date, all the luxuries we had, and all the resources we had access to suddenly became a source of shame.
We pay our domestic worker R350 for 5 hours of work on a Saturday. Seth makes us breakfast and we all eat together like a family. We buy her the lunch of her choice down the road while she showers in our shower and uses whatever toiletries she wants. We are not angels. We are people treating a person like a person. When Ma Joyce is ready, one of us drives her to the taxi that takes her to Diepsloot.
Diepsloot, where she waited many years for an RDP house. Diepsloot, where she raises her own sons as well as her nephews and niece as her sister is deceased. Diepsloot, where electricity and running water are luxuries. Diepsloot, where desperation and lack of opportunity lead to violent crime. The last words I always say to Ma Joyce on a Saturday are, "Stay safe."
White people tell me I'm insane when they ask how much they should pay their "help": "Minimum wage is like R20!" Yes. But paying minimum wage doesn't make you a minimum asshole. "She uses YOUR shower?" Absolutely. If she's the one who cleans it, she should sure as hell be able to use it. "My employer doesn't buy ME lunch"...because you can afford to buy your own, friend.
I understand that many people can't afford to pay as much as we do. But I also know that there are millions who can. And we can ALL afford to treat our employees with dignity, kindness, and respect. It must be heartbreaking to arrive at a nice suburban house and get on your knees to be able to put food on your table. It must be even more heartbreaking to be told, "There are so many people who would work for less, you know," when what you know is that your wages barely cover your expenses if at all. Most of all, how heartbreaking it must be to kiss another person's children goodnight when your own kids are going to bed without you there.
Ma Lina was treated quite well by us as far as I could tell. But I am sure that it was hard. She never hesitated for us. Never hit us once. Never raised her voice. She always held us tighter than Mom and Dad did when she hugged us, just like she is in this picture.
Please, before you settle on a value for wages, think carefully about the Lindt chocolate on the shelf while you buy pap for the people who make your lives easier. Think about the running costs of your own home and what it might be like to support a family with the money you're giving. Think about the lives of the people your employees have a stake in, from babies to grandparents. Think about your manicured lawns and beautifully kept houses, and what an exhausted wreck you'd be if it was all up to you.
Think about Ma Lina. I always do.
What are your thoughts on Mills' post? Visit our Facebook page to leave us a comment or inbox us your story and we could feature it.
To stay up to date with the latest news, download our news app on Google Play or iTunes today.
Briefly South Africa has gone through the list of current and immediate past African leaders and is ready to present Top-5 tips on how to be an average African president.