- A hijacker's attempt to steal a car has badly backfired when local men took him on
- The hijacker was armed but this did not deter the brave group of men
- After being thrown with large rocks the hijacker was forced to flee
PAY ATTENTION: Click "See First" under the "Following" tab to see Briefly.co.za News on your News Feed!
On the morning of 11 May 2018 a wonderfully heroic act happened in South Africa in the Edenvale area.
A group of construction workers bravely came to the rescue of a hijacking victim.
The 28 men were doing work on the construction of houses when they saw a man get out of a Golf R with a gun.
Instead of running for cover, these courageous men decided to defend the victim and take on the armed hijacker.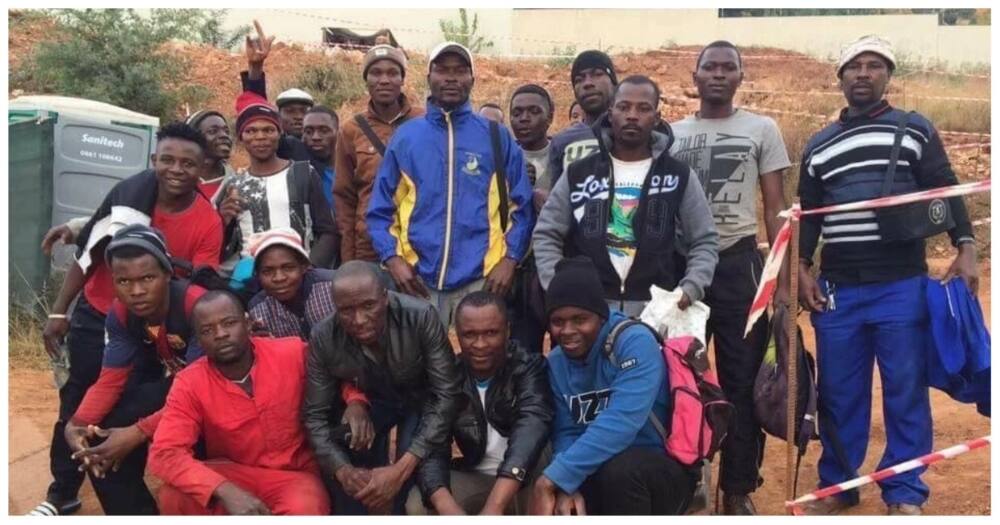 READ ALSO: TOP SPOTS TO TAKE YOUR BAE TO THAT WON'T BREAK THE BANK
The workers grabbed the nearest weapons they could get - huge rocks and half-bricks and started pelting the criminal and his car with it.
Seeing that he was outnumbered and that these lionhearted men weren't going to back down, the hijacker was forced to flee.
The hijacker did not get off lightly; he sustained damage to his car, like broken mirror caps and a broken windshield.
While the construction workers were teaching the criminal a lesson, the almost-victim had time to quickly and safely drive into their garage.
READ ALSO: GENERATIONS ACTRESS IVY 'GOG'FLO' NKUTHA LEFT DUMBFOUND AFTER HER CAR GETS STOLEN
The immensely grateful survivor took to social media to thank the men for daring to stand up to an armed and dangerous criminal for a fellow South African:
"Together we can do better things, thank you to these heroes Dont expect change to happen if your not part of making it happen...
I was almost hijacked outside my house on Kloof today. They managed to get in, shots were fired but everyone is okay.
However, there was a fairly bright side to the incident. There were construction workers building houses next to us at the time and when they saw an armed man getting out the Golf R they proceeded to throw half-bricks and huge rocks at the car, screaming 'get out of here Totsi's!' Etc. They continued to throw these rocks WHILE THE GUY SHOT AT THEM, until the car fled with a broken windshield, mirror caps etc.
I would just like to thank the 28 workers who launched that endless volley of debris at the hijackers so that I had enough time to speed into my garage and close it. :) Nice to see South Africans united against crime, you guys are champions!"
Yet again South Africans prove that as long as we stand together we will be able to make South Africa the great country it should be.
Do you have a similar story to share with us? Inbox us on our Facebook page and we could feature your story.
To stay up to date with the latest news, download our news app on Google Play or iTunes today.