- De Lille claims that the DA offered people money and food to protest against her
- People gathered outside the Western Cape High Court while De Lille's case was heard
- One protester confirmed that she was offered food to join the protest
PAY ATTENTION: Click "See First" under the "Following" tab to see Briefly.co.za News on your News Feed!
Former mayor of Cape Town Patricia De Lille has been in the news non-stop this week, and now the latest news is that she's claiming that the DA instructed and paid people to protest against her.
According to De Lille, the DA has offered food and a meager payment of R50 to people who would protest outside the Western Cape High Court.
The protesters were shouting creeds like "De Lille must fall" when De Lille was making her way into the court building.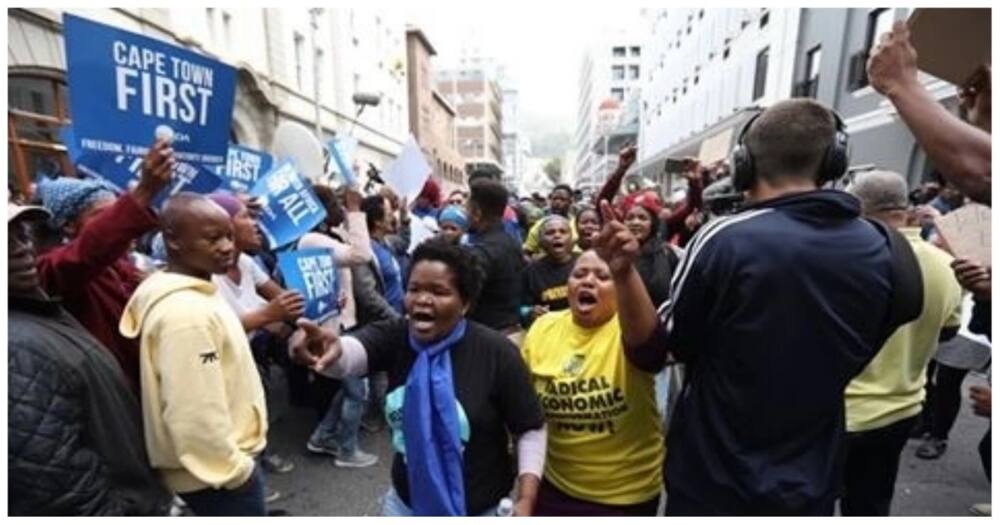 READ ALSO: Malema: EFF will continue to fight against white privilege and whiteness
One protester has confirmed to the media that she had been offered food as well as transport by her local councillor if she would go and join the protest against the dismissed mayor.
De Lille's legal team has argued that the DA and its federal bodies did not comply with the proper procedures and rules of natural justice in their decision to fire her.
De Lille is making a case in the high court where she will at least retain her post as mayor until the 25th of May. On the 25th her legal challenge to the validity of her removal from the mayoral office will be heard.
John De Waal spoke for De Lille and said to the court that the clause which the Democratic Alliance Constitution relied upon to remove De Lille from office was vague and capable of being abused. Therefor the clause us inconsistent with section 19 (3) of the South African Constitution.
"None of these clauses have ever been invoked against any member but a public representative that the DA wanted to get rid of."
READ ALSO: Chief Justice Mogoeng Mogoeng: Racism is a major setback to the country's development
De Lille is now fighting to keep her post as the mayor after her membership was rescinded by the Democratic Alliance on Tuesday.
Deputy mayor Ian Nielson has been filling De Lille's shoes since she left the office.
Despite all the negative news and rumors that De Lille has been involved in, her loyal followers are still supporting her wholeheartedly.
How do you feel about these claims by De Lille? Let us know on our Facebook page and we could share your opinion.
To stay up to date with the latest news, download our news app on Google Play or iTunes today.