- Both in prison for different crimes, the two met and fell in love
- They decided to tie the knot in 2015 and got married in prison
- The two shoe that true love has no boundaries and can conquer all obstacles
PAY ATTENTION: Click 'See First' under 'Following' tab to see Briefly news on your news feed.
If love is meant to be, it will find you, even if you hiding behind prison walls!
S'manga Theopilus Khumalo was charged with murder and while doing his time in prison Khunmalo met the love of his life, Eunice. Khumalo would not divulge details of his crime.
"I have been in prison since 27 October 2009 - 10 years in here already. I was in prison for three months when one of her young relatives got arrested for assault. He was remanded [in custody] at Boksburg Prison.
"That prison is rough, with gangsters ruling it. So my brother who is also my co-accused, took the boy to our cell as we felt pity on him. We knew what was happening with young boys of his age. We took care of him up until he was released in February 2010.
"The boy spoke good things about us and then Eunice decided to visit us and even followed our court case as we were still awaiting trial. The rest, as they say, is history."
The two love birds starting dating in 2010. They decided, in 2015, to tie the knot and got married in Johannesburg prison, better known as Sun City.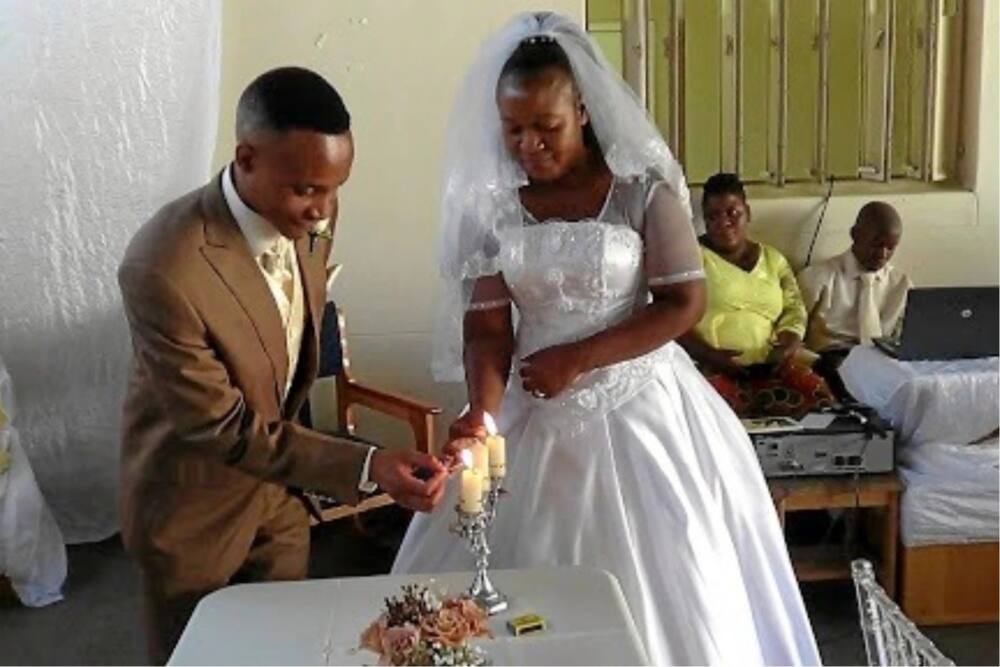 "I wanted to marry her because she showed me the other part of the world by accepting my situation and vowed to wait for me all the years I am serving. By marrying her while I am still here was to show her my appreciation and honour for her. She knows God, she is kind, loving, faithful, true to herself and respectful."
Briefly.co.za learnt that it was 2014 when on one of Eunice's visits, Khumalo handed her a letter which was he way of proposing to her.
READ ALSO: EFF's Mandisa Mashego aces anchor role, earns high praise from Malema
"Our relatives met early 2014 and they discussed how they would help us. His family organised the suit and the wedding ring. We had to request the prison for permission and they granted us early 2015 and a certain amount of guests were allowed. We had the pastor from our church conduct the marriage. On the eve of the wedding I went to have the place cleaned and decorated. It didn't look like a prison at all. October 27 2015 - our wedding day."
'There is light at the end of the tunnel' though. Khumalo will be released in six month time and plans on building a home in KZN and starting a transport and property enterprise.
Presently, Eunice works as a consultant at a medical aid company. Khumalo plans to have a large family with at least three children.
"I can't wait because it's been hard for us. We can't enjoy marriage benefits since this place limits my privileges. All our plans are on hold, she is also being mocked by people who know her," Khumalo said.
"Every Sunday she comes to visit me, which takes away her resting time since she is a working woman. It's my first marriage and I want to make her happy."
Watch the Top-5: How to be an African president - detailed guide and other videos on Briefly South Africa's YouTube channels.
Do you have a story to share with us? Go to our Facebook page and leave a comment.
To stay up to date with the latest news, download our news app on Google Play or iTunes today.