- Anwyn Dirks trapped a con man in her house and got him arrested
- The man was meant to enclose a toilet for her family and she was quoted R25 000 and paid him R2000 deposit, but then she caught on when no work was done
- At the Athlone Magistrate's Court on Monday, Anwyb learnt that she was not the only one this man took for a ride and was grateful that she was able to get justice
PAY ATTENTION: Click 'See First' under 'Following' tab to see Briefly news on your news feed.
Trapping an alleged fraudster in a house and getting him arrested! This is exactly what a Bonteheuwel woman did last week. She was clever enough to outsmart him.
Anwyn Dirks lives in a council house with the toilet erected outside. This 38 year old woman asked the municipality to enclose the toilet as her and her 5 children were getting sick during the winter months.
This request was not granted so she decided to matters into her own hands by hiring Michael to do the job. Michael's quote was R25 000 which included the plans for the building. Anywn was delighted as she knew if there were plans then all is above board, IOL news reported.
Briefly.co.za learnt that Anywn was eager to get things started and paid Michael R2 000 in February. She patiently waited for the architect "Andre", to arrive to approve the plans, but he never arrived.
When Anywn asked Michael why nothing had been done, his reply was that he had had a heart attack and he was still waiting on Andre.
After weeks gone by, Anywn once again asked Michael what was happening and again he had the same excuse that he had had another heart attack in April.
This was too much for Anywn who commented on Michael excuse that his heart must be f***ing strong for him to have two heart attacks in such a short period and survive. At this time she knew he was lying and decided to trap him should he not pay her money.
READ ALSO: Ramaphosa does the right thing and says sorry to Tutu
The plan was devised together with relatives in Bokmakierie. Her cousin phoned Michael pretending to be someone else and requesting a quote for a Wendy house to be erected on her property.
Thursday last week, May 24, Michael arrived at her cousin's house. Anwyn hid in one of the bedrooms ready to confront Michael about her money once he entered the room.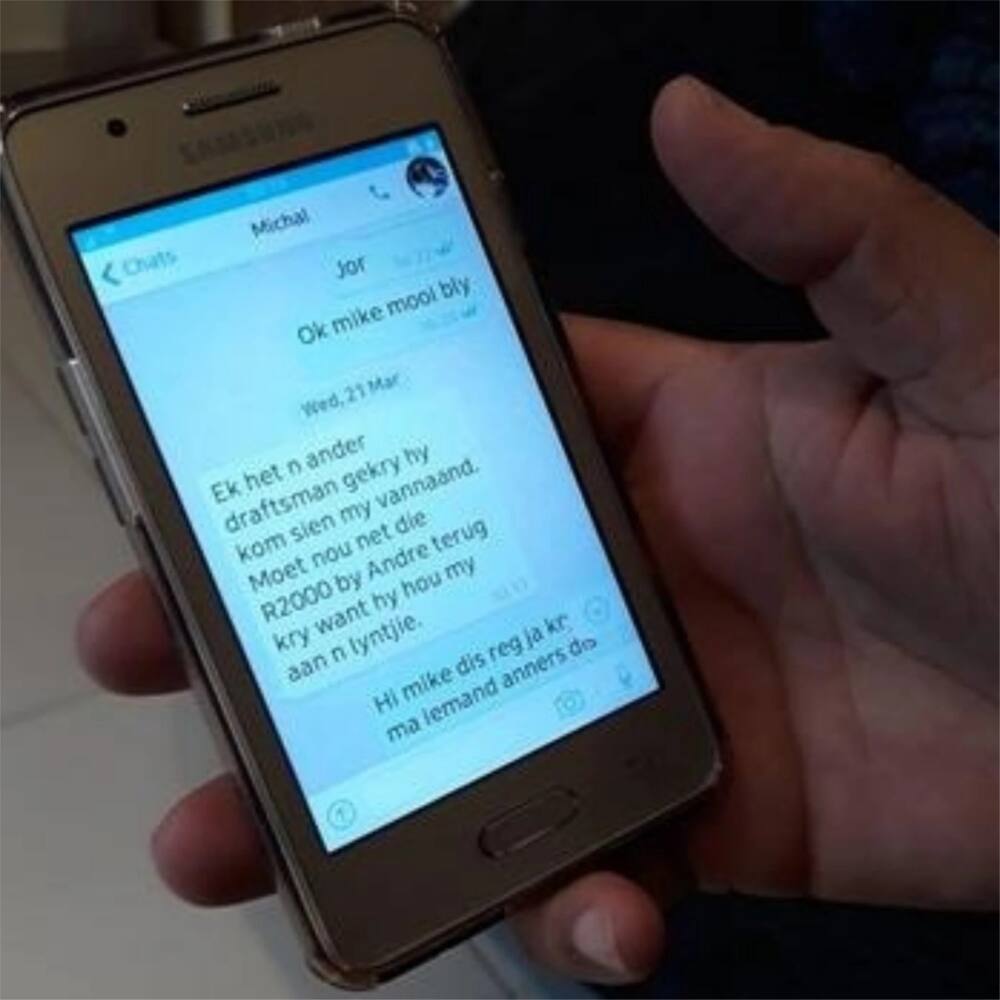 Anwyn's cousin took a video of the incident where it shows Michael begging Anwyn not to report him to the police.
Michael even offers her R1 000 not to open a case. Anwyn's response to this bribe, was to tell Michael he is extremely lucky that she doesn't assault him! She then locked him inside the house after which she called the police.
It has since been revealed that, Michael Miles of Concur Home Services, had allegedly scammed other people too.
Monday Anwyn was at the Athlone Magistrate's Court where she learnt that more cases have been opened against the alleged conman.
Many residents of Mitchells Plain, Parow, Athlone and other areas have been conned by the man. The court case was been remanded to 7 June.
Even though Anywn is heart sore due to the fact that Michael conned her out of R2 000, something she can't really afford, she is rather proud of the fact that she was able to stop this man by acting just like a detective!
Captain FC van Wyk, police spokesperson, has confirmed the arrest. The captain also said the matter has been referred to Bishop Lavis SAPS.
Watch the Top-5: How to be an African president - detailed guide and other videos on Briefly South Africa's YouTube channels.
Do you have a story to share with us? Go to our Facebook page and leave a comment.
To stay up to date with the latest news, download our news app on Google Play or iTunes today.