- 109-year-old gogo insists that she her ID book is wrong by eight years
- She says that her birth certificate is correct and was issued on the day that she was born
- Ouma Theresa Francis Mooloo talks non-stop about her life and at times becomes confused about which decade she is in
PAY ATTENTION: Click "See First" under the "Following" tab to see Briefly.co.za News on your News Feed!
Ouma Theresa Francis Mooloo believes that she is 109-years-old. She makes this claim based on her birth certificate which was issued on the the 29th of June 2014, the same day that she was born.
Her identity document is wrong according to her, she maintains that she was born eight years earlier than the date on the document. This would make her the oldest resident in Eersterus in Tshwane.
Despite her advanced years she refuses to be called old and insists that: "I an still young."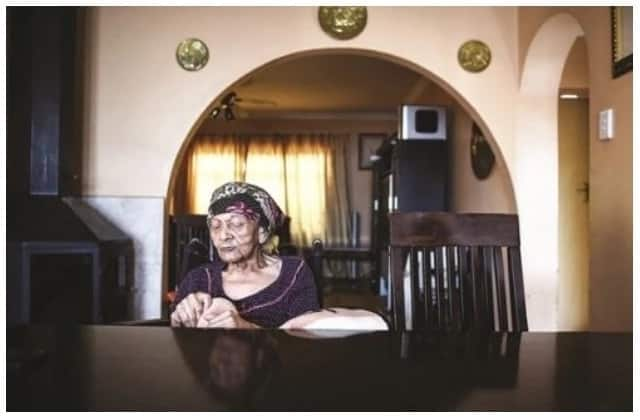 READ ALSO: 5 SA celebs whose real names are nothing like their stage names
She was raised by her grandmother after her mom died at a young age. She insists that she never drank alcohol but admits that she did smoke during the 80's.
Mooloo speaks continuously and at times becomes confused about which decade she is in as she recounts stories from the 70's, 80's and 90's.
She talks about her children as if they were still young and when asked about her husband her face lights up.
She recalls how handsome he was and that she was lucky to have him as a boyfriend and that his name was Papul Mooloo, an Indian.
As she chats she mentions in passing, that she was always a very pretty girl.
READ ALSO: Ramaphosa does the right thing and says sorry to Tutu
The aged gogo speaks Afrikaans but can also speak Sotho, Ndebele and English and loves to talk about sweets, chocolate and meat as she licks her lips.
"South Africa has a lot of rich people but who are the richest of them all?" Check out this video on - Briefly South Africa YouTube channel!
Do you have a story to share with us? Inbox us on our Facebook page and we could feature your story.
To stay up to date with the latest news, download our news app on Google Play or iTunes today.