- The ANC has lashed out at members who use social media to insult party leaders
- This comes after an ANC mayor called President Ramaphosa a sell-out in a Facebook group
- The ANC has reminded its members and more specifically its leaders about the party's social media policy which prohibits inflammatory posts
PAY ATTENTION: Click "See First" under the "Following" tab to see Briefly news on your News Feed!
The African National Congress (ANC) has lashed out at Dihlabeng Local Municipality mayor Lindiwe Kambule who used social media to insult President Cyril Ramaphosa.
Kambule was responding to a question in a closed Facebook group. Another user asked users to name the 'biggest stinking sell-out' they knew. Kambule responded by naming Ramaphosa.
READ ALSO: NPA boss Shaun Abrahams denies Zuma's request to delay corruption trial
The group currently has around 80,000 users and requires members to verify their ANC membership by providing their membership number and the contact number of their ANC branch chairperson.
Briefly.co.za gathered that leaked screenshots of the exchange prompted a harsh response from the ANC's national leadership. The party reminded its users and more specifically anyone in a leadership position about its social media policy.
The ANC has confirmed that Kambule will face disciplinary proceedings for her comment which it said went against the ANC's social media policy which was adopted at the December elective conference.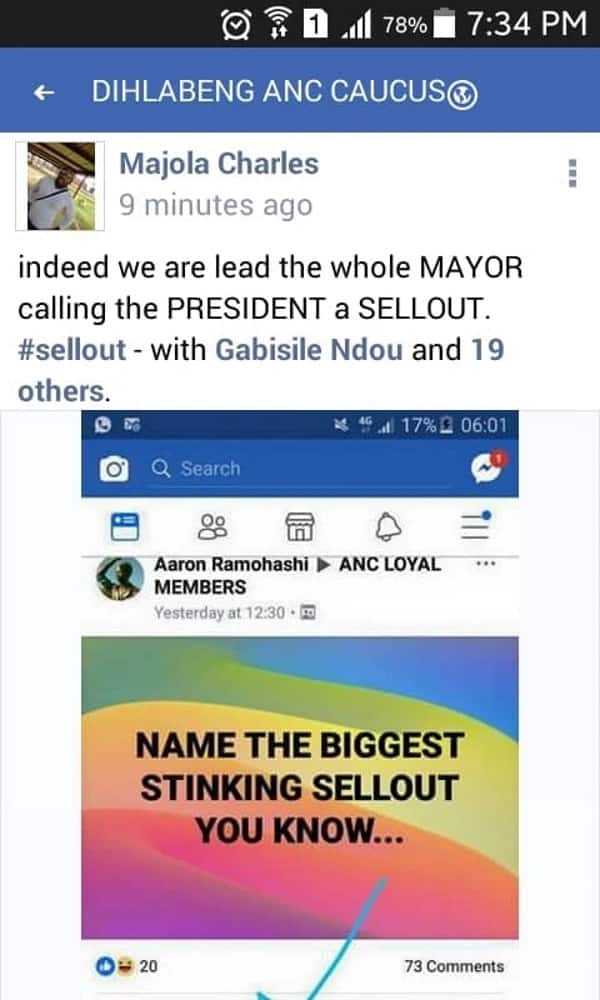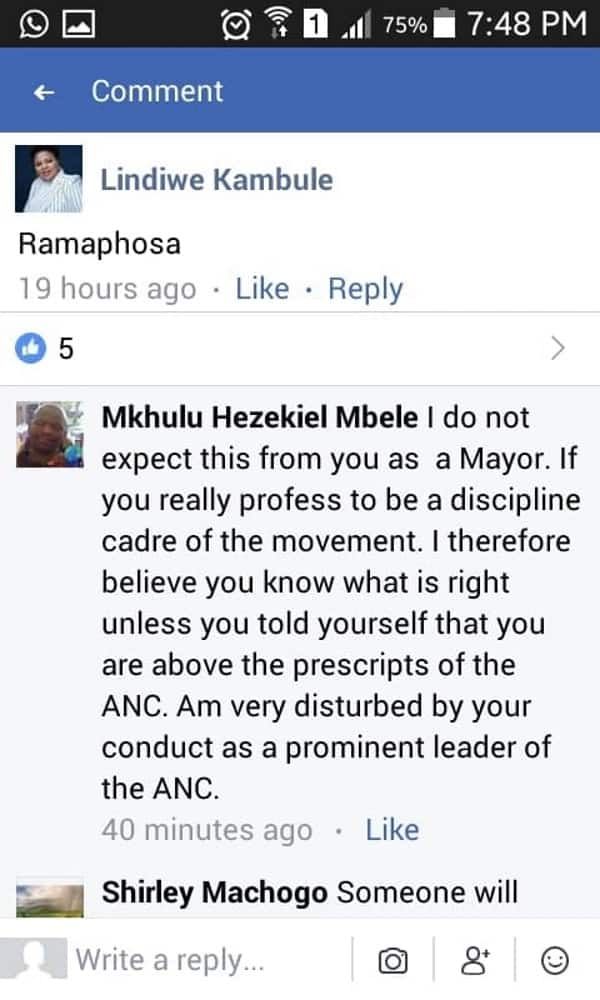 EWN.co.za reported that the ANC's policy states that users may not use inflammatory language in their posts and also states that posts should be respectful, legal and ethical.
Kambule also called another member of the group a 'devil worshipper' after the member expressed her disappointment with Kambule's post.
The mayor has also been closely linked to former Free State premier and current ANC secretary general Ace Magashule in the past. Citizen.co.za reported that Kambula was closely tied with the Magashule RDP housing scandal.
Magashule stands accused of directly interfering in the appointment of a Chinese company to build RDP houses in the Free State. The company which benefited to the tune of R150 million is partly owned by his daughter.
Reports indicate that Kambula was directly involved with the removal of the company which was originally tasked with building the houses.
READ ALSO: The R85m question: Why is South African fuel cheaper in neighbouring countries?
Do you think politicians should show each other more respect? Visit our Facebook page where you can send us a message or leave us a comment. Your story could be shared online.
To stay up to date with the latest news, download our news app on iTunes or GooglePlay today.