- AB de Villiers retired late in May this year and his fans were deeply upset by the news
- With the help of radiostation Jacaranda FM, one of the cricket player's biggest fans got to meet him
- AB explained to his young fan why he retired from international cricket before playing a friendly game with him
PAY ATTENTION: Click "See First" under the "Following" tab to see Briefly.co.za News on your News Feed!
When Protea cricket player AB de Villiers announced on the 23rd of May that he was retiring from cricket, it shook the cricket world.
Briefly.co.za reported on the announcement when de Villiers made the unexpected announcement that he would retire from international cricket with immediate effect.
"I've made a big decision today", he captioned a video of one minute and 35 seconds. In the video, de Villiers, who was the highest paid South African cricketer in the 2018 IPL, said it was time to make way for a new generation of athletes.
"After a 114 test matches, 228 One Day Internationals and 78 T20 internationals, it is time for others to take over.", he said.
READ ALSO: When the best suffer brain fade: Top 5 controversies of the World Cup
Briefly.co.za gathered he filmed the video at the Tuks Cricket Centre in Pretoria, where he played his first game 14 seasons ago.
AB de Villiers fans were left with aching hearts after the announcement.
A young cricket lover's mom wrote to local radio station Jacaranda FM to tell them how affected her son was about this news.
The radio station responded by arranging for the boy, 14-year old Leo Sadler, to meet his hero - a small gesture to make up for the sadness felt by his retirement.
But Leo didn't know that he was about to meet his hero. He thought he was simply being interviewed by Martin Bester from Jacaranda FM.
READ ALSO: Real Madrid offer Antonio Conte chance to replace Zinedane Zidane
Leo got very emotional when his hero walked into the room during the fake interview: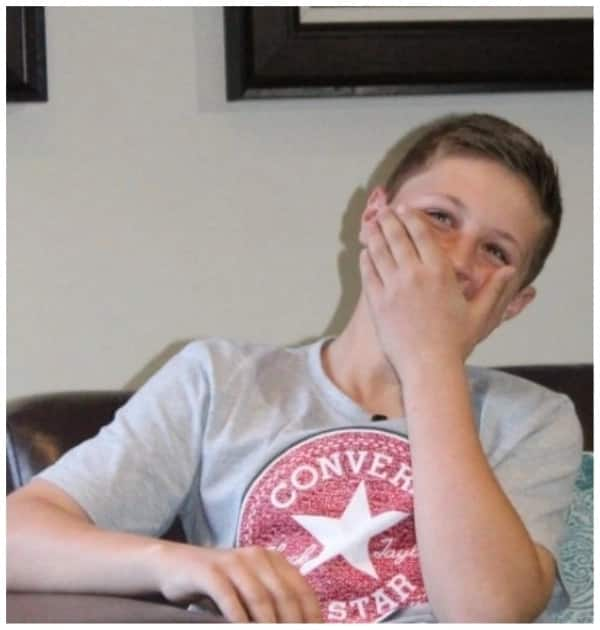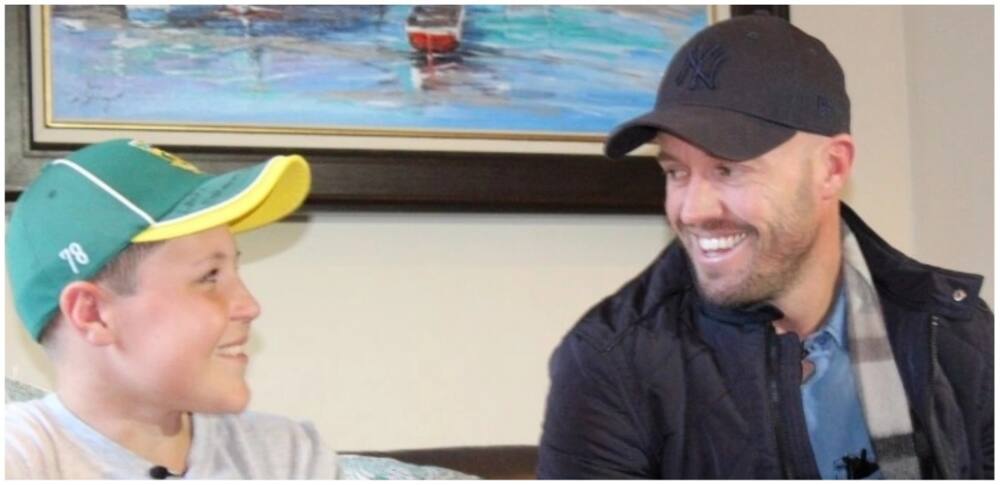 READ ALSO: FIFA kicks African referee out of 2018 World Cup after bribery allegations
AB de Villiers walked into the interview and casually greet Leo and Martin. It was obvious Leo was trying not to get too emotional.
Martin urged Leo to ask AB all the questions he had for him.
You had so many questions for him. Here he is now.
Leo first had to get himself together and he looked very chuffed when AB gave him a Protea cap.
AB asked Leo if he surprised him and the boy couldn't only nod and mumble "Completely,".
The excited fan then asked AB why he retired from cricket - a question all his fans are burning to ask.
READ ALSO: Andile Jali becomes latest footballer to have cell phone number hacked
Ab asked if he really had to answer and then added that added that he is clearly getting older.
I'm turning into an old man. No, I'm just tired. I have 2 boys and a beautiful wife that I don't see often when I'm playing.
International cricket is very stressful and I've been doing it for 14 years and I'm really tired. I hope to play less.
If I play T-20 games for the Titans I'll be playing 6 months a year instead of 11, 12 months like with international games. It's now family time for me. I'm 34, I'm not getting any younger. And I want to see my boys grow up. So those are my reasons for retiring.
AB, Leo and Martin then enjoyed a game of cricket outside, while AB gave Leo some pointers on playing.
READ ALSO: Dawn of a new Springbok age beckons as team to face England is announced
Afterwards AB signed the happy fan's cricket bat.
South Africans were happy to see the cricket legend spending time with one of his fans and explaining why he retired.
Andre Van Breda This is such an awesome story. AB you are a legend
Sam Adamson - This is amazing, and his reaction when AB walked in is priceless
AB de Villiers was one of South Africa's greatest players and he will be sorely missed.
Watch the TOP-5 Miracles by African Pastors and take a loot at what else is happening on Briefly South Africa's YouTube channel.
Do you have a story to share with us? Inbox us on our Facebook page and we could feature your story.
To stay up to date with the latest news, download our news app on Google Play or iTunes today.