David Jali and Marselle van der Mescht, two staff members from Cape Recife High School heroically gave chase to armed robbers and caught them. They were also able to recover the bag that was stolen.
PAY ATTENTION: Click "See First" under the "Following" tab to see Briefly.co.za News on your News Feed!
The two men have been hailed as heroes by the community. Marselle is the school caretaker and David is the school's physiotherapy assistant.
David was helping student get off a bus when they heard screaming and saw armed men wrestling a bag away from a woman.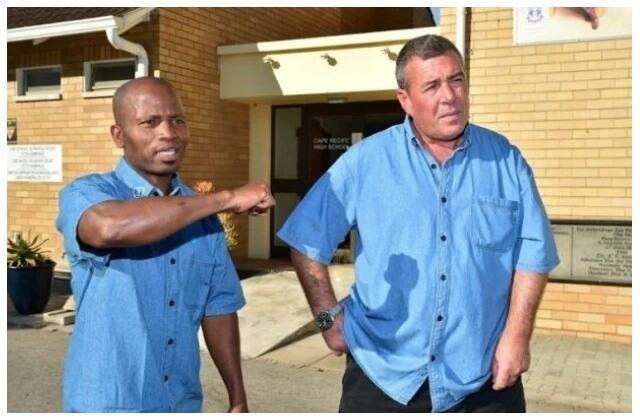 READ ALSO: Reports emerge that Zuma allegedly collapsed the ANC consultative conference
He ran to get help and met up with Marselle, they got a car and chased the men down.
"We jumped into the car and gave chase to try and find the men," – David Jali
"We saw the men walking about 15m apart from each other a street away. We stopped the car next to the one guy walking in front and he started running with a dagger in his hand. I jumped out of the car and wrapped my arm in my jacket,"
Marselle blocked off the escape route with car. The man with the knife tried to stab David multiple times but he was able to avoid being hurt.
READ ALSO: Kolisi is the new face of Springbok rugby and a new dawn for SA
He was unable to get a good grip of the man who continued to run. The chase took them to the beachfront where other school staff were able to help apprehend the man. The other alleged criminal was stopped by builders working on a nearby site.
"Ever wondered how to become Africa's next big leader? Briefly South Africa can help you." Check out this video on - Briefly South Africa's YouTube Channel
Do you have a story to share with us? Inbox us on our Facebook page and we could feature your story.
To stay up to date with the latest news, download our news app on Google Play or iTunes today.