- Despite having a degree in logistics, Thulani Makhuza can not seem to find a job
- This is because of a 'false' criminal record due to an incident that took place while he was still a high school pupil
- The 27-year-old said it would be a long process to clear his name
PAY ATTENTION: Click "See first" under the "Following" tab to see Briefly news on your News Feed!
Thulani Makhuza's entire life is on hold due to an incident that left him with a criminal record he did not deserve.
The criminal record has since hindered his job opportunities, with companies refusing him employment because of it.
According to the 27-year-old, he grew up in a poor household in eMbalenhle, where his single mother tried to look after him with the wages she received from her job as a domestic worker.
However, they were struggling and by the age of 15, Makhuza started to work at his mother's employer's shop.
The owner and his family went on to adopt Makhuza, and he continued to work in their shop. However, one faithful day in 2011, after he returned from church, Makhuza saw police officers at the shop.
Ridgetimes.co.za reported Makhuza went to the mainhouse to ask his foster dad what was going on, to which he simply got instructions to go back to the shop and lock up.
"I went to the shop to do as I was instructed. Police officers wanted to know where my foster father, the shop owner, was. I told them he was in the main house and that he had instructed me to give them alcohol and to close the shop."
Makhuza said they searched for his foster father and tried to phone him, but after a while, when they could not reach the him, the graduate got arrested.
READ ALSO: Single dad spoils his 23-year-old daughter with a luxury car for graduation
Makhuza said he was taken down to the police station under the false pretences that he was bait for his foster dad to come and fetch him.
However, things escalated quickly and before he knew it, they had taken his fingerprints and charged him with selling alcohol without a license.
"They then put me in a holding cell. I had to appear in the Evander Magistrate's Court and I was found guilty of selling alcohol without a licence."
Makhuza said his foster father paid the bail, which was set by the court at R1500, and he was let go.
Being only a matric pupil and having his foster dad assure him that he did not have a criminal record, Makhuza continued with his life as normal.
He matriculated and went on to study towards a logistics diploma at Tshwane University of Technology.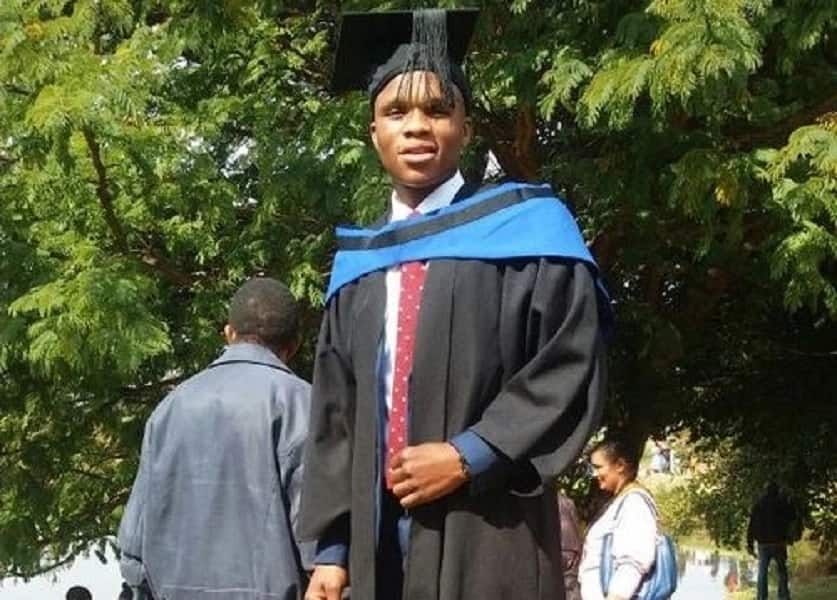 After completing his diploma in 2016, he went on to study towards his degree in logistics, which he obtained a year later.
However, since he started job hunting, Makhuza found out that the unfortunate incident in 2011 left him with a criminal record.
Makhuza recalled getting a job at a company, but the day he was set to start, security refused to let him enter the premises because they found out about his record.
He has since not received a breakthrough and companies continue to turn him away due to the criminal record.
"Nobody is willing to help me and I do not know what to do. At times I even think of taking my own life because of this situation", Makhuza said.
Makhuza said he was an innocent kid trying to make a living, which was used to take advantage of him.
"I feel like I was framed and betrayed by the police and the shop owner", he added.
Makhuza's foster wife, who is no longer married to the shop owner, confirmed Makhuza's version of events.
Naledi Ngcina said her family and the SAPS failed Makhuza, adding she tried to stop them from arresting him that day in the shop, but they did not listen to her.
"I requested them not to arrest the child because they did not find him in the shop and that he was only a child, but they did not listen to me. I urge people to help this young man", she said
Do you have a story to share with us? Inbox us on our Facebook page and we could feature your story.
To stay up to date with the latest news, download our news app on Google Play or iTunes today.
Top 5 richest men in South Africa on Briefly. Everyone, quick: off the top of your head, name a billionaire. Now, think hard and name two or three South African billionaires. How about more? Don't worry, we have gathered this extremely interesting information for you!