- Turning a century old does not come easy, but Raylaine Dorothy Hendricks makes it look easy
- The energetic old lady celebrated her birthday with her family and friends during an intimate party
- She thanks healthy food for being able to grow old with dignity
PAY ATTENTION: Click "See First" under the "Following" tab to see Briefly.co.za News on your News Feed!
Raylaine Dorothy Hendricks celebrated her 100th birthday with friend and family on Sunday.
The centenarian shared her secret to living so long: good and healthy food.
Raylaine believes that the healthy food she ate growing up helped her reach 100 years.
The former teacher lives in the Ladies Christian Old Age Home in Gardens. She was surrounded by loved ones during her birthday celebration.
READ ALSO: Queen B's new home makes a guest appearance on Top Billing
Raylaine was born in 1918 - the same year as beloved Madiba - and lived in Kenilworth. Of all 5 her siblings, she's the only one left.
The energetic 100-year-old raised her three children by herself after she divorced their father.
Raylaine is surprisingly modern and up-to-date with her general knowledge. She stated on her birthday that she hopes president Cyril Ramaphosa will bring the country some positive changes.
She also hailed Nelson Mandela as a wonder. For someone a full century old she has a surprising amount of energy.
Raylaine is the proud grandmother of 7 and an even prouder great-grandmother of 10.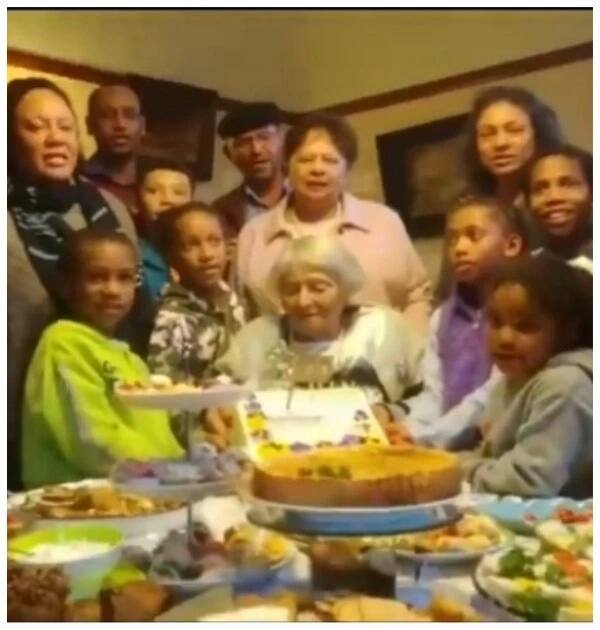 Raylaine's grandchildren look up to her. She was outspoken against apartheid and the children admire her for standing up against it.
READ ALSO: Woman begs tweeps for help after he dead beat baby daddy dumped her
One of her grandchildren, Nadine Bowers-Du Toit, stated that her grandmother is a compassionate woman.
Your ability to effortlessly break into conversation around the issues of the day keeps us entertained and on our toes. You devour literature voraciously and, true to your nature, impart knowledge without any expectation of exchange.
Well done, Raylaine! You are an inspiration to all who know you.
Do you have a really good story to share with us? Let us know on our Facebook page and we might just tell your story.
To stay up to date with the latest news, download our news app on Google Play or iTunes today.
Watch the entertaining and informative Top 5: South Africa's richest people and take a look at what else is happening on Briefly South Africa's YouTube channel.