- The DA and the ANC have long been the powerhouses in the political race, but the EFF is not to be underestimated
- The EFF have grown in number and continue to do so
- Followers of the EFF feel that they have a real chance to win the elections next year
PAY ATTENTION: Click "See First" under the "Following" tab to see Briefly.co.za News on your News Feed!
The South African general elections are next year, and so far it has been looking like it will be another clash between the Democratic Alliance and the ruling party The African National Congress.
But what if something happens that many people consider highly unlikely? Something like the Economic Freedom Fighters winning the elections?
It may sound far-fetched to most people, but not to the EFF supporters.
EFF supporters on social media is especially convinced that they will win the elections next year.
Dali Mpofu recently asked South Africans to vote for the EFF for truth and many responded with unwavering messages of loyalty.
READ ALSO: 'Cheating' woman exposed on Twitter as her photos with 3 guys emerge
Including myself and my family siyabangena EFF is our last hope. - Zanethemba
Dear Dali& EFF For the past three years I have been trying so hard to find loopholes in your organisation and I failed, dismally so, each time. Your stance regarding land&the economy is very KLEAR! I am sold. You're getting my X next year. Former ANC apologist! - Ntomb'ziyotheza.
Now that they are scholars, researchers and more about poor of the poor. I'm also intoxicated by their EFF PEOPLE'S ASSEMBLY which blew me by surprise. 2019 elections is wafa wafa 2day tournament. - Nosipo
It will be my first voting at the age of 30, definatly my vote is going to EFF - Jay coded Khong
I agree with you. I will never give the ANC my vote. Never never and never. I will never support the ideology of the ANC and DA. - Magesh
I am a previous stay-away voter in 2019 I am voting EFF - Abelungu Bayadina
EFF is the FUTURE.. Economic Freedom in our lifetime! - KingdomCitizen
EFF got my vote come 2019. Finish and Klaar - Jury Ratema
Dear EFF leadership I guarantee my 100% vote to u. There's no party in the world that can represent me like u do. I sometimes wish I had 1million votes alone to give.Yours in revolution - Thabiso
READ ALSO: The vain king: Tweeps slam man who throws shade at poor boyfriends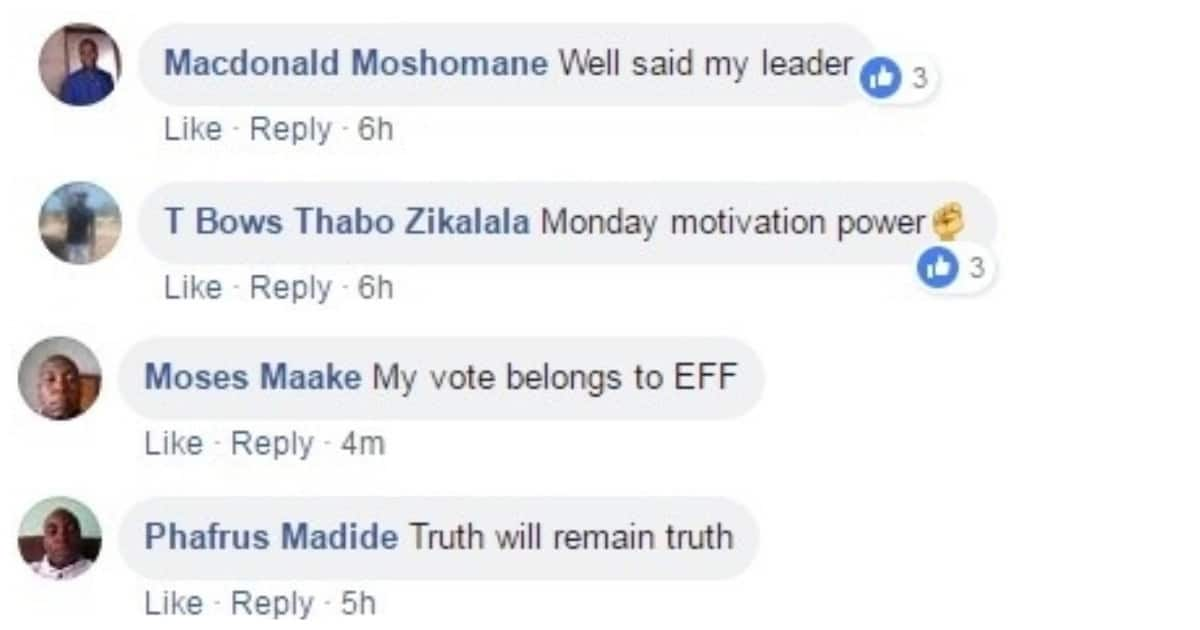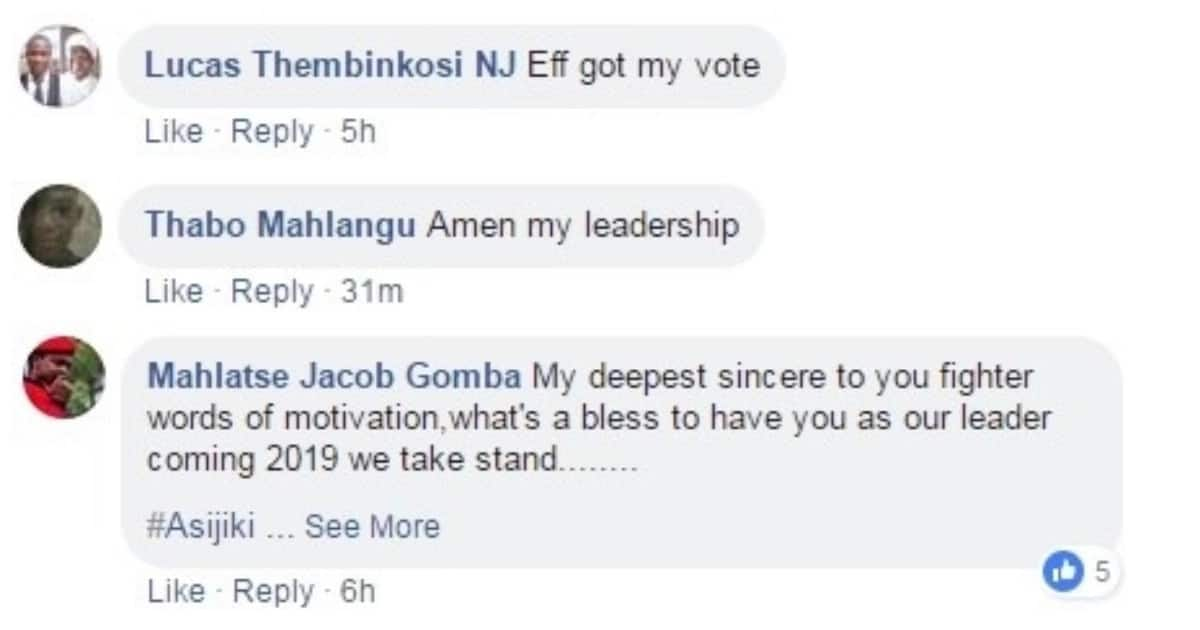 READ ALSO: Football for dummies: 5 players to watch not named Ronaldo or Messi
Of course, the support on social media alone will not win the elections for the EFF.
Despite the many things that Julius Malema are saying to rub people the wrong way, there is no denying that the EFF have grown in numbers, and they continue to do so.
How do you feel about the EFF's chances next year? Let us know on our Facebook page and we could be sharing your thoughts and views.
To stay up to date with the latest news, download our news app on Google Play or iTunes today.
Watch the entertaining and informative Top-5: How to be an African president - detailed guide and take a look at what else is happening on Briefly South Africa's YouTube channel.
Source: Briefly.co.za