- Johannesburg's member of the mayoral committee for health Mpho Phalatse who was suspended earlier this month for public comments in support of Israel
- Mayor Herman Mashaba has reinstated Phalatse, with conditions
- The MMC made a public apology earlier for her comments
PAY ATTENTION: Click "See First" under the "Following" tab to see Briefly.co.za News on your News Feed!
Johannesburg's Health MMC Mpho Phalatse has been reinstated after she was suspended earlier in June.
Mayor Herman Mashaba made the announcement early on the 28th of June. The MMC has been given back her job, but with conditions: A public apology, which has been made already, and the MMC is to attend a workshop so she can understand the issues of the Middle East.
Phalatse got into hot water after her public remarks about Israel in which she said that she and the Johannesburg city support the country. An investigation was launched into the remarks, as reported by eNCA.
The MMC has made a public apology for her actions. Mayor Mashaba believes that Phalatse is remorseful.
READ ALSO: Video shows chaos as Malema and Lekota fight at land expropriation hearing
Phalatse's remarks earlier this month let to a heated reaction, as reported by Briefly.co.za.
Phalatse stated that she is a friend of Israel at an event - Friends of Isreal - held in Johannesburg.
Mayor Mashaba said Phalatse was wrong to make the remark in the way that she did. He felt the conflict in Israel is a very complicated issue. The matter needs a delicate approach.
The Johannesburg mayor felt that Phalatse's words caused confusion and did not address the sensitive issue of Isreal's conflict.
READ ALSO: Jacob Zuma led prayer initiative draws ridicule and doubts from critics
The Facebook group South African Friends of Israel showed their support for Phalatse after her suspension: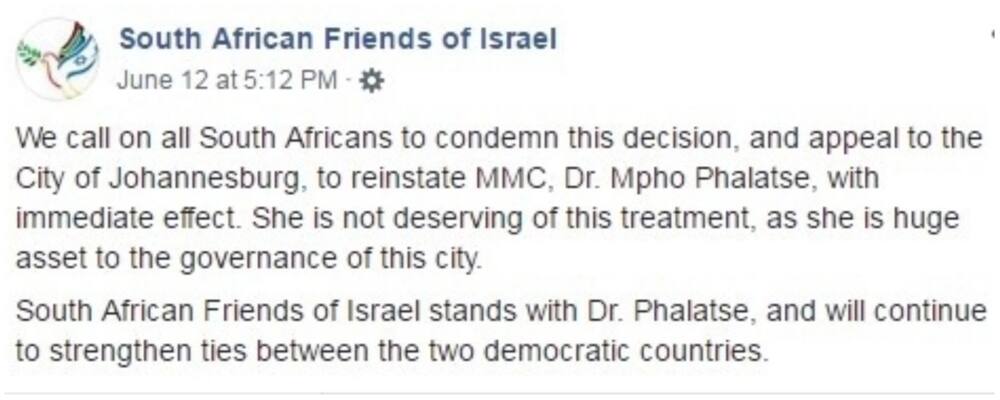 Do you have a scandalous story to reveal to us? Message us on our Facebook page and we might just share the scandal.
To stay up to date with the latest news, download our news app on Google Play or iTunes today.
Watch the Top 5: South Africa's richest people and head over to Briefly South Africa's YouTube channel for more entertaining videos.