- Simone Dollenberg shared a photo of a policeman sharing his lunch with her daughter
- The cop, Constable Sithole, has won praise for his gesture
- Some said it's great to have such positive news amidst much negativity
PAY ATTENTION: Click "See first" under the "Following" tab to see Briefly News on your newsfeed!
A police officer at Honeydew Police Station in Gauteng has won praise after he shared his lunch with a young girl.
The girl's mother, Simone Dollenberg, shared a photo of the two enjoying their lunch together on Facebook, Briefly.co.za learned.
She said her parents had to go to the station and brought her daughter along. As they waited for service, Constable Sithole offered her daughter some food.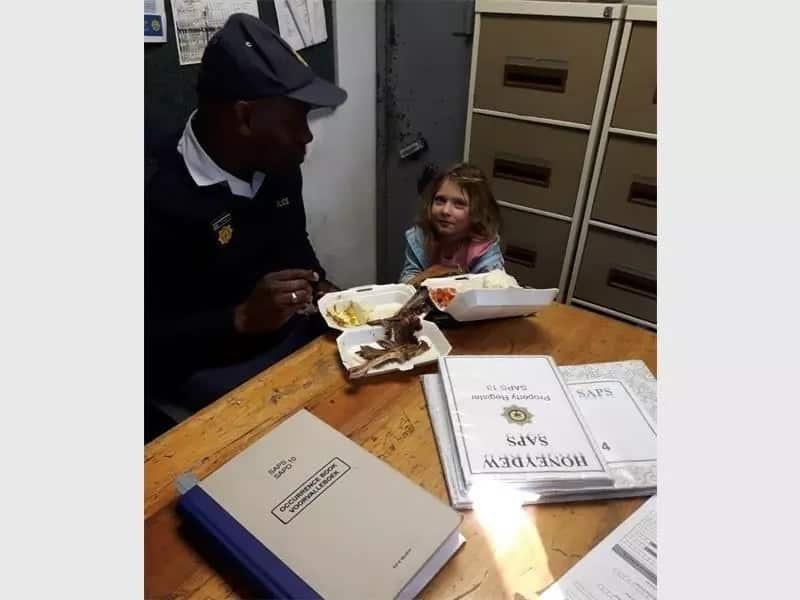 Simone wrote:
Good news story for the day: my parents had to go to the police station today and took my daughter with [them].
Constable Sithole was so good with my daughter; he even told her to, and I quote her, 'dig in' while he was eating his lunch. It is situations like these that make me proud to be a South African.
READ ALSO: 25,300 couples divorced within a year in South Africa
Commenters on Simone's Facebook post also commended Constable Sithole for his amazing and kind spirit.
Jon Rosenberg, Honeydew Community Policing Forum's public relations officer, told Roodepoort North Insider that the gesture is a welcome piece of positive news. He added:
People are so quick to post negative comments about the police. It's appreciated when we see such a positive post.
READ ALSO: AfroVoice, formerly New Age, closes down
Watch Mzansi's billionaires in the video below from our Briefly - South Africa YouTube channel.
Do you have a story to share with us? Inbox us on our Facebook page and we could feature your story.
To stay up to date with the latest news, download our news app on Google Play or iTunes today.