A lady who made a promise to her family members, and to herself, that she was going to become a medical doctor has fulfilled her promise. The young lady had made the promise at a young age.
PAY ATTENTION: Click "See First" under the "Following" tab to see Briefly.co.za News on your News Feed!
The lady identified as Cynthia Chizoba Okoye decided to become a medical doctor after her father passed away.
She had told her family members that she wishes to prevent other families from suffering the loss of their loves ones like she did.
Her story was shared on Facebook by her sister identified as Mary Okoye. Mary had explained that she made the promise 13 years ago after their father passed away.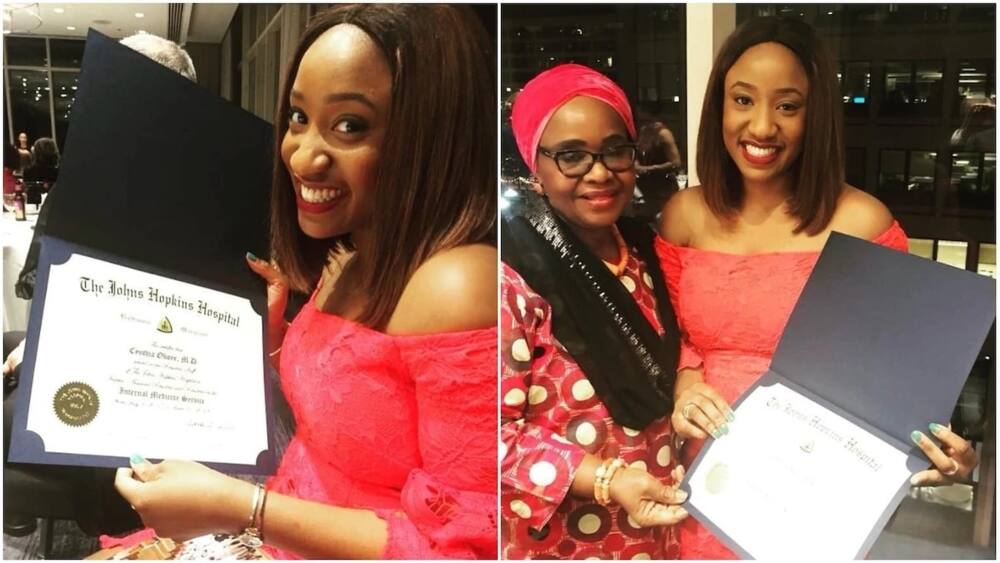 READ ALSO: Police arrest pastor for allegedly selling 'tickets to heaven' to sinners
Mary expressed that Cynthia had faced so many difficulties, including the difficlut exams she wrote and surviving her residency training at John Hopkins University, all to acheive her dreams, reports Briefly.co.za.
She noted that Cynthia is a go-getter with a persistent attitude. Mary congratulated her sister for achieving her dreams.
READ ALSO: Couple welcome triplets after 20 years of marriage
"I remember when dad died, you were 13 years old and you promised us that you'd study medicine to help prevent other families losing their loved ones prematurely.
Difficult times you experienced while writing your MCAT, getting into Tulane University Medical School and OF COURSE, surviving your residency program at John Hopkins University, they've all PAID off, darling. All through hard work, persistence, the never-say-die OKOYE attitude and prayers!
Congratulations Dr. (Ms.) Cynthia Chizoba Okoye, you deserve all the accolades baby. Even greater accolades reserved for our Mother who did it ALL by herself from 1991 till date."
Do you have a story to share with us? Inbox us on our Facebook page and we could feature your story.
Dead Horse Lottery Animated Joke. A man in Africa bought a horse from a farmer for $250. But guess what? The horse died the next day, and the farmer could not return the money to a man as he spent it already… A man asked the farmer to bring the dead horse to him. Do you want to find out why? Click "Play" and watch this funny cartoon!
To stay up to date with the latest news, download our news app on Google Play or iTunes today.