- The Economic Freedom Fighter's leader threatened to take Jacques Pauw to court over a statement he made
- Pauw said Julius Malema received a loan from a controversial cigarette smuggler to settle his tax problems
- However, Juju said these claims were false and he demanded an apology from the author
- This led to Pauw writing an explosive letter to Malema, where he refused to say sorry
PAY ATTENTION: Click "See first" under the "Following" tab to see Briefly news on your News Feed!
On Wednesday, Julius Malema slammed author and acclaimed journalist Jacques Pauw for making allegations which stated Adriano Mazzotti helped him sort out his tax woes by lending him R1 million.
Pauw added he believed the EFF's ties to Mazzotti was the reason why Dali Mpofu defended suspended SARS boss Tom Moyane.
According to the EFF leader Pauw's claims are false and he met with his lawyer to discuss legal steps against the journalist.
Juju said he obtained an authorised legal letter which gives Pauw a couple of days to retract his statement.
READ ALSO: Traditional healer died after one of clients tested his "bullet-proof" charms on him
However, Pauw has since responded to Malema's threats in an explosive letter, and he is not sorry for a thing.
You are right. I was wrong in saying that you received a loan from Mazzotti to pay your tax bill. You in fact received a R1 million loan from Kyle Phillips – a business partner of Mazzotti and his co-director in Carnilinx, an independent tobacco company.
This was reported in the Sunday Times and other newspapers in 2015. The Sunday Times quoted your lawyer as saying that you took the loan from Phillips after another benefactor failed to make a payment to you.
The newspaper said that you had admitted to SARS that you had received the R1 million loan from Phillips.
You never denied any of these reports. I therefore assume that it is safe to say that it was true that you had received a R1 million loan from Phillips.
Pauw added by saying he would not apologise since Mazzotti and Phillips were partners in crime, The Citizen reported. His letter continued:
Would I apologize to you?vNo, because I believe it is irrelevant whether you took a loan from Mazzotti or Phillips because - as I will show you - they are partners-in-crime in Carnilinx.
Phillips is the director handling general operations and Mazzotti is in charge of corporate sales and marketing at Carnilinx. They both hold a 16.6% share of the company.
I will provide you with information that that in accepting a loan from Phillips, you might unwittingly have accepted the proceeds of crime.
This also goes for the R200,000 that Carnilinx paid in 2014 for the registration of the EFF as a political party.
When you and I had a conversation around the time that my book, The President's Keepers, was published at the end of October last year, you described Mazzotti as a "brother".
Pauw ended his long letter with:
Do you know that apartheid assassin Craig Williamson was one of his business partners? And that you have been photographed with Mazzotti in the presence of self-confessed killer and gangster Mikey Schultz?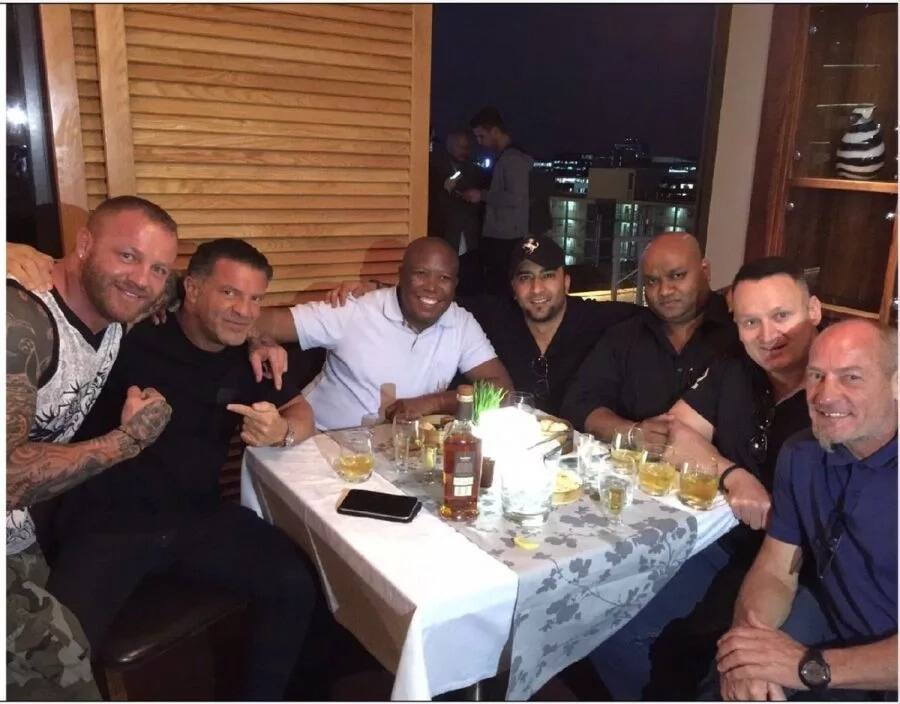 Pauw's response received a lot of comments on social media and tweeps suggested Juju took on the wrong man this time.
Ramatumbela Mphumbude wrote, "Yoh. No coming back from this for Juju. Files for years. He picked a fight with a wrong man who is not lazy to read and write."
Do you have a story to share with us? Inbox us on our Facebook page and we could feature your story.
To stay up to date with the latest news, download our news app on Google Play or iTunes today.
Top 5 richest men in South Africa on Briefly. Everyone, quick: off the top of your head, name a billionaire. Now, think hard and name two or three South African billionaires. How about more? Don't worry, we have gathered this extremely interesting information for you!
Source: Briefly.co.za