- A girl, 6, was playing in a park last year when she got caught in the crossfire between gangster
- A bullet hit the little girl's spine and left her paralysed and possibly wheelchair bound for the rest of her life
- However, her family is now calling on Mzansi to help the little girl get a chance at a better life
PAY ATTENTION: Click "See first" under the "Following" tab to see Briefly news on your News Feed!
Six-year-old Ashline Telmark was out and about playing in a park when she was hit by a gangster's bullet.
Telmark's life changed on 24 January 2017, when she was shot while playing in a park near Algoa Court in Hanover Park, Daily Voice reported.
Briefly.co.za learned the bullet tore threw her spine and left her paralyzed. Although the little girl has been receiving physiotherapy at St Joseph's Home for chronically ill children in Montana, doctors believe she'll be wheelchair bound for the rest of her life.
Other than affecting her ability to walk, Telmark can also not go to the toilet on her own.
Telmark's gogo, 45-year-old Arletha Abrahams said their family was now tasked with raising enough money to help with the medical bill and to buy nappies for the little girl.
Abrahams said, "she will be in a wheelchair for life. She has been through so much already. She needs funding now for all the medical costs."
The family was also asked to move, since doctors does not want Telmark living in Hanover Park.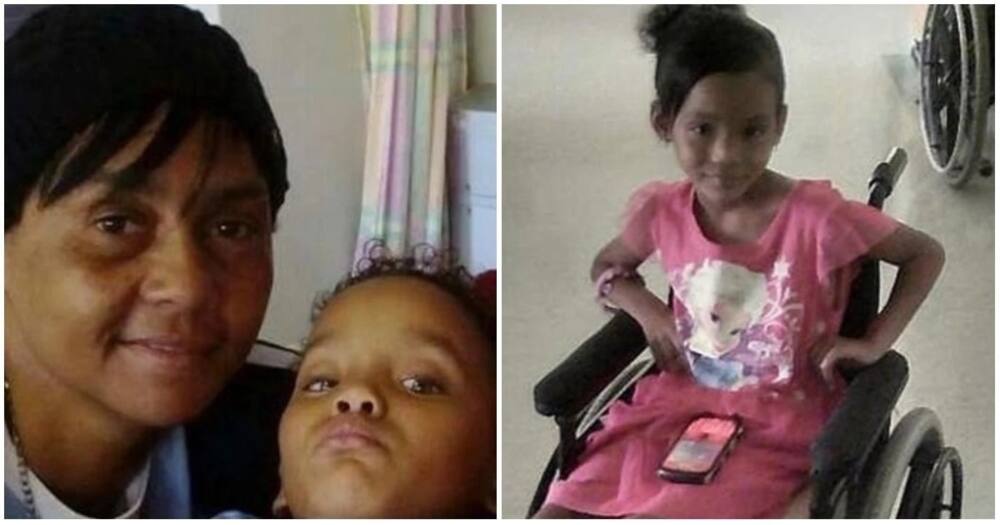 READ ALSO: Dad breastfeeds his newborn baby after his wife suffered seizures
Abrahams said they will be holding two separate fund raisers to gather money for little Telmark.
"We will be having a high tea at the Astra School in Montana on 4 August and the tickets will be R100 each," she explained, adding, "we are also hosting a masked ball at the same venue on 2 October and will be selling masks with Ashline's name on it for R50 each."
As for the people responsible for Telmark's injuries, Abrahams said the police had no new leads and they only visited the family once since the incident that left her grandchild paralysed.
If you would like to help Telmark contact us on our Facebook page or inbox us your story and we could feature it.
To stay up to date with the latest news, download our news app on Google Play or iTunes today.
Top Model South Africa: 5 Things You Didn't Know About Melissa Magiera