- A boerboel potentially saved her owners' lives after his brave actions trapped a trespasser in a swimming pool
- The dog, who is called Jess, sat at the edge of the pool where the wanna-be robber was trapped until her owner got outside
- The suspect has since been arrested but not before he tried to attack the Jess' owner with an axe
PAY ATTENTION: Click "See first" under the "Following" tab to see Briefly news on your News Feed!
A thug's robbery was botched early on Sunday morning when he was kept hostage in the residents' swimming pool by a boerboel names Jess.
Jess' owner, Jody Gabrielson, told the Kormorant he was still busy watching television at around 01:00 on Sunday morning in his home in Ou Wapad in Ifafi, when he heard his boerboel bark.
According to Gabrielson, a would-be robber woke up Jess when he tried to climb over the wall.
The barking prompted Jess' owners to look out of the window, where they saw the thug climbing into their yard.
However, Briefly.co.za learned Gabrielson said when the thief's feet touched his yard, Jess was on him. Which resulted in the scared man jumping into their pool, where Jess kept him until her owners came outside.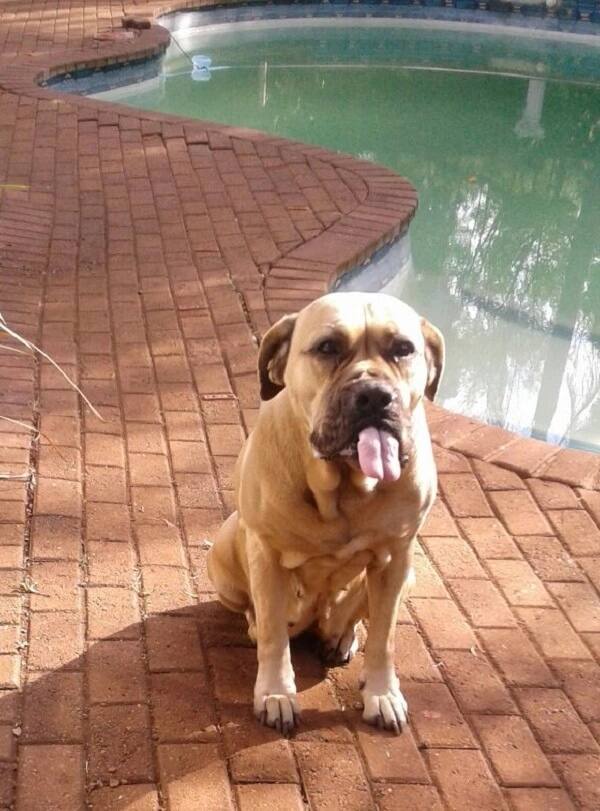 READ ALSO: 10 Explosive reactions to Duduzane Zuma's ankle chains in court
"When I got outside she was sitting on the edge of the swimming pool and she would growl at him every time he tried to move. When I called her, he jumped out of the pool and ran to a wall, which separated my yard with my neighbours.", Gabrielson said.
He added the thug was not aware his neighbours had a couple of pit bull terriers, and once he tried to climb the wall, he quickly changed his mind and jumped back into Gabrielson's yard.
It was at that point the thug decided he was going to fight, so he ran towards Gabrielson, wielding an axe.
Gabrielson and the wanna-be robber were involved in a tussle, at which point his wife called the neighbourhood watch and PWV security, who showed up within only a few minutes.
According to Centurion Rekord, the man was taken into custody shortly after that.
Do you have a story to share with us? Inbox us on our Facebook page and we could feature your story.
To stay up to date with the latest news, download our news app on Google Play or iTunes today.
Top 5 richest men in South Africa on Briefly. Everyone, quick: off the top of your head, name a billionaire. Now, think hard and name two or three South African billionaires. How about more? Don't worry, we have gathered this extremely interesting information for you!