- Nomasonto Malindi is heartbroken after her husband of 10 years moved in with his mistress
- Mzamase Malindi has moved out of the home he shared with his wife and into the house of his girlfriend - 4 houses down the street
- Nomasonto claims her husband abused her, but Mzamase denies all allegations
PAY ATTENTION: Click "See First" under the "Following" tab to see Briefly.co.za News on your News Feed!
Nomasonto and Mzamase has been having a rocky relationship for a long time. They lived together in Protea Glen, Soweto, until he moved out.
35-year-old Nomasonto claims that her soon-to-be ex-husband has been abusive to her during their marriage.
Nomasonto says Mzamase now lives 4 houses away from her, with his mistress. She found out about the affair only 3 months ago.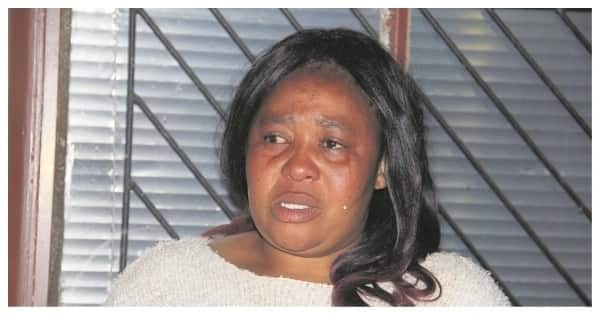 READ ALSO: KHANYI MBAU ROCKS THE CLASSY VINTAGE LOOK WITH A SPLASH OF SWAG
The Daily Sun reported that Nomasonto's husband continues to abuse her despite being separated from her.
Nomasonto says Mzamase was good to her until she got pregnant with their first child. She claims that he has been abusive ever since.
She also claims Mzamase hit her so hard that he broke her arm. She says she opened a case against him, but he was released soon after his arrest. She added that he wants her to leave her home, but she has nowhere to go with her 2 children.
However, Mzamase claims he left his wife because he had to endure years of emotional abuse. He did not want to continue living in an abusive relationship.
He added that he took good care of his wife when they were together.
I started a meat business and tavern for her but she failed to make a profit and look after our family. She loves hanging around with friends, drinking. She's had many affairs.
Mzamase also says he was never arrested as there was no evidence to prove any abuse.
Briefly.co.za learned that the police confirmed a case of assault that was opened and they are looking into it.
Do you have a scandalous story to share with us? Let us know on our Facebook page and we could be sharing the scandal.
To stay up to date with the latest news, download our news app on Google Play or iTunes today.
Watch the funny Animated Joke: When Heaven becomes a crowded place and head over to Briefly South Africa's YouTube channel for more silly videos.