- The Department of Health released a draft of the proposed new laws in May 2018 and plans to change the way people smoke in public
- The laws will apply to all smoking-related products like cigarettes, electronic delivery systems such as pipes, water pipes and electronic devices
PAY ATTENTION: Click "See First" under the "Following" tab to see Briefly.co.za News on your News Feed!
South Africa could be welcoming (or be unhappy about) a number of new laws on smoking soon.
The Alberton Record reports that more than 42 000 South Africans die of tobacco-related diseases annually. More than 6 million South Africans older than 15 and about 55 000 children between the ages of 10 and 14 smoke every day.
READ ALSO: From jobless beggar to published author: Meshack Bevhula inspires many
Briefly.co.za took a look at the proposed law changes, and here are the important things you should know about:
It will be illegal to smoke inside a car when there is more than one person in the vehicle or if children younger than 18 is in the car.
Smoking indoors will also be illegal and smokers will be expected to smoke at least 10 meters away from any public entrances.
Smokers will not be allowed to smoke in their home if it serves as an office or if it is used for childcare, domestic employment or tutoring. This will apply to the 'traditional' workplace as well.
Smokers will not be allowed to smoke at any prescribed outdoor public place or any other place that may of public interest.
Smoking will be prohibited in any enclosed common areas of a multi-unit residence or apartment complex.
Sellers of cigarettes will not be allowed to display their merchandise publicly but may sell it if a person asks for it, given that the buyer is 18 or older.
The way tobacco products are branded will also be given stricter rules; there must be clearer warning labels and packaging must not be alluring to the public.
There may be no vending machines placed anywhere that sell tobacco products.
Smokers who do not adhere to the laws will be given either a prison sentence or a hefty fine.
The time spent in prison and the amount given as a fine will depend on the seriousness of the offence. Smokers caught in prohibited areas can be given a sentence of as much as 3 months in jail.
Anyone who sells, manufactures or imports products that are not found to meet the legal requirements might spend as much as 10 years in prison and be given a fine.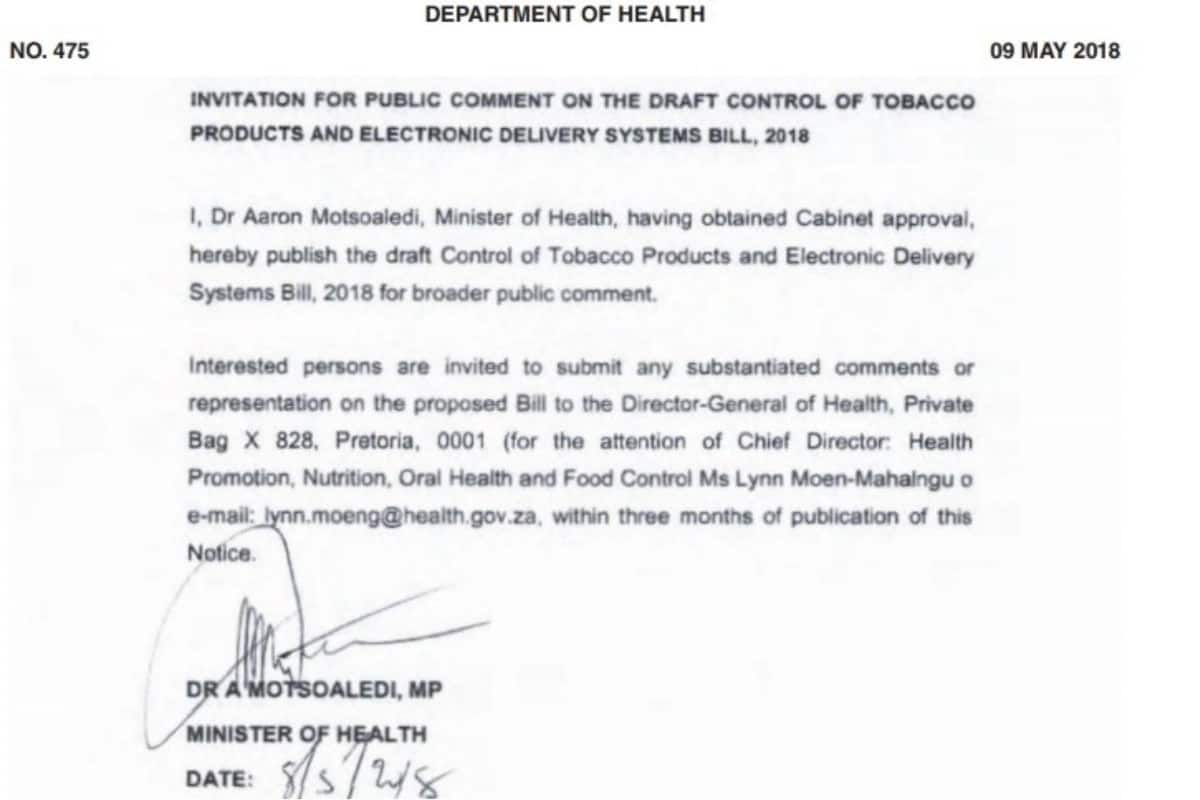 How do you feel about the proposed smoking laws? Let us know on our Facebook page and we could share your opinion.
To stay up to date with the latest news, download our news app on Google Play or iTunes today.
Watch the silly Policeman Animated Joke From Africa and head over to Briefly South Africa's YouTube channel for more funny videos.
Source: Briefly.co.za