Turning 111 is no small feat but Anna Johanna Adonis makes it look easy. The beloved lady enjoyed her 111th birthday with the residents and staff of Nerena Place on the 5th of August and she seemed to enjoy herself.
PAY ATTENTION: Click "See First" under the "Following" tab to see Briefly.co.za News on your News Feed!
Anna "Annie" Johanna Adonis turned an amazing 111 on the 5th of August and is quite possibly the oldest living woman in Western Cape. Fredie Blom is the eldest person at 114 years.
Annie is fondly called Aunty Annie and lives with 97 other elderly folk in Nerena Place in Bishop Lavis.
The staff and residents of Nerena Place were happy to celebrate her wonderful milestone with her.
Aunty Annie's wise words of wisdom to the rest of South Africa is to stay humble and honour your parents.
Unfortunately, Aunty Annie's hearing and sight aren't as strong as it used to be, but she doesn't let it affect her too much.
Despite her age, Aunty Annie is a strong eater and she loves her cups of tea. Her roommate, Anne Serafin (67), says Annie enjoys having long conversations.
She is quite a chatterbox. She wakes me up at night to talk, but if she doesn't want to talk to me she just ignores me.
The birthday girl had enough strength to cut herself a piece of the delicious cake she was given on her birthday.
READ ALSO: New photos of lucky mother who delivered 5 babies emerge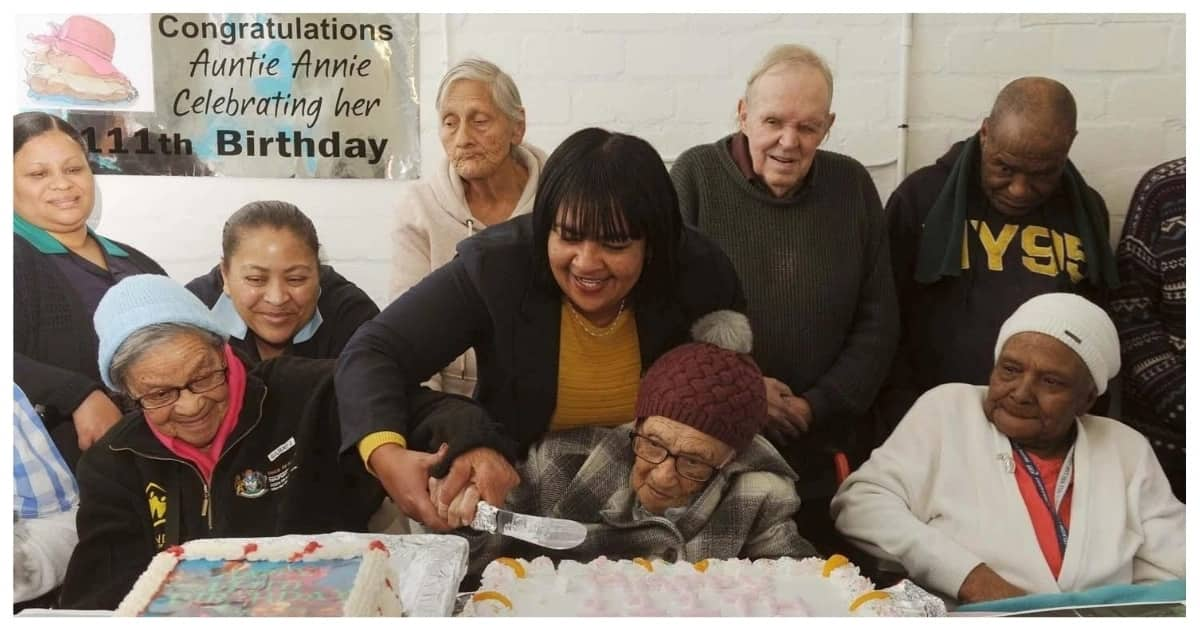 Annie was born in 1907 and lived in Athlone for most of her life. She got married to her late husband Edward Adonis when they were 21-years-old and never had children.
She isn't bitter about never having children, saying it wasn't God's plan for her. Annie worked in the clothing industry her whole life.
After suffering a stroke in May, Annie was moved to Nerena Place because her family can't provide the care she needs.
Do you have a story to share with us? Inbox us on our Facebook page and we could feature your story.
To stay up to date with the latest news, download our news app on Google Play or iTunes today.
Watch the silly Cartoon Comedy: Black Cow VS Brown Cow and take a look at what else is new on Briefly South Africa's YouTube channel.
Source: Briefly.co.za