- Bulela Moloi started off by cleaning municipal dustbins in Dunoon for free
- He soon started charging residents a small monthly fee
- It's now a thriving business employing 4 workers
PAY ATTENTION: Click "See first" under the "Following" tab to see Briefly News on your newsfeed!
An enterprising man in Dunoon, Cape Town, has built a thriving business simply by washing municipal dustbins.
32-year-old Bulela Moloi was previously unemployed and had no business experience, capital, or networks, GroundUp reports.
He started off by cleaning the bins for free in 2016. He then started charging residents a small monthly fee, Briefly.co.za learned.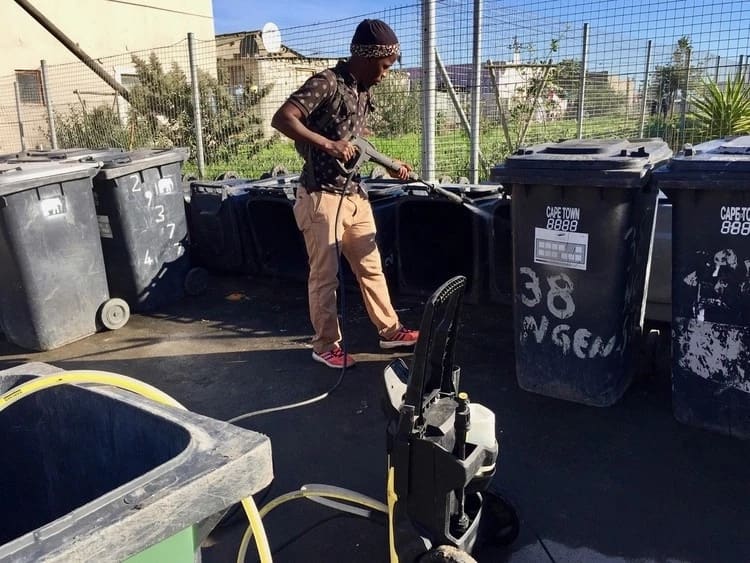 Before long, his client base grew and he works every Monday, Thursday and Friday — days the municipality empties the dustbins.
Bulela now employs four workers to help him with his business. He said he never experiences payment problems because residents appreciate what he does.
READ ALSO: National minimum wage bill sent to Ramaphosa after being cleared by Parliament
The dad-of-four added:
I am a social entrepreneur. I always [think of] how I can help people, which is the social side, but I also look at how I can help myself economically because jobs are scarce in this area.
With his income, he has purchased pressure washing equipment. However, he is makes sure his water consumption is within Cape Town's restrictions.
READ ALSO: Does SA have double standards when it comes to reporting racism?
Bulela now plans to purchase a bakkie to help transport the dustbins to and from his washing site.
He added that a generator would also greatly reduce his electricity costs and boost profits because his client base is ever expanding.
Watch 5 "miracles" by African pastors in the video below from our Briefly - South Africa YouTube channel.
Do you have a story to share with us? Inbox us on our Facebook page and we could feature your story.
To stay up to date with the latest news, download our news app on Google Play or iTunes today.
Source: Briefly.co.za