Tragedy struck when Samson and his wife Sarah's shack set on fire and burned to the ground when they were asleep. Thanks to their tenant's bravery the elderly couple survived an event that could have easily cost them their lives.
PAY ATTENTION: Click "See First" under the "Following" tab to see Briefly.co.za News on your News Feed!
On Saturday night 70-year-old Samson Nkosi and his 77-year-old wife Sarah Manganyi were slumbering peacefully when their shack set on fire in Moloto Village in Mpumalanga.
Abednigo Hlungwani came to their rescue when he knocked on their door and then kicked the door down to get them to safety.
The Daily Sun reports Samson said when he heard the knock he woke up to smoke in the bedroom.
Abednigo screamed and knocked but the sleeping elders heard nothing. He then kicked the door in and rushed into the burning shack and quickly dragged the elderly couple outside before they could get injured.
The men tried to put out the fire but they weren't very successful. The fire brigade was called but they were too little too late.
READ ALSO: Heartbroken woman shares her story: His ancestors told him to dump me
Sadly, Samson and Sarah's home and all their belongings went up in flames. All the elderly survivors have left are the clothes on their backs. It is not clear at this point what started the fire.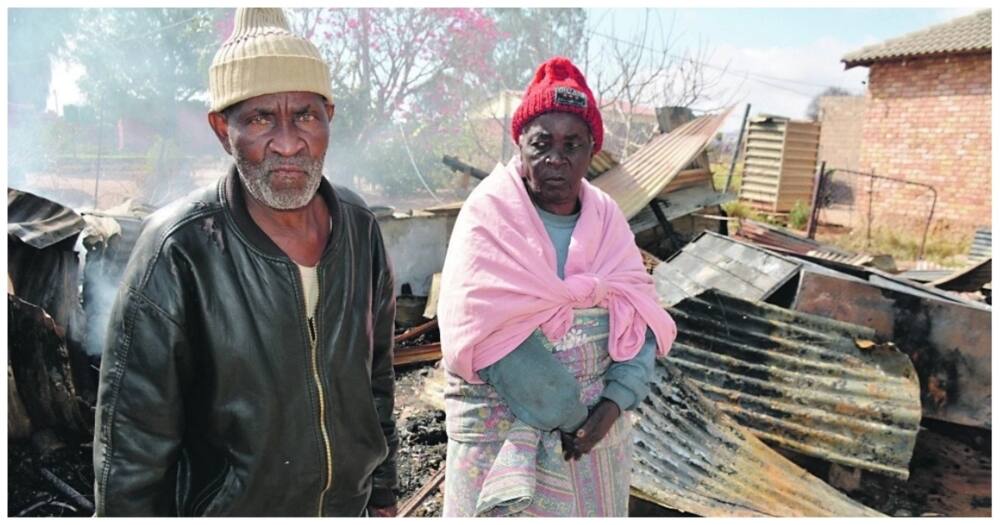 Sarah is grateful that Abednigo could come to their rescue. The elders now need to rebuild their lives. Sarah asked for help from anyone who could afford to reach out.
We ask kind people to help us start our lives over. We have nothing left.
Briefly.co.za learned that Councillor Lovers Mahlangu called municipal officials to find the elderly couple help in rebuilding their lives.
Do you have an inspiring or beautiful story to tell South Africa? Let us know on our Facebook page and we could be telling your story.
To stay up to date with the latest news, download our news app on Google Play or iTunes today.
Watch the TOP-5 Miracles by African Pastors video and take a look at what else is happening on Briefly South Africa's YouTube channel.