- Julius Malema's bodyguard allegedly fired five shots at EFF members who pelted his car with stones and bottles as he was leaving the EFF's Gauteng provincial conference
- EFF members have accused Malema of trying to impose his own preferred candidates for leadership positions on them
- EFF student leader Mphahlele Phasoane Mpho said once Malema had left a group of bodyguards arrived and started assaulting EFF members
PAY ATTENTION: Click "See First" under the "Following" tab to see Briefly news on your News Feed!
Economic Freedom Fighters (EFF) leader Julius Malema's personal bodyguards allegedly shot five rounds of live ammunition into a raucous and angry crowd of party supporters who had started pelting Malema's car with bottles and stones as he was leaving a party conference.
EFF members had accused Malema of trying to impose his own preferred candidates on delegates attending the party's Gauteng people's assembly in Midvaal. Disgruntled members heckled Malema as he was leaving and some even called him a sell-out.
READ ALSO: Parliament introduces new rules on how to oust the president of SA
EFF University of Johannesburg Soweto leader Mphahlele Phasoane Mpho claims the car Malema was travelling in had left but made an abrupt U-turn. Mpho said a group of bodyguards got out of the car and started assault people.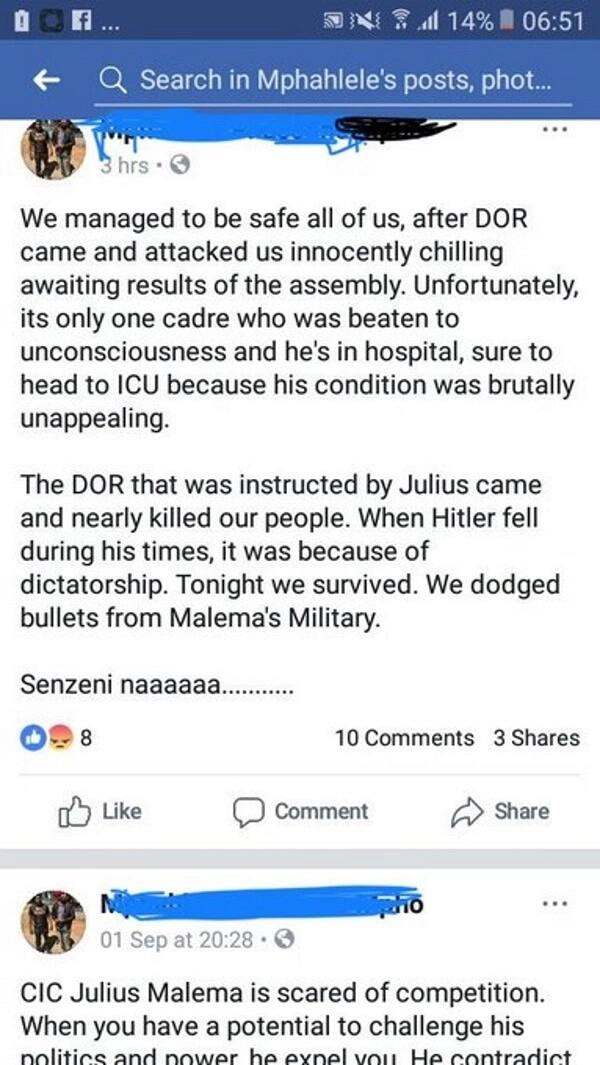 Briefly.co.za gathered that Mpho alleges this is when five shots were fired into the crows, which caused the crowd to disperse and sought cover.
SowetanLive.co.za reported that according to Mpho a vehicle which contained a group of bodyguards known as the Defenders of the Revolution arrived on the scene shortly after Malema's vehicle had disappeared from view.
This group proceeded to assault those in the crowd and allegedly took one person into custody. Mpho claims the person was later discovered unconscious and had to be rushed to a local hospital.
Citizen.co.za reported that Mpho has since compared Malema's leadership style to the brutality imposed by Adolf Hitler. Mpho said he and those gathered were lucky to have survived events of the night and had dodged Malema's Military.
Mpho went on to say that Malema believed that he was the EFF and that he ran the party as a dictatorship. Mpho accused Malema of not caring about people in regions where the EFF did not enjoy support.
Mpho also warned about the dangers of electing Malema as the president of the country and noted that for all his faults former president Jacob Zuma had never acted violently to those who had insulted or spoken against him.
Mpho has since the incident removed some of his original Facebook postings after being warned by other EFF members not to peddle propaganda.
READ ALSO: 10 explosive things learned from the state capture inquiry so far
For more amazing, funny and informative videos, please visit Briefly South Africa's YouTube Channel.
Do you have a story to share with Briefly? Visit our Facebook page where you can send us a message or leave us a comment. Your story could be shared online.
To stay up to date with the latest news, download our news app on iTunes or GooglePlay today
Source: Briefly.co.za