- Nigerian man expresses thanks to woman who returned his money back to him
- The man had mistakenly sent a sum of one million naira to the lady's bank account
PAY ATTENTION: Click "See First" under the "Following" tab to see Briefly news on your News Feed!
A Nigerian man has taken to social media to search for a woman who did him a favour. The man expressed that he would like to show his gratitude to her after she made returned a sum of one million naira back to him.
The man identified as Otuto Ekekwe took to his Facebook page to announce that he needs help to find a lady he identified as Abikoye Oluwatobiloba.
READ ALSO: Thandani Ntshumayelo free to resume football career after successfully appealing ban
According to Ekekwe, the woman had returned a sum of one million naira (R40 000) back to him after he mistakenly transferred it into her account. He revealed that the incident had occured on Saturday, September 8.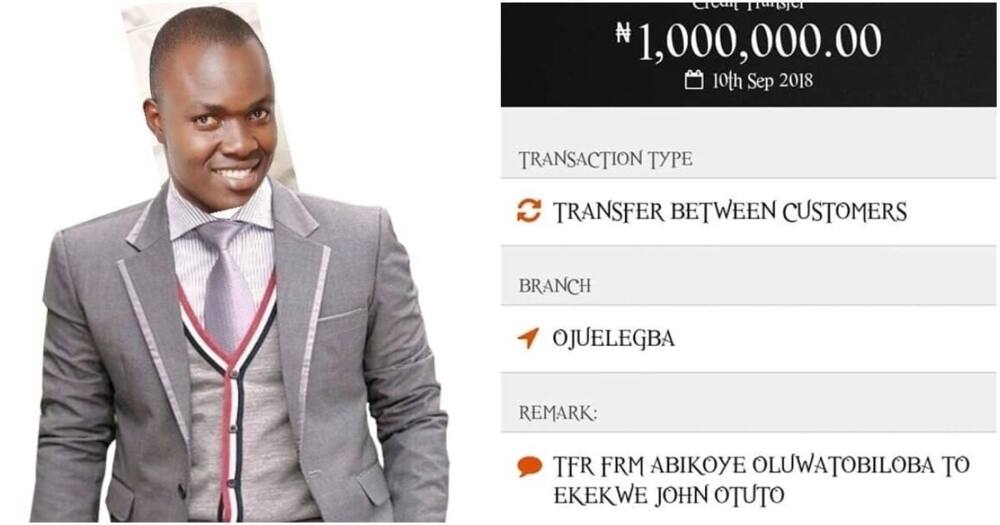 Ekekwe who couldn't go to the bank to make complains had called the bank about the mistake, was told to report the incident on Monday, September 11.
However, the lady had gone to the bank to get his account number to refunded the man's money back to him.
PAY ATTENTION: Save mobile data with FreeBasics: Briefly is now available on the app
The young man further added on his Facebook page that he would like to see the lady to show his appreciation. He asked people to help him find her and notify her about his request to meet her.
"WHO SAID "WE DON'T HAVE GOOD PEOPLE IN NIGERIA??"
SATURDAY EVENING 8TH SEPTEMBER, I NEEDED TO SEND MONEY TO #RAGP ACCT TO TOP UP MY EWALLET, I MISTAKENLY SENT THE #1MILLION TO A #STRANGER, #ABIKOYE #OLUWATOBILOBA .#E.
WHEN I DISCOVERED MY MISTAKE, I STILL PUSHED ANOTHER #1MILLION TO #RAGP AND I WAS FUNDED.
I CONTACTED GTB CUSTOMER CARE I WAS TO REPORT TO BANK TODAY MONDAY.
THIS PERSON GOT TO THE BANK WHILE I WAS STILL BUSY WITH MY BUSINESS... NOTIFIED THEM, GOT MY ACCT NO, AND SENT BACK MY COMPLETE #1MILLION FROM #OJUELEGBA #BRANCH #LAGOS @9:57AM.
THE SAD NEWS IS THAT, I DON'T KNOW THE PERSON, I DON'T HAVE THE PERSON'S CONTACT TO SAY THANK YOU.
PLEASE IF YOU KNOW THIS PERSON...#ABIKOYE #OLUWATOBILOBA .#E. KINDLY HELP ME GET HIS NO HE DESERVED AN APPRECIATION."
#GOODPEOPLESTILLDEY9JA #ABIKOYEOLUWATOBILOBAEISONE #THANKYOUFROMDECATALYST
READ ALSO: Siphiwe 'Shabba' Tshabalala is living his best life in Erzurum, Turkey
For more amazing, funny and informative videos, please visit Briefly South Africa's YouTube Channel.
Do you have a story to share with Briefly? Visit our Facebook page where you can send us a message or leave us a comment. Your story could be shared online.
To stay up to date with the latest news, download our news app on iTunes or GooglePlay today.