Thanks to the 2017/18 crime statistics that were revealed on Tuesday, we now have a clearer picture of why and how South African children are kidnapped. When it is considered that a child goes missing every 5 hours in SA, it is best to have as much information as possible
PAY ATTENTION: Click "See First" under the "Following" tab to see Briefly news on your News Feed!
It will never be understood by parents why anyone would want to take and harm their children, perhaps this knowledge could help prevent it from happening.
It was found that in most of the kidnapping cases recorded by the police, the perpetrator was known to the victim and sometimes their family too.
How are our children kidnapped?
Children are either groomed by a perpetrator or snatched. Grooming can include anything from becoming a child's friend online to making friends in person. Snatching can happen almost anywhere and at any time.
PAY ATTENTION: Save mobile data with FreeBasics: Briefly is now available on the app
The SAPS stats show that there are 4 methods are used when a child is snatched:
Verbal threats
Physical force
Firearm
Sharp objects and other tools
Why are our children kidnapped?
The stats indicated that there are 9 main reasons children are kidnapped:
Robberies/hijackings
Sexual offences
Mob justice
Ransom
Domestic violence
Jealousy/anger/debt
Labour related
Taxi related
Unknown motivation
In most cases, sexual offences and jealously is cited as the motive for child kidnappings but a large number of kidnappings have no identified motive.
Who is kidnapping our children?
There are individuals who prey on children and they could be anywhere. There are unstructured and structured networks that focus on kidnapping children. Nigerian networks are very prominent, as well as those connected Thailand, China, Russia and Bulgaria.
READ ALSO: Julius Malema vows EFF will continue to fight for a land revolution
What can parents do to keep their children safe?
Parents are urged to teach their children to stay vigilant and be careful around strangers. If a person makes them uncomfortable, they should not worry about their manners and scream, shout or kick if necessary.
Parents must remain vigilant as well and report any suspicious behaviour or incidents.
Here's a pictured breakdown of the kidnapping stats released by SAPS: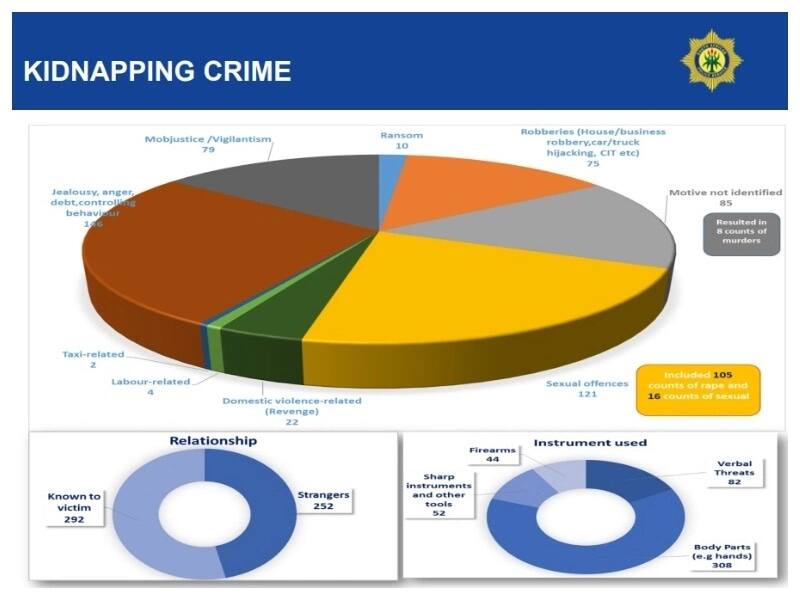 Do you have something interesting to tell us? Message us on Facebook and we could be sharing your story.
To stay up to date with the latest news, download our news app on Google Play or iTunes today.
Watch the African Proverbs and Their Meanings video take a look at what else is happening on Briefly South Africa's YouTube channel.
Source: Briefly.co.za