We all love cuddling up for a bowl of tasty soup. When you first start banting, it may be hard for you to find a soup suitable to your tastes. That's where we come in, in this article you will find banting soup recipes of all kinds to help you transition into a banting lifestyle or ultimately improve your banting lifestyle if you are already banting. Keep reading to determine which recipe suits you best.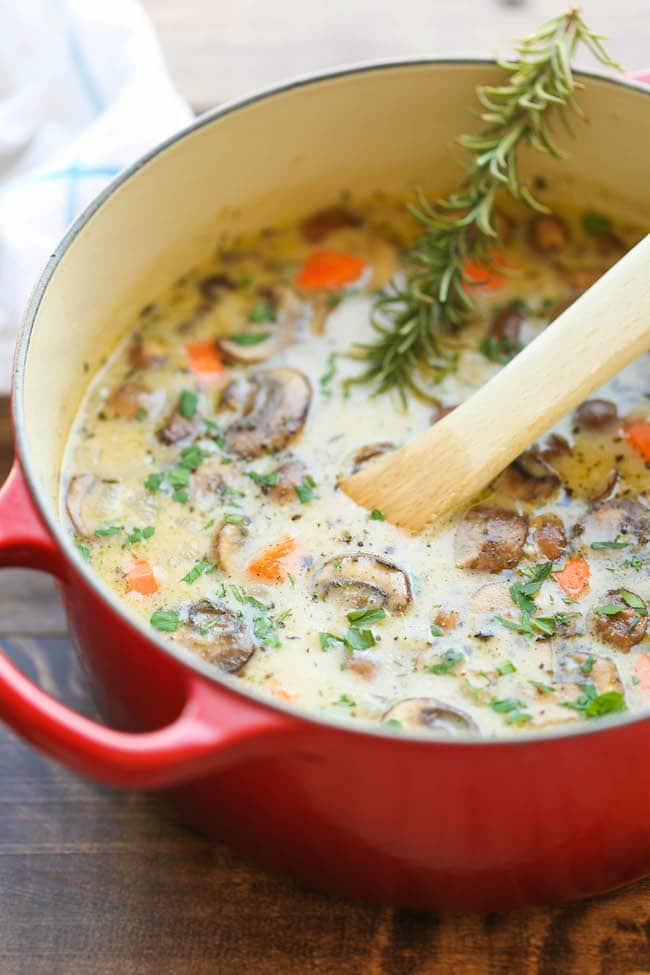 READ ALSO: Is dagga legal in South Africa 2018?
Beef Goulash soup
This tasty soup originated from Hungary. It is guaranteed to leave your mouth watering and your soul yearning for more. In fact, make sure you inflate the ingredients and make more to store for later because this might just not be enough.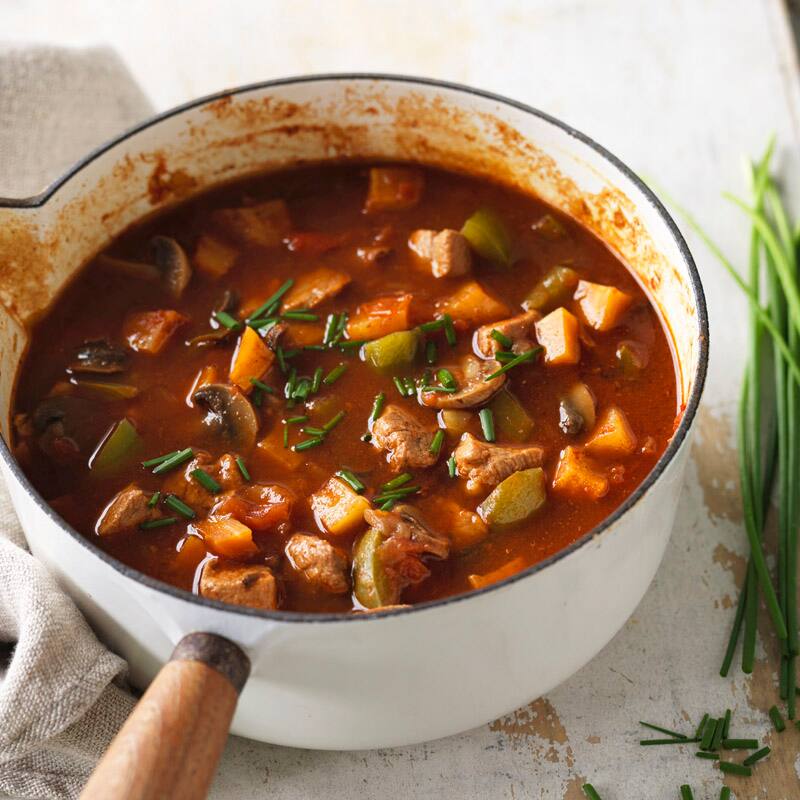 Ingredients
4 tablespoons of butter
2 chopped white onions
½ cup of grated carrots
2 sliced stalks of celery
3 sliced garlic cloves
1 diced red pepper
150g of beef mince
125g of quartered button mushrooms
½ teaspoon of paprika
2 teaspoons of ground cumin
2 teaspoons of ground cinnamon
1 tablespoon of dried thyme
1 tablespoon of tomato paste
1 bay leaf
Whole peeled and blended tomatoes
750ml of chicken stock
½ cup of sour cream or Greek yoghurt
3 tablespoons of chopped parsley
Method of preparation
In a saucepan, sauté onions, carrots, celery, mushroom and red pepper in the butter until it is soft.
Add garlic, cumin and cinnamon till aromatic.
Add the beef mince and fry until brown. Stir well to avoid meaty lumps.
Add paprika, thyme, tomato paste and bay leaves. Gently fry for a minute.
Add tinned tomatoes and chicken stock. Let it simmer for 30 minutes.
Remove from heat, stir in yoghurt and chopped parsley.
Season with salt and pepper.
Serve and enjoy!
Banting chicken soup cooked with cauliflower rice
Cauliflower is ideal especially when you are on a banting diet and are trying to avoid the heavily processed rice in stores. It is high in fibre, low in carbs, has antioxidants and is packed with vitamins. On top of all this, it is a very easy dish to prepare. And everyone loves a nice chicken soup that can be stored away and warmed when needed, soups are extremely comforting foods and here is how you can make a lovely soup in less than 35 minutes.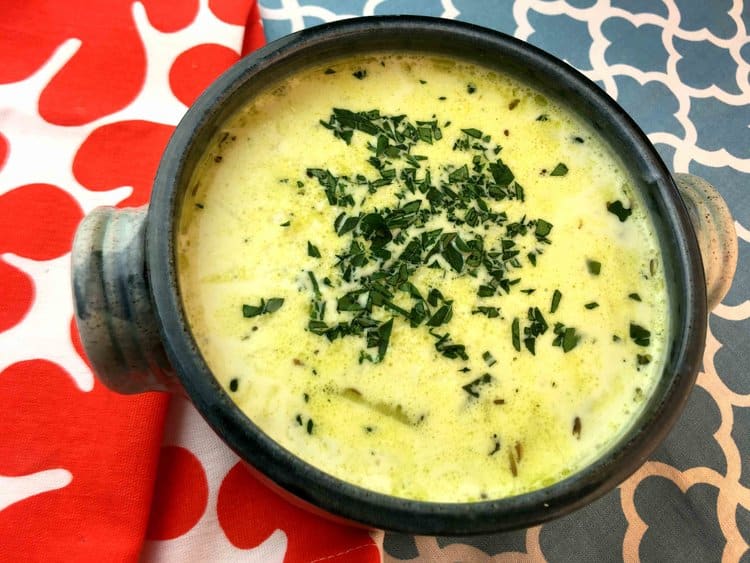 Ingredients
4 de-boned, skinless chicken breasts cut into small cubes
6 cups of chicken broth
2 cups of riced cauliflower
1 cup of heavy whipping cream
½ teaspoon of dried thyme
3 thinly sliced leeks
3 tablespoons of butter
1 diced onion
2 tablespoons of freshly chopped parsley
1 tablespoon of salt
¼ teaspoon of black pepper
Method of preparation
Cut the cauliflower into its florets. Once this is done add it to a high power blender or a food processor and process it until it resembles actual rice.
In a large saucepan, sauté the diced onions and the sliced leeks until they become soft. This should take you about 3 minutes.
Add the chicken broth, thyme, parsley, salt and finally pepper. Bring this to a boil, lower the heat and cook for about 20 minutes.
After this, add the cauliflower rice to the soup and cook this for 10 minutes more.
Remove this from the heat and cool it slightly before running half of it in the blender.
Return the blended mix into the pot and finally add the heavy cream.
Banting cream of chicken soup served with bacon garnish
If you are looking for that soup which is packed with meat, this is the right stop for you. This soup that has chicken and bacon is very creamy and sure to satisfy your soup urges. Everyone loves a good chicken soup occasionally and it is even better when garnished with bacon.
Ingredients
6 slices of no sugar bacon
4 pieces of de-boned, skinless chicken thighs
½ cup of sliced shiitake mushrooms
2 tablespoons of butter
½ cup of almond/ coconut milk
2 cloves of garlic
½ cup of heavy cream
4 stalks of chopped celery
3 cups of chicken broth
Salt and Pepper
2 tablespoons of freshly chopped parsley
1/3 cup of white cooking wine or water.
Method of preparation
Place one tablespoon of butter on a pan over medium heat and cook the bacon. Make sure it is crispy before taking it out to cool.
To the same pan add one tablespoon of butter and cook the garlic until it turns a goldish colour. Next, add the shiitake mushrooms. Cook these until they are softened.
Once the mushrooms are done, add your wine or water and let it cook until the liquid is reduced by about half the initial amount.
Stir in the coconut milk, the heavy cream and the chicken broth.
Add the celery and the chopped chicken thighs. Simmer this until the soup is heated throughout.
Season with salt and pepper.
Garnish with parsley and bacon.
READ ALSO: How to transfer MTN airtime: The free messaging service explained
Creamy chicken and veggie soup
For the lovers of vegetables, this is the soup for you. The mushrooms in this soup go wonderfully with chicken. You can be assured that the soup will not disappoint.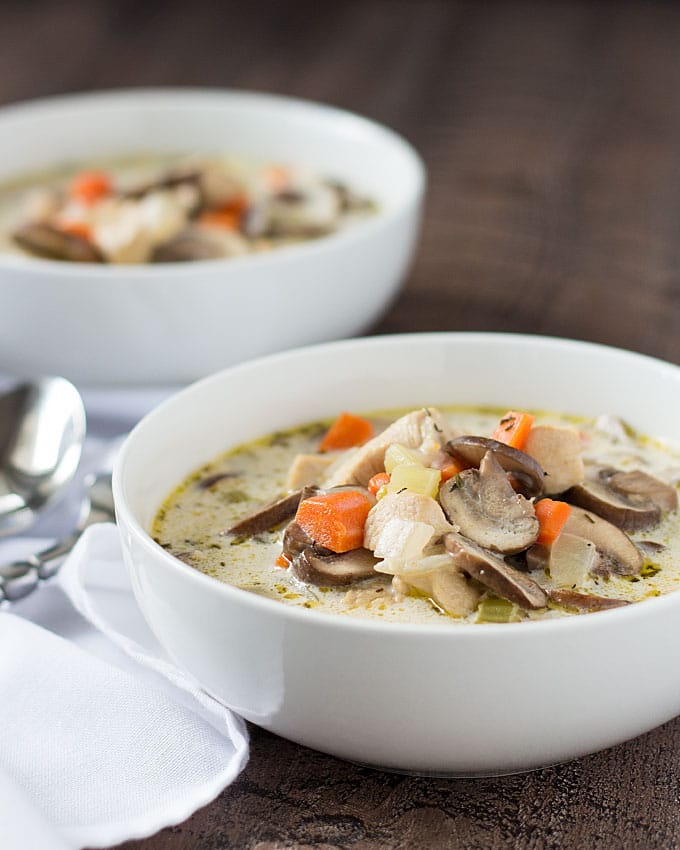 Ingredients
1.5 litres of chicken stock
4 chicken breasts
1 cup of mushrooms
3 chopped celery sticks
150g of chopped leeks
2 chopped carrots
Butter
1 small chopped onion
Fresh thyme
250ml of cream
1 cup of diced carrots
Method of preparation
Heat the butter in a pan. Cook the mushrooms until they brown and then set it aside.
Add more butter to the pan and sauté the vegetables (carrots, celery, leeks and onion)
Once these are ready, put the mushrooms back into the saucepan and add the chicken stock.
After this, add the thyme and the chicken breasts. Simmer for 0-40 minutes.
Remove the chicken breasts from the saucepan, shred them up and return to the pot.
Stir the mixture and add the cream to it. At this point, you can choose to blend the soup or have it chunky.
Banting pumpkin soup
Pumpkins have so many health benefits. If you are looking for the perfect after workout soup to get your body energized and feeling strong this banting soup is the perfect fit for you.
Pumpkin has potassium, even more than that of a banana. Potassium restores muscle function and increases the electrolytes in the body. It also has a whole load of vitamin A and C, which strengthen the immunity, fight bacteria and much more. This should be incentive enough for you to get on the pumpkin soup wagon and make yourself some pumpkin soup!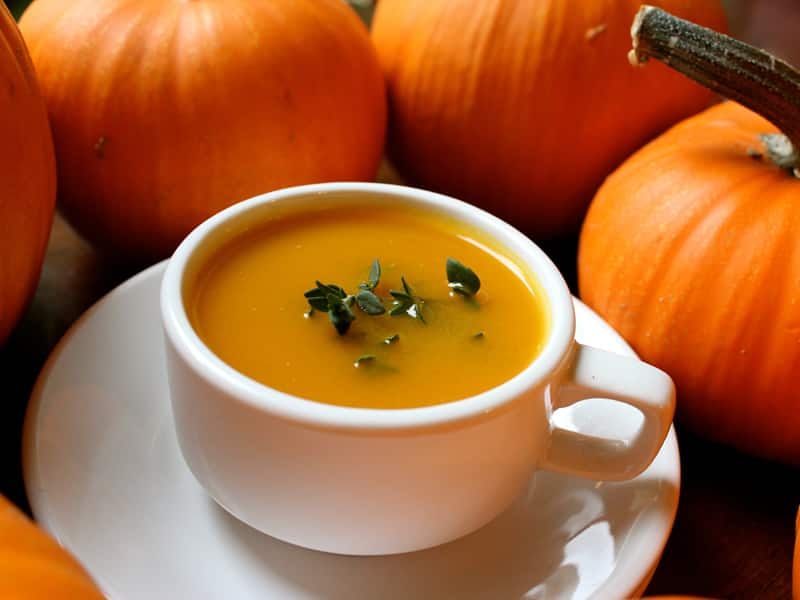 Ingredients
3 cups of peeled pumpkin
½ cup of bacon
½ cup of brown onion
1 tablespoon of stock powder
4 cups of water
2 tablespoons of white wine vinegar
½ teaspoon of dried/fresh thyme
½ cup of cream
Method of preparation
Start with peeling, chopping and the roasting the pumpkin.
Chop the bacon and the onions into blocks.
Cook the chopped bacon until it is crispy and it renders some of its fat into the pan.
Sauté the chopped onions in the bacon fat until it assumes a glassy appearance.
Add the pumpkin, vinegar, thyme, water and the stock-powder. Allow this to simmer for about 15 minutes.
Remove this from the heat and add ¾ of the cream you have. The cream left is for garnishing at the end. Mix it and then run through a food processor so that it gets a smooth consistency.
If you would like your soup hot, briefly return it to the fire but if you want it cool leave it to cool down.
Finally, serve the soup with cream and bacon as the garnish
Bacon and tomato soup
For those looking for a flavoursome soup, this is the right one for you. The tomatoes give the soup a kick and the bacon gives the soup a nice crunch. It is a very easy soup to make and totally worth it.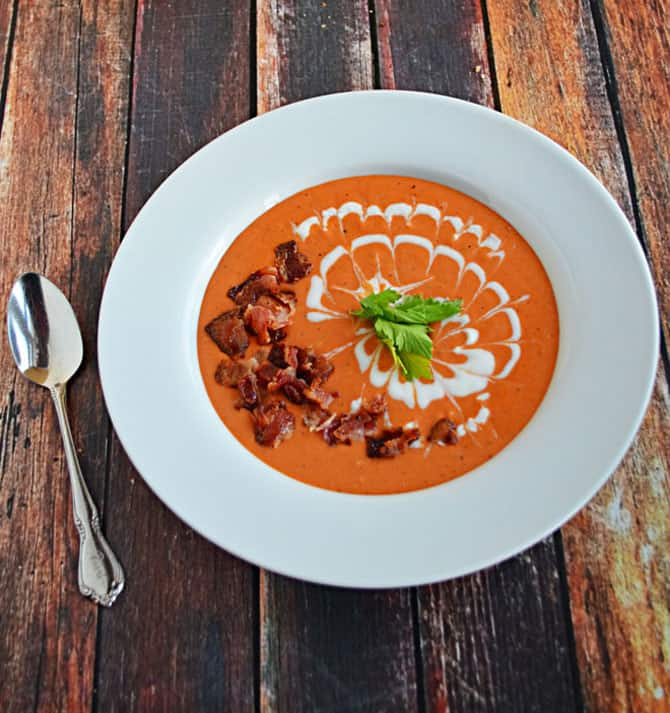 Ingredients
4, 410g cans of whole peeled tomatoes
4 cups of chicken stock
250g of chopped bacon
1 tablespoon of butter
1 tablespoon of olive oil
1 chopped celery stick
1 chopped onion
1 tablespoon of chopped basil
2 chopped carrots
Salt and freshly ground pepper
2 chopped garlic cloves
Method of preparation
Heat the butter and the oil in a pan. Add the bacon and let it fry for a few minutes to make it crispy.
Add to it the onion, carrots and celery all finely chopped. Fry these until they are soft.
Stir in the tomatoes, stock and the garlic.
Bring this to a boil and then reduce the heat and let it simmer for 30 minutes.
You can blend the soup so that it gets a smooth consistency.
After this, add in the seasoning and the basil.
This soup is best served while still hot.
READ ALSO: Banting dessert recipes
With all these recipes, you are sure to find a banting soup or several that you will absolutely adore. Keep banting and maintain that healthy lifestyle and it will surely pay off!
Source: Briefly News