Man makes proposal special, includes girlfriend's late father in the plans
- Meg's dad died in 2014 and it left her heartbroken that he would miss out on big things in her life
- Knowing how much her father meant to Meg, Justin wanted to include Gino, her dad, in his engagement plans one way or another
- The young man wrote a letter to his girlfriend's late father, asking for her hand in marriage
PAY ATTENTION: Click "See First" under the "Following" tab to see Briefly.co.za News on your News Feed!
In a world full of doom and gloom, Justin and Meg's love story is enough to give anyone goose bumps.
The couple's engagement story recently went viral after Justin proposed to the love of his life at one of the most unconventional spots we've ever come across.
Justin asked for Meg's hand in marriage at her father's grave site.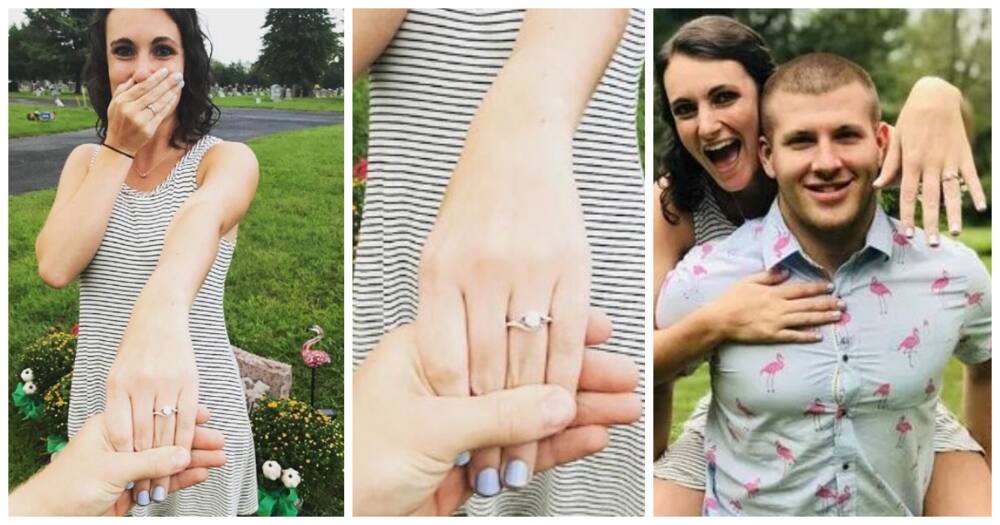 According to a report by HowHeAsked.com, it's revealed Justin wrote to Meg's dad, asking for his daughter's hand in marriage.
READ ALSO: Double the joy for LootLove and rapper Reason: "I'm having twins"
The couple's relationship grew over time. They were, after all, college sweethearts.
According to Liftable, Meg said they spent more and more time together. Meg said Justin knew from early on she was 'the one'.
After Meg's died of cancer in 2014, their relationship was really tested. But, they managed to get through it together. Meg said Justin was always there, whether she needed to cry or just vent.
Justin understood how much Meg's dad meant to her. And, in the most romantic way, Justin included her dad, Gino, in his engagement plans.
How did he convince Meg to go to her dad's grave you may ask? Turn out, Gino loved flamingos.
Justin bought Gino a solar-powered flamingo and managed to get Meg to tag along to deliver it to Gino.
Meg said on that day, 7 September 2018, it was like her dad was with her:
"While I was driving to the cemetery it was pouring rain. As soon as I turned into the cemetery IT STOPPED. At that moment, I knew my dad was there with me. The grave was decorated beautifully with flowers. In one of the flowers was a letter with a flamingo on it. On the front of the letter, it stated, 'Dear Gino' which was my dad's name."
PAY ATTENTION: Save mobile data with FreeBasics: Briefly is now available on the app
Justin asked Meg to read the letter. She son realised it was a letter written by Justin, asking Gino for her hand in marriage.
"Justin knew I would want my dad to be a part of it and he made it happy."
Do you have a story to share with us? Inbox us on our Facebook page and we could feature your story.
When Your Mom Hears Baby, Baby, Baby, Oh! Subscribe to Briefly Cartoons for more Animated Jokes!
To stay up to date with the latest news, download our news app on Google Play or iTunes today.
Source: Briefly News