Sometimes, it is hard to define the significance of friendship, but no one can deny that the bond between two individuals who consider themselves best friends is powerful. One of the best ways to appreciate this unique bond is to let your buddy know how much they mean to you using the best friend quotes of all time.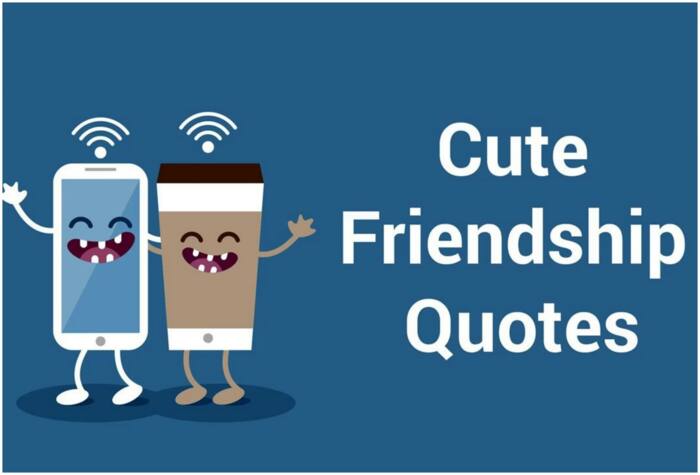 Having a best friend is not only a priceless beautiful experience but is really fun as well because they add so much excitement, happiness, and joy to your life. Best friends will stick with you during the ups and downs of your life and will be there for you no matter the circumstances. In this article, we look at the best friendship quotes to help you reminisce on these awesome human beings in your life.
READ ALSO: 5 Inspirational quotes in honour of struggle hero Albertina Sisulu's upcoming centenary
Amazing friendship quotes
Friendship starts the very moment when one says to the other; 'what! You too? I thought I was the only one.' – C.S Lewis
This quote explains that when two people find that they have a lot in common, the instantly feel a connection and a friendship is born.
The best lady friendships are those where you aggressively believe and defend each other and wish the world on one another.
This friendship quote best explains how women can empower each other and help each other grow.
You are more than my friend. We are really like a small gang.
This is one of the friend's quotes for bestie when they are angry. It best explains how when wronged you will not shy away from giving the other party a piece of their mind. We all want a friend you can fight for us if it comes to shove, don't we?
I realized that true friends will love you with all your imperfections, flaws, and wrongs.
This is one of the friend quotes that best explains how forgiving and compassionate besties can be.
Some personalities just understand each other when they meet.
Sparks are not only meant for lovers but for friends as well and nothing best explains it like this friend quote.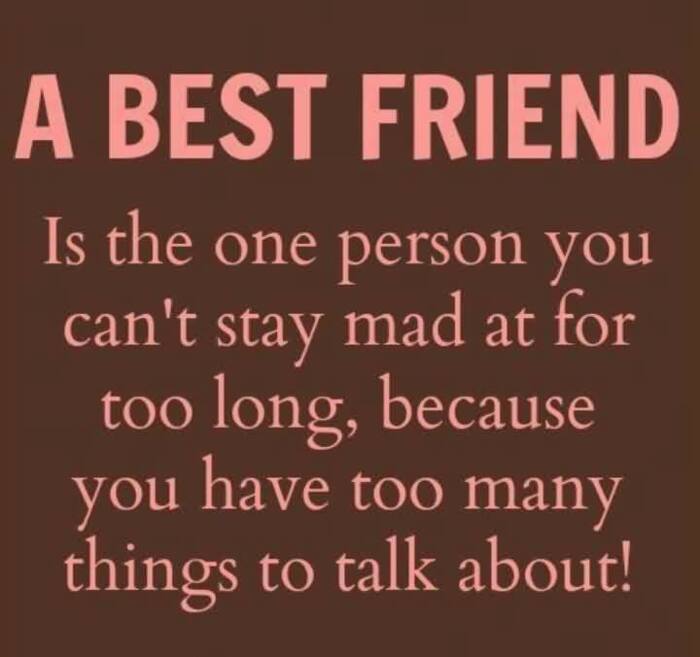 Incredible quotes on friends
My friend, when you cannot see the brighter side, do not despair as I will sit with you in the darkness.
We all need a shoulder to lean on. Good friends should support you in difficult situations as this quote suggests.
A true friend is the one who you can be separated from and nothing changes.
This is a great quote for long distance friends.
A real bestie will not get in your way unless you are going down- Arnold H. Glasgow
Best friends allow you to be a free spirit; however, if they see you going down the wrong path, they will be the first ones to intervene and help you back to the right course. Moreover, real friends will call you if they feel you are selfish. Be careful of friends who remain quiet when you are going down as well as those that continuously lead you away from the right path.
Inspiring friendship quotes
Psychologically speaking, having friends is essential as they see you in a different light from how you view yourself. As such, they remain your source of strength and inspiration in achieving your dreams. Furthermore, they will cheer you up when life gets tough. Find below uplifting quotes about friendship.
Find friends who challenge and inspire you, spend time with them and this will transform your life- Amy Poehler
This quote explains that you need friends that challenge you to be a better individual.
Most people will want to ride with you in the limousine, but what you need is that person who will board the bus with you when your limo breaks down- Oprah Winfrey.
This is one of the good friend quotes best describing that real friends will be with you in great and bad times. This is what everyone needs in their lives.
Make friends not with people you are comfortable around but with those that challenge you to lever yourself to the top- Thomas J. Watson.
We all need friends who force us to be at our best at all times because that is what friendship is all about. Helping each other achieve full potential in life.
What makes a friendship fascinating is that you can grow separately without growing apart- Elisabeth Foley
This is an empowering quote on friendship as it explains that real friends are not jealous of each other's achievements. As such, they will be both grow at their own paces and will support each other when possible.
Funny quotes about best friends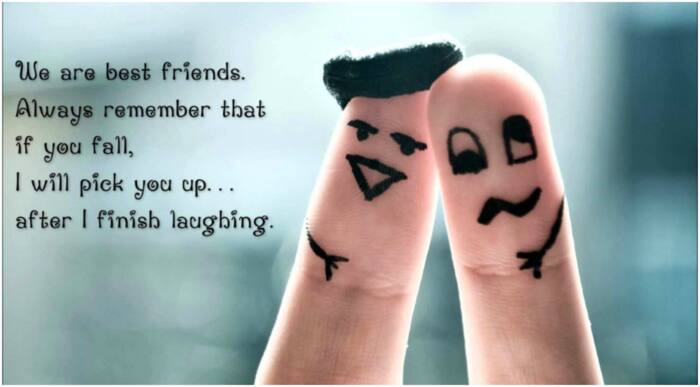 What is friendship without some laughter and fun? Hilarity is what makes your relationship with your best friend truly amazing as it spices things up. As compared to your relationship with your boss or colleagues, one is not afraid of fully being themselves in the company of their best friend. Here are some cute quotes on friendship that are quite hilarious.
Good friends will mourn you when you die; however, best friends will go delete your computer history soon after your death.
This is one of the funniest best friend quotes. Just think about it, who wouldn't want such an extra best friend?
Friendship is like urinating on yourself. All people can see it, but you are the only one who knows how warm it feels on the inside'– Bobby Deol
This is another hilarious friendship quote depicting that a bestie is all what the heart wants.
Mess with my bestie and I will make your death look like an accident.
Friendship is about protecting each other from people that want to harm them. This quote could not have explained it any better.
Our friendship is forever. When we die we will still be ghost friends and scare others together.
We all have one or two pals that we have known from our early childhood. Nothing supersedes a friendship that has blossomed for decades. This is a precious relationship even though it takes much effort to maintain.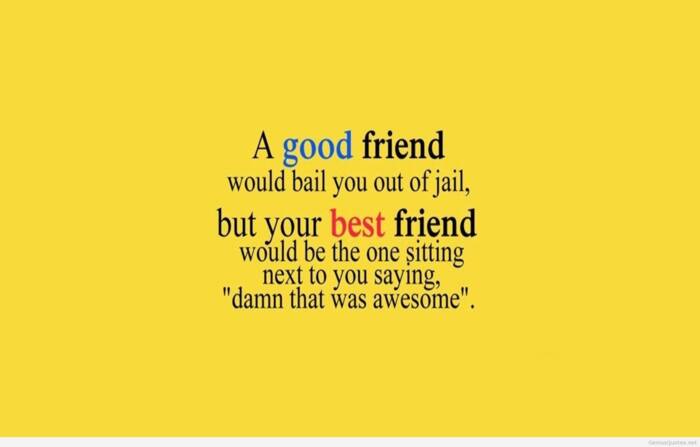 Cute friendship quotes
Good friends will buy you food but best friends will eat your food.
Think about it, we all have a pal who when you offer them part of your meal, they will take the biggest bite possible. What makes this special is that if they gave you something to eat from their food, you will also do the same thing.
What makes our friendship exceptional is the privilege to talk nonsense and have our nonsense respected. – Charles Lamb.
Such a privilege, don't you agree with Charles Lamb?
You will forever be my bestie because you know a little tad too much.
Over time you will share several secrets with you best friend and then comes the responsibility of keeping those secrets.
Strangers consider me to be the quiet kind, but my friends know how crazy I am.
This funny quote best elucidates how stranger's perspective of us is totally different from that of our friends. This is because with them with can seem quiet and reserved but will be a different person in the company of close friends.
READ ALSO: Top 5 inspiration quotes brought to you by DJ Zinhle
It is our hope that you found these best friends quotes comforting, hilarious, and relatable. Do not forget to share these cute quotes with your buddies- maybe your sister from another mister or your childhood bestie that you haven't seen in a while, to spice up your friendship.
READ ALSO
9 quotes by Africa's foremost diplomat and former UN Secretary General Kofi Annan
Woman appeals for help for friend whose life was destroyed by fire
Tweeps think Azania's 'friends' got the best revenge on 'Lockdown'
Dream vacation: 3 South African friends save big to attend 2018 World Cup
10 celebrity exes who chose to be mature and remain close friends
Source: Briefly.co.za