Vegetable banting recipes
Consumption of Low Carb High Fat (LCHF) and specifically vegetable banting recipes is a trend that it continually gaining popularity. Most vegetarian meals incorporate high-carb grains, pulses, bread, and pasta. On the other hand, most low-carb meals rely on meat. For this reason, it is relatively hard but not impossible to come up with low carb vegetable recipes.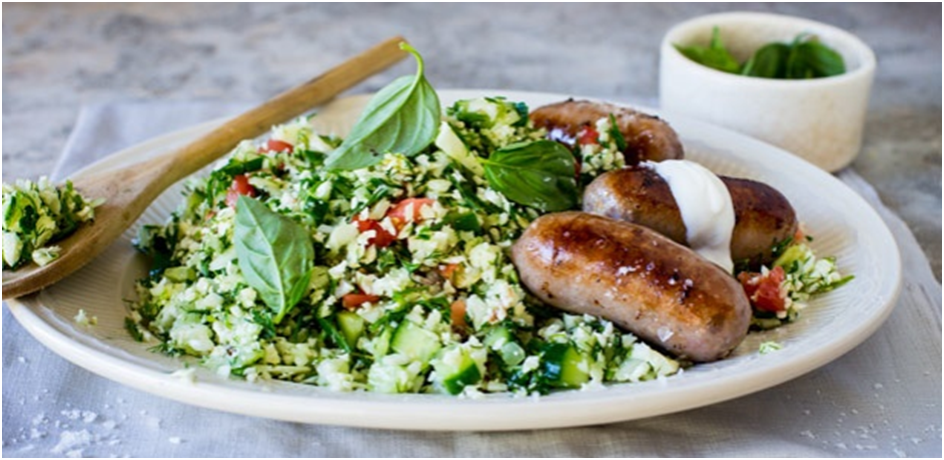 If the saying "health is wealth" carries any meaning then it is critical for you to mind what you eat. Most of us find it difficult to strike the balance and end up living on a haphazard diet that adds little value to our well being. In this article we bring together a number of easy vegetable banting recipes that will certainly bridge this gap and make the whole difference.
Creamy cheesy baked banting vegetables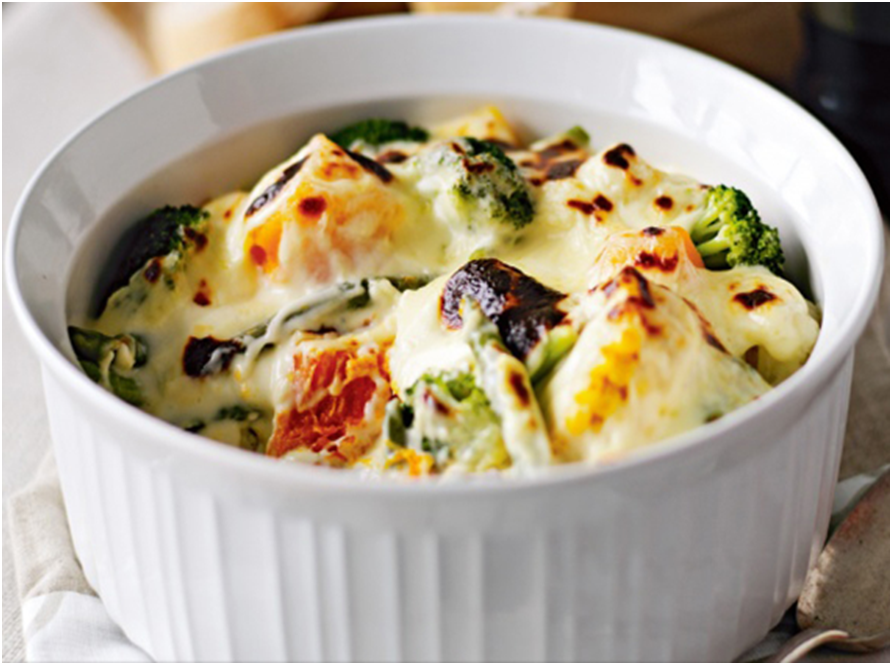 This creamy vegetable banting bake is very delicious, and it goes perfectly with lamb or chicken roast
Preparation Time: 30 minutes
Cooking Time: 25 minutes
Ingredients:
1 cup broccoli
1 cup cauliflower
½ cup zucchini
½ cup cabbage
1 handful of peas
200g bacon
½ cup cheese
1 Tbsp. cream cheese
1 Tbsp. butter
1 large egg
100ml cream
100ml water
Salt and pepper to taste
Crushed garlic to taste (Optional)
Method
Melt the cream cheese, cut off both ends of the green beans, and cut the bacon into thin strips.
Fry your bacon strips in a frying pan until they are just cooked. Take care not to burn them.
Add all the other vegetables, butter, and garlic (optional). Leave them to fry until they become semi-cooked then add salt to taste. More cooking will happen in the oven.
Pre-heat your oven to a temperature of 180 degrees Celsius.
To prepare the cream sauce, mix the egg and the cream cheese together, then add water and the cream and combine them well.
Put all the veggies in an oven-safe bowl and pour the sauce mixture over the top. Cover it all with cheese.
Bake the mixture in the oven for 15 minutes then put the grill on to brown the cheese. Take care not to burn the cheese. You can use medium heat and leave the dish to grill for approximately five to ten minutes.
READ ALSO: Top 10 South African fast food brands revealed
Sautéed banting stir fry spinach and baked sausage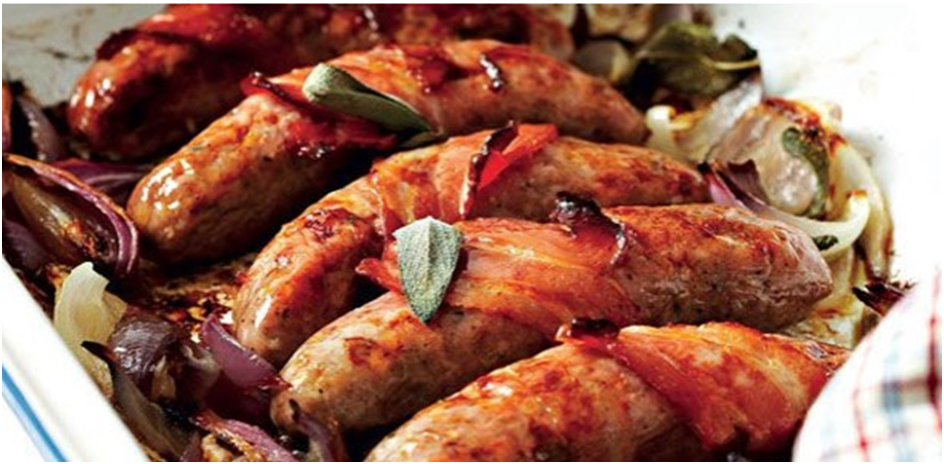 Servings: 4
Ingredients:
150g baby spinach
2 red onions chopped into huge chunks
15 sage leaves
8 Pork sausages
8 Rashers streaky bacon
2 Tbsp. Duck fat
2 Tbsp. butter
Black pepper and Himalayan salt to taste
Method
Pre-heat the oven to a temperature of 220 degrees Celsius
Wrap each sausage with a piece of bacon and place them in a roasting tin together with the sage leaves and onions.
Spoon over the duck fat, paying more attention to the onions.
Roast the contents for approximately 30 to 40 minutes on the middle rack, and turn them once until the sausages have completely browned and they are well cooked through.
Deglaze the pan using wine or the verjuice and reduce until well thickened.
Heat the butter in your pan. Once melted, add the spinach, and let then sauté until they just wilt. Season to taste.
When serving: Drizzle gravy on the sausages and place the sautéed spinach on the side. The sautéed spinach adds as a great banting side dish.
Bacon-wrapped pumpkin slices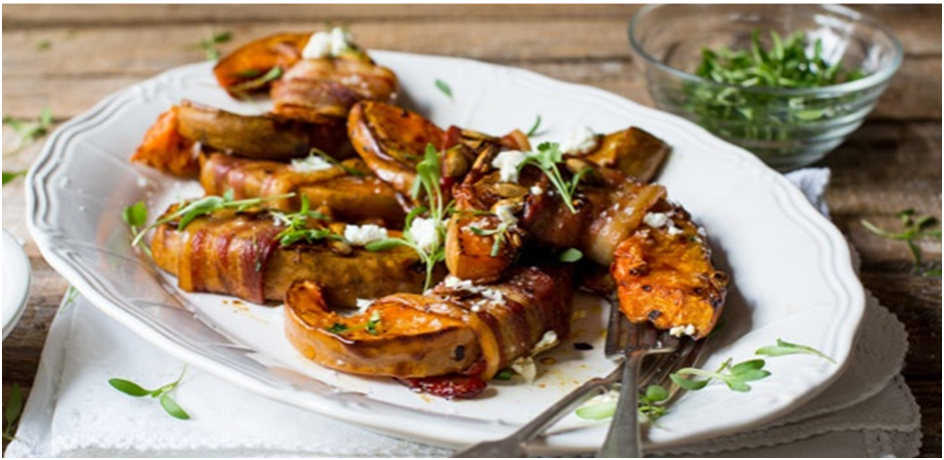 Servings: 4
Time: 00:45
Ingredients:
8 Pumpkin Slices
30ml olive oil
5ml honey
2.5ml finely chopped garlic
2.5ml chili flakes dried
2.5ml ground cinnamon
Salt and pepper to taste
8 strips of streaky bacon, thick cut
1 block of crumbled 100g log goats cheese
A handful of sage, basil leaves, or other micro herbs
Method
Pre-heat the oven to a temperature of 190 degrees Celsius.
Line your baking tray with a translucent baking paper.
Toss the pumpkin slices, honey, olive oil, chili flakes, cinnamon, and garlic together. Season with salt and pepper to taste.
Wrap each pumpkin slice with a piece of bacon and place them on the lined baking tray. Bake for approximately 25 to 30 minutes until they become tender.
Sprinkle the crumbled goat's cheese on top then add the basil, sage leaves, or micro herbs of your choice.
Tips:
If you find that the dish is too spicy for you, then you can serve each portion with some cultured cream, Greek yogurt, or sour cream. These creams are good for bringing the heat down, and also makes the veggies creamy.
To get some bit of extra crunch, you can sprinkle some finely chopped nuts or 2 tbsp. of toasted sunflower seeds or sesame seeds over the cooked pumpkin.
READ ALSO :5 cheap recipes with VAT-free products to make your family happy
Cauliflower Tabbouleh salad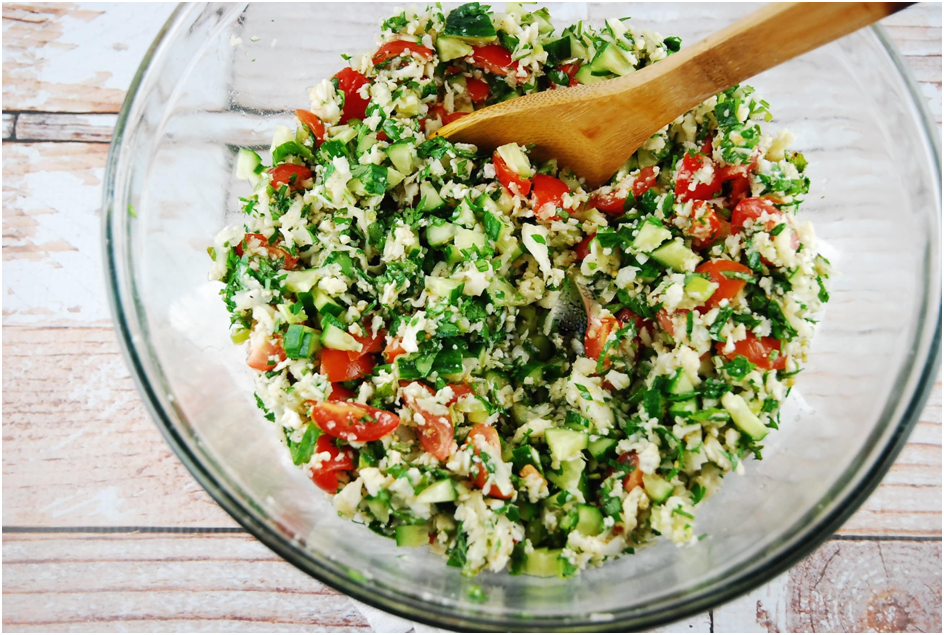 Servings: 4
Time: 00:15
Ingredients:
1 Raw Cauliflower head
½ Onion, finely chopped
125ml flat leaf parsley
125ml mint
125ml dill
125ml chives
310ml finely diced cucumber
130g finely diced tomato
Juice from one small lemon
Splash of olive oil
8 Beef bangers
Olive oil
375ml sour cream to serve
Salt and pepper to taste
Fresh herbs for garnishing (optional)
Method
Wash your cauliflower and dry it properly. Cut it into huge chunks then add it to the food processor. Process it until it gets fine but not pureed then add the mixture to a mixing bowl.
Place the mint, parsley, onion, chives, and dill into the food processor and blend the mixture until it is fine. Add this mixture to the cauliflower in the mixing bowl and stir in the tomato, cucumber, olive oil, and lemon juice. Season to taste.
To prepare the sausages, heat your pan over medium heat. Add a splash of olive oil and fry your sausages until they are well cooked through.
Serve the salad with the sausages. Add a few drops of sour cream to the dish and garnish using the fresh herbs of your choice. This step is optional.
The salad is a great combo dish with grilled salmon, roasted chicken breasts, slices of charcuterie meats such as coppa or Parma ham, or fried chorizo.
Tip
The salad on its own creates four servings for a main meal, but it can go up to 6-8 servings when used as banting side dishes.
Cauliflower curry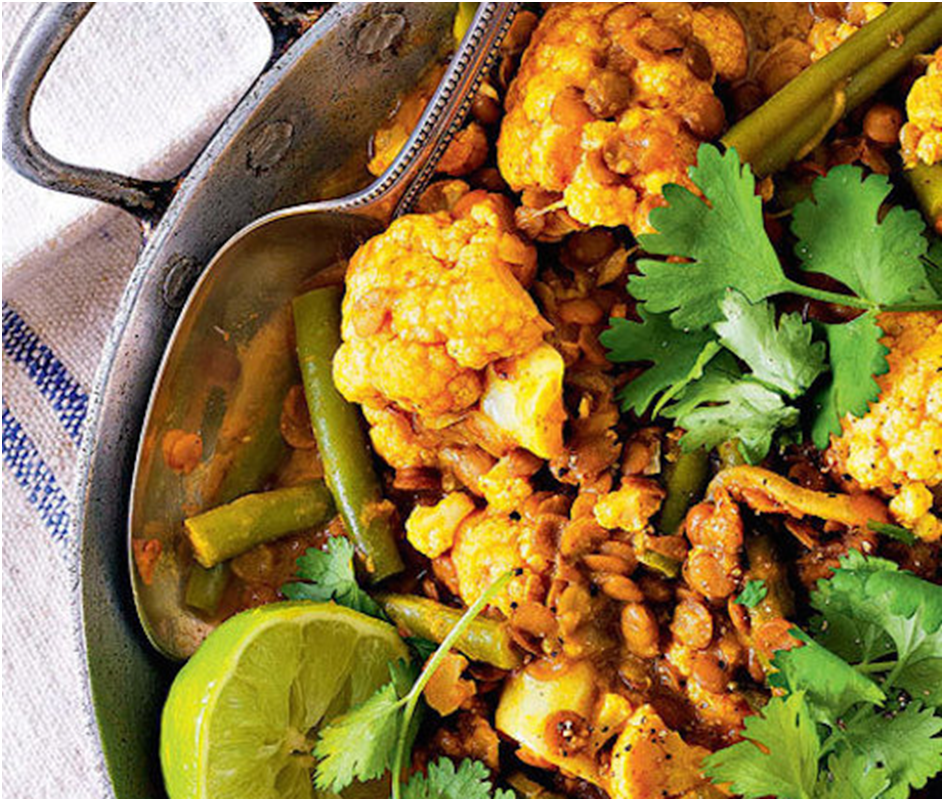 Ingredients
1 Onion that is finely sliced
½ Tbsp. Vegetable Cooking Oil
3Tbsp. Mild Curry Paste
1 Cauliflower Head, cut into tiny florets
200g Green Beans which are trimmed and halved.
Two 400g tins lentils, cleaned, drained, and rinsed.
200ml Coconut milk
300ml Chicken or Vegetable Stock
Juice from one large lime
Natural Yoghurt to garnish, optional
A large handful of roughly chopped fresh coriander
Method
Heat the vegetable oil in a large skillet over medium heat. Add your onion and let it cook for about 10 minutes until it has softened and browned. Add curry paste and garlic and cook for one minute.
Add the green beans, coconut milk, cauliflower florets, stock, lentils, and season to taste. Bring the pot to boil and let it simmer for about 10 minutes until the vegetables become tender.
Stir in your lime juice and three-quarter of the coriander, then check the seasoning to ensure its okay. Remove from heat and garnish using a dollop of yogurt (optional) and the remaining coriander.
Serve with rice or any other dish of your choice.
Each serving of this dish contains approximately 37g carbohydrates, 16g fat, and approximately 1516kJ.
6. Garlic buttered cauliflower mash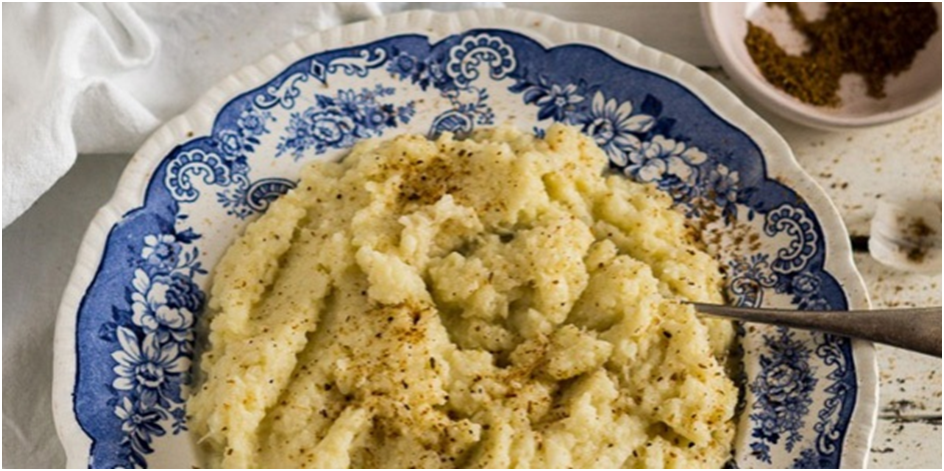 Servings: 4
Time: 00:10
Ingredients:
1 Medium cauliflower head that is broken into florets
1/3 Cup grated cheese
1 clove garlic, mashed
50g butter
Sprinkle of Chinese 5 spice or nutmeg
Salt and pepper to taste
Method
Boil your cauliflower florets in salted water for up to 30 minutes until they are soft. Drain the excess water and set aside.
Use the same pot to melt butter, add your ground garlic and fry for a few minutes.
Add the cauliflower floret and use a vegetable masher to mash until fine.
Add in the grated cheese.
Season as desired and serve with a sprinkle of 5 spice or nutmeg.
READ ALSO: Try this: the humble fruit salad gets a snazzy makeover
Veggie tofu curry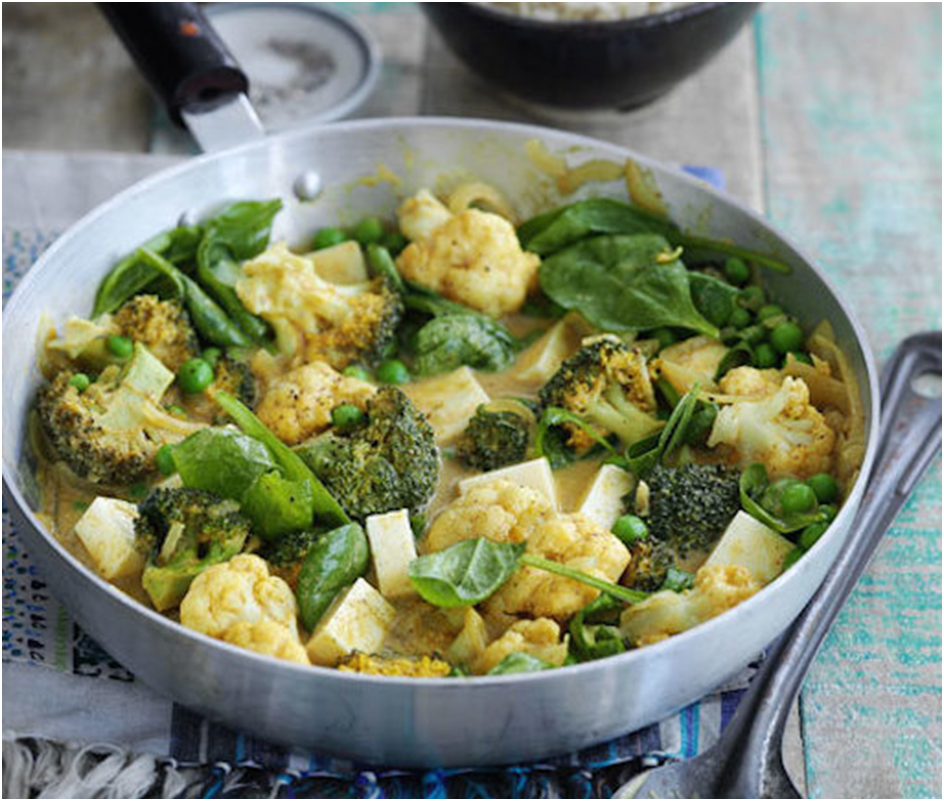 Ingredients
1 Onion, finely sliced
1Tbsp. Olive Oil
1 Crushed Garlic Clove
300ml. Vegetable Stock
165ml. Coconut Milk
2Tbsp. Curry Paste
300g mix of Broccoli and Cauliflower Florets
200g Frozen Peas
150g. Cubed Tofu
A Large Handful of Spinach
Freshly Ground Black Pepper and Salt to taste
Method
Heat the olive oil in a large skillet over low heat. Add your onion and let it cook for about 10 minutes until soft. Add curry paste and garlic and cook for one minute.
Add in the stock and coconut milk while stirring. Bring the mixture to boil and turn down the heat.
Add the florets and leave to simmer for about 5 minutes. By then, the vegetables are nearly cooked through.
Add tofu and peas, season to taste and heat through. Fold the mixture through spinach.
Serve with brown rice.
READ ALSO: Monday dinner cheat night: Super easy cheesy pizza bread
Green Kale salad using Tahini dressing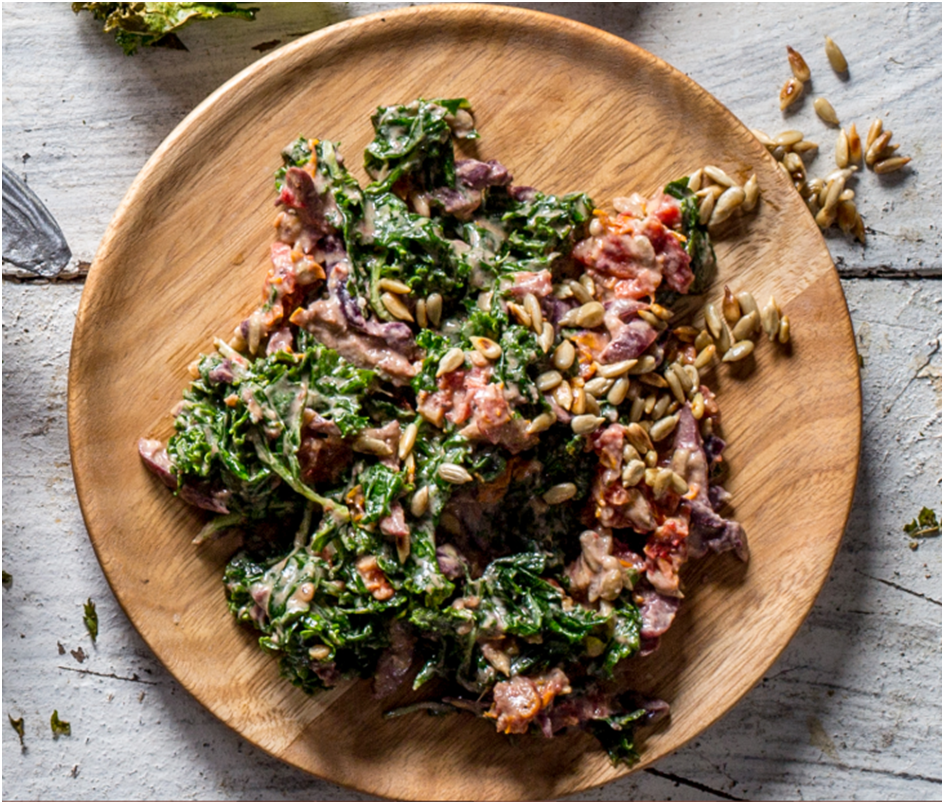 Servings: 4
Time: 00:20
Ingredients:
200g Kale, chopped into big strips
½ Tbsp. fine salt
1/3 Cup sun-dried tomatoes
½ Cup kalamata olives
1/3 Cup grated parmesan cheese
¼ Cup toasted sunflower seeds
¼ Cup tahini
1 Tbsp. extra virgin olive oil
30ml Water
½ Tbsp. Dijon mustard
1 Clove minced garlic
80ml Lemon juice
Salt and Pepper to taste
Method:
Place the shredded kale in a bowl and massage in the fine salt until the leaves attain a darker color.
Add all the remaining ingredients and mix gently until even
Serve immediately
Banting stir-fry mushrooms and chicken thighs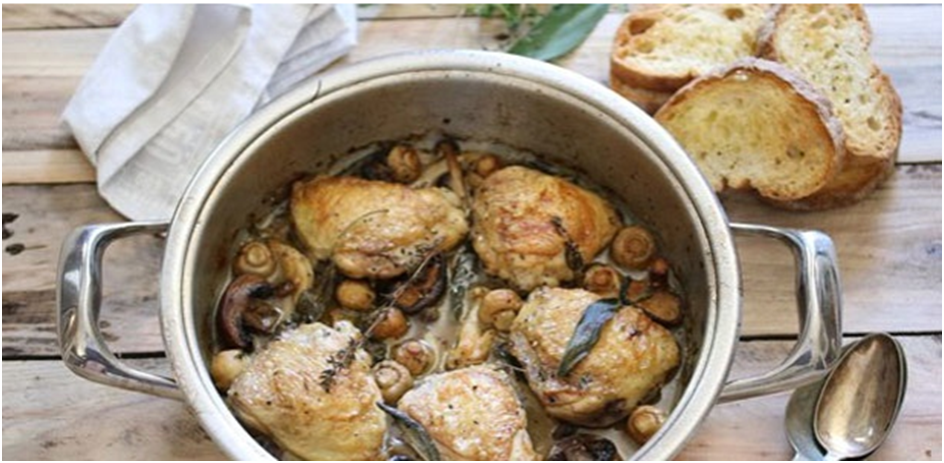 Servings: 4
Time: 00:15
Ingredients:
6 Large chicken thighs with bone and skin intact, lightly seasoned with salt
2 Tbsp. butter
300g Assorted mushrooms (shitake, enoki, brown mushrooms, and baby button). The bigger ones should be chopped.
2 Large garlic cloves, crushed
8 roughly chopped sage leaves
2 Sprig Thyme
¾ Cup dry white wine, which can be substituted with chicken stock
¼ cup cream (Optional)
1 Lemon zest
Freshly ground pepper and salt to taste.
Method
Pre-heat the oven to a temperature of 200 degrees Celsius.
Heat the butter in a frying pan that is oven proof. Brown the chicken thighs until they are completely golden and set aside.
Add the mushrooms, herbs, and garlic to the pan juices and sauté until they are fragrant and slightly browned.
Add the cream or wine and let it simmer for two minutes uncovered. Season to taste then add the chicken thighs in such a way that they are nestled between the mushrooms.
Pop the mixture into the oven for 25 minutes or wait until the chicken has cooked through and is falling off the bone. The cooking liquid should have reduced and the skin should be crispy.
Stir in the lemon zest and season as desired.
Serve as it is or with the side dish of your choice.
From the Banting vegetable recipes outlined above, it is evident that vegetarian banting is quite easy. If properly done, you will create a sumptuous and truly enjoyable meal.
Source: Briefly News