With an upsurge in lifestyle diseases sponsored or escalated by red meat, it is not surprising that banting chicken recipes are now a staple diet for many households. Chicken makes for amazing dishes because of its versatility and ease of preparation. We have compiled a number of recipes that are easy to prepare and whose ingredients are easily accessible.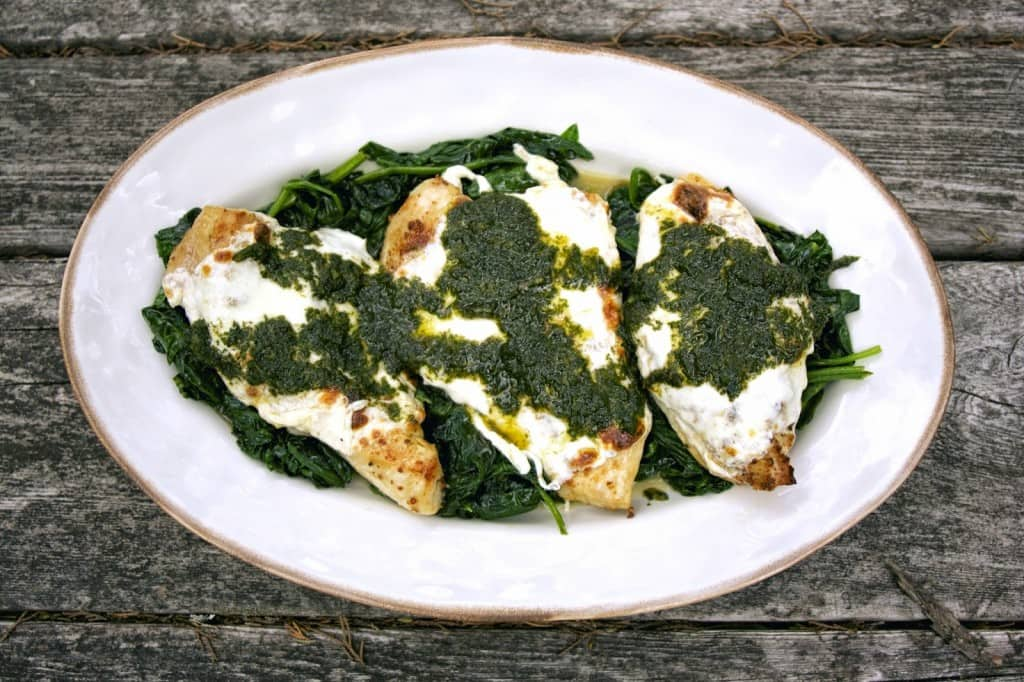 Are you in search of chicken banting recipes? Then you are in the right place! For those who have no idea of what a banting diet is, it is one that incorporates meals that are Low Carb High Fat (LCHF) and avoiding processed food and sugar. Chicken breasts are great and easy meal sections to incorporate when creating a healthy eating plan. They are high in protein, something that you definitely need in your body.
Let us look at some of the banting recipes chicken that you can try today:
1. Cajun Chicken Alfredo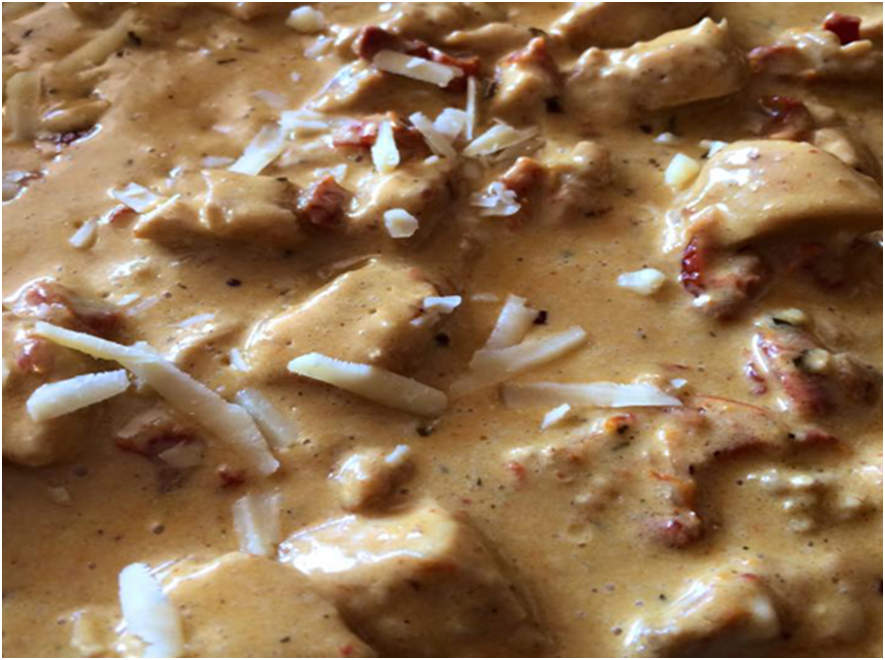 The Cajun spiced chicken is a very sumptuous creamy chicken dish that has that spicy kick that you will love. It is a perfect banting dinner idea that you and your entire household will love!
Preparation Time: 15 Minutes
Cooking Time: 35 Minutes
Servings: 4
Ingredients
Blackening Spice Rub for Spicing
3 Cloves Crushed Garlic
Olive Oil
5 Huge Chicken Chunks
¼ Cup Chicken Stock
1 Cup Sundried Tomato, diced and marinated
¾ Cup Grated Parmesan
3 Tbsp. Paprika
1 Tbsp. Garlic Powder
2 Tbsp. Salt
1 Tbsp. Black Pepper
2 Tbsp. White Pepper
1 Tbsp. Cayenne Pepper
2 Tbsp. Onion Powder
Method
Heat the olive oil in a large cooking pot. Add the chicken chunks and sprinkle the black spice rub. Be very generous with your spices because that is the identity of the dish.
Fry the chicken well until it is cooked then set aside.
Add the ground garlic to the pan and let it cook for 1-2 minutes till it is fragrant. Add the cream and chicken stock. Let the liquid simmer and cook until it reduces by about half. Season with pepper and salt to taste. You may also add a tbsp. of the black spice rub.
Add in the chicken and the sun-dried tomato. Stir in the grated parmesan and let it warm through.
Serve your chicken as a sauce accompanying steamed vegetables or with some zucchini pasta. You may garnish with some grated parmesan.
READ ALSO : Banting breakfast recipes
2. Creamy chicken breasts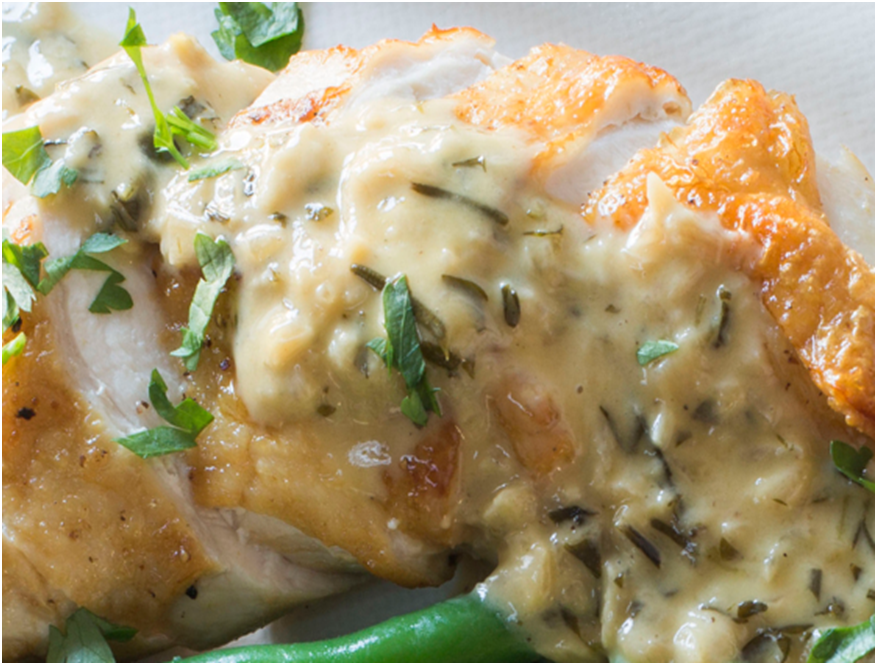 This creamy chicken breasts recipe is great for when you are in haste and you do not have time to prepare a complicated dish. All the same, you get to enjoy some tender, juicy, mouth-watering, and sauce-rich chicken.
Preparation Time: 10 Minutes
Cooking Time: 35 Minutes
Servings: 4-6
Ingredients
4-5 Chicken Breasts, with the skin on
25g Butter
1 Tbsp. Olive Oil
2-3 Diced Shallots
2 Cloves Crushed Garlic
¼ Cup White Wine
1½ Cups Chicken Stock
¾ Cup Cream
¼ Cup Fresh Herbs (Rosemary, Thyme, and Sage, chopped)
Himalayan Salt to Season
Black Pepper to Season
Method
Pre-heat the oven to 210 degrees Celsius
Use paper towels to pat the chicken breasts dry and season both sides with pepper and salt.
Heat a large frying pot over high heat and add a tbsp. of oil when it gets very hot. Place the chicken in the hot pot, one at a time and the skin-side down. Let it fry for a few minutes until the skin is very crispy and golden brown.
Turn over the other side over and let it fry for a while until it also browns.
Line your roasting tray and place your chicken chunks on. Let it bake for ten to fifteen minutes depending on the size of the chicken breasts.
When the chicken is still in the oven, use paper towels to tip the excess oil from the pan. Turn the heat to low then add oil and butter. Add the garlic and shallots and let it cook for ten minutes, being sure to stir continuously. You want your chicken to be soft and golden, and not dark and crispy.
Remove them from the oven and loosely cover with foil. Let it sit for about ten minutes before serving. It is important to let the chicken rest before resting so that all its juiciness is completely absorbed.
Add the white wine to the pan. Turn the heat up and let it bubble for about 30 seconds for the alcohol to cook off. Add the herbs and stock and let it simmer until the liquid reduces by approximately two-thirds. This could take five to ten minutes depending on the amount of heat supplied.
Add the cream and let it simmer until the sauce has formed a lovely, thick consistency and turned dark brown. Be sure to add the juices from the roasting tray once the chicken has rested. Season with pepper and salt to taste.
Slice the chicken breasts, garnish with some fresh herbs, and serve.
READ ALSO: Banting dessert recipes
3. Lemon and basil roasted chicken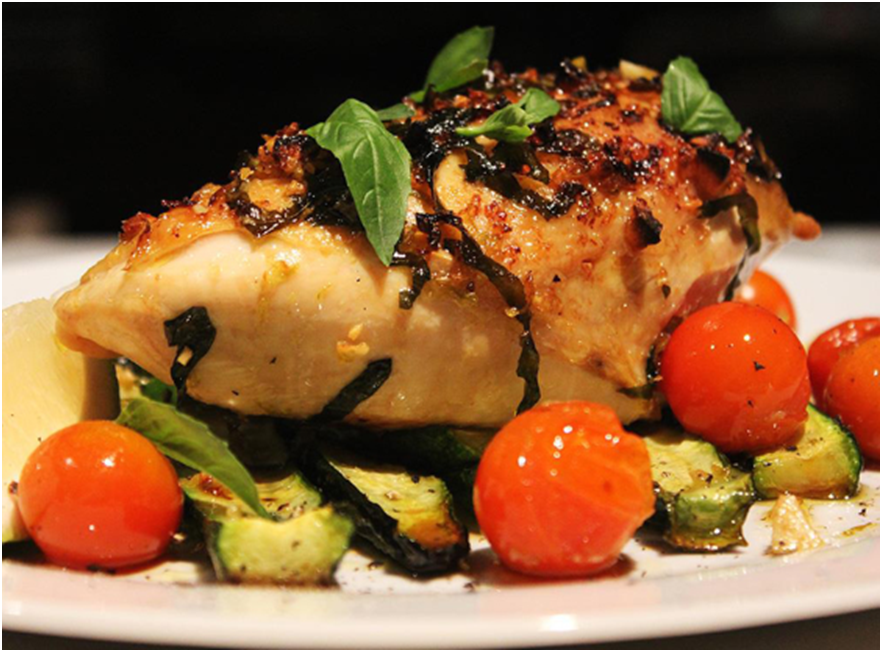 Here is yet another home roasted chicken recipe that is easy and quick to prepare. You will be done in no time!
Preparation Time: 15 Minutes
Cooking Time: 18 Minutes
Servings: 4
Ingredients
6 Chicken Breasts
20g Fresh Basil
2 Lemons
4 Cloves Garlic, Crushed
8 Tbsp. Olive Oil
8 Courgettes
400g Cherry Tomatoes
Himalayan Salt to Season
Method
Pre-heat the oven to a temperature of 220 degrees Celsius.
Cut the basil leaves into small pieces, crush the garlic, and slice the courgettes lengthwise.
To prepare the lemon zest, grate the peels (only the green and yellow peels, and not the white part) of the lemons then chop the lemon into thick wedges.
Place the olive oil, garlic, half the basil, and lemon zest into a bowl and mix them together.
Place the sliced courgettes onto the roasting tray and place the chicken chunks on top. Add the basil mixture and sprinkle the coarsely ground salt. Let it roast for approximately ten minutes.
Add the tomatoes and let them roast for another 8 minutes or until the chicken has cooked through.
When serving, divide the cherry tomatoes, courgette slices, and the chicken between the plates. Garnish with the fresh basil leaves and lemon wedges. Squeeze some lemon juice over the chicken for some lemon flavor.
READ ALSO: Try this: the humble fruit salad gets a snazzy makeover
4. Cheese and bacon stuffed banting chicken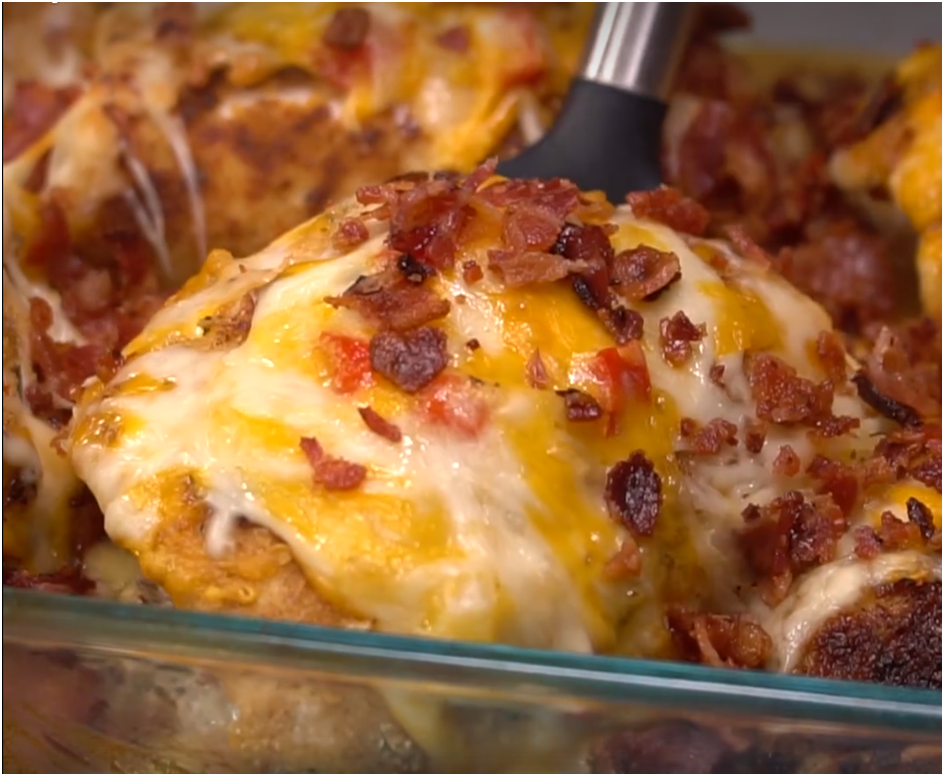 Preparation Time: 5 Minutes
Cooking Time: 15 Minutes
Servings: 2
Ingredients
2 Chicken Breasts, skinned or unskinned
100g Green Beans, trimmed on both ends
Freshly Ground Salt and Black Pepper
75g Goat Cheese at Room Temperature
75g Cubed Bacon
1 Tbsp. Olive Oil
½ a Lemon Zest and Juice
Small Handfuls of Raw or Roasted Almonds that are Roughly Chopped
Method
Fry the bacon until it is lightly golden and use a slotted spoon to remove it from the pan. Set the bacon aside on some kitchen paper to let it drain.
Season the chicken breasts on both sides with some black pepper and a little salt. Slice the breasts open in the middle and flip it to look like a book.
Mix together with the goat's cheese and bacon using a fork and add some black pepper. Avoid adding any more salt because the goat's cheese is already salty enough.
Fill each chicken breast with the cheese and bacon filling and gently close it.
Heat a tbsp. olive oil in a large pan over a medium-high heat. Let the chicken breasts fry for approximately 4 to 5 minutes on both sides, until it forms a golden crust and the meat is well cooked through. Remove the chicken from the heat and set it aside to infuse the flavors.
Place the green beans to boil for approximately 1 to 2 minutes. Remove them and refresh using some cool water to maintain their bright green color. Add the almonds, lemon zest, and drizzle some lemon juice.
Serve the green beans immediately with the chicken.
5. Easy Mozzarella chicken recipe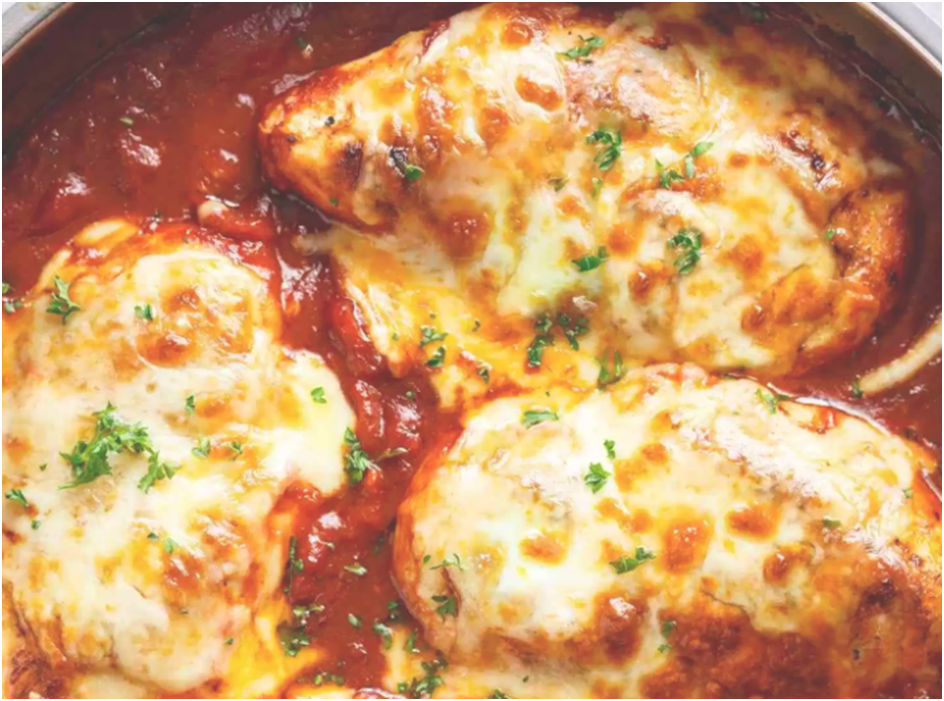 The banting chef has come up with yet another low carb dream. This dish is very easy to prepare, and its crispy crumb is something that you do not want to miss out!
Preparation Time: 10 Minutes
Cooking Time: 20 Minutes
Servings: 2
Ingredients
1 Tsp. Paprika
1 Tbsp. Italian Seasoning
Pepper and Salt to taste
1 Onion, Chopped
½ Tsp. Onion Powder
150g Skinless, Boneless Chicken Breasts
1 Tbsp. Olive Oil
4 Cloves Minced Garlic
1 Fire-Roasted and Chopped Pepper
15 Ounces Crushed Tomatoes or Tomato Puree
Crushed Red Pepper Flakes, optional
1 Tbsp. Fresh parsley, chopped to garnish
¾ Cup Shredded Mozzarella
Method
Pre-heat the oven on medium heat.
Season the chicken with pepper, onion powder, paprika, salt, and Italian seasoning.
Heat the olive oil in a skillet over a medium heat. Cook the chicken pieces until they are cooked through and browned (Give each side eight minutes to cook). Transfer the chicken to a plate and set aside.
Cook the onion in the same skillet until transparent, add the garlic and cook for 1 minute until it is fragrant.
Add the fire roasted capsicum, tomato paste, crushed tomatoes, the remaining Italian seasoning, and the crushed red pepper flakes. Stir and mix all the ingredients well.
Let it simmer and leave the sauce to thicken, and be sure to stir occasionally.
Place the chicken pieces on the sauce, applying 2-3 tbsp. mozzarella cheese on each breast. Transfer them to the oven and leave to broil until the cheese browns and starts bubbling, which is after approximately 1-2 minutes.
Garnish your dish with parsley
We are done! Isn't it great that you are now enlightened on five easy banting chicken recipes! We believe that you have come across a dish that you especially love and you are excited to try. Enjoy
READ ALSO : Top 10 South African fast food brands revealed
Source: Briefly.co.za