Do you have some health issues? Does your medical practitioner advice you against carbohydrates and diets with high sugar level? Have you tried to adapt to the proposed LCHF recipes but failed? The truth is that a consistent intake of high sugar and carbohydrates diets may expose you to serious medical issues such as diabetes, high blood pressure, heart diseases, obesity, and chronic diseases among others. Banting diet recipes could be the solution to your problem.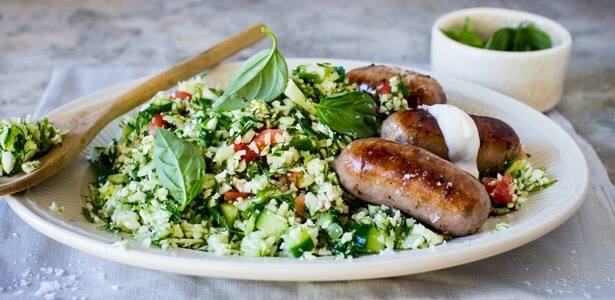 In this article, we have given some Banting recipes that are made of simple and affordable ingredients suitable for breakfast, lunch, and dinner. Read on.
Banting recipes for breakfast
Some people do not care about their breakfast recipes. The truth is that breakfast is equally as important as lunch or dinner. Health nutritionists have argued that breakfast provides the required energy for the day. Below are the Banting recipe you can explore for breakfast;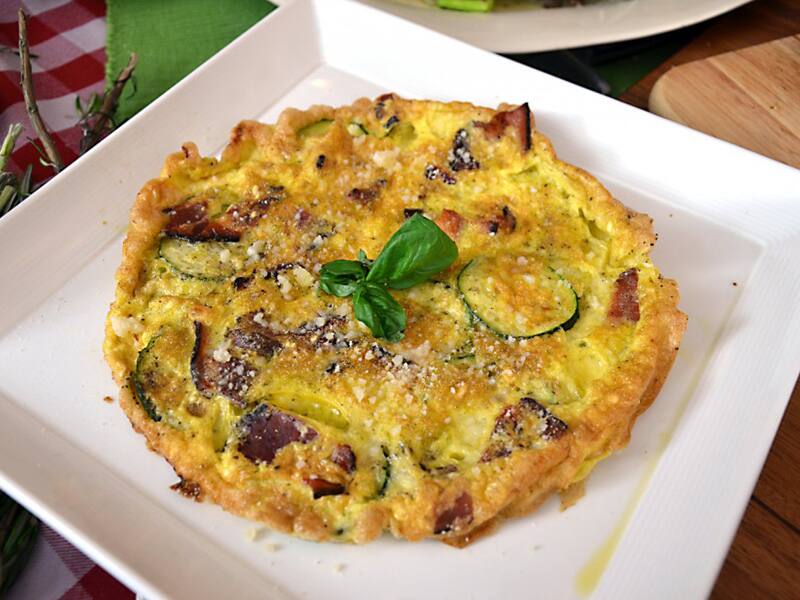 1. Serve 2 to 3 fried eggs or omellete in butter with cheese, red tomato pepper, and sautéed onion. The meal contains 46 to 52g of carbohydrate, 91 to 110g of proteins, and 133 to 152g of fats.
2. Similarly, you may take a 1\4 cup of Spiced Banting granola toasted with a mixture of nuts, and seeds and a cup of kefir or yogurt or a 1\4 of papaya accompanied with one or two boiled eggs. This menu contains 57 to 58g of carbohydrates, 99 to 118g of protein, and 128 to 143g of fats.
3. You can also take 2 egg omellete with a filling of a bacon rasher, cheese, Swiss chard, broccoli and mushrooms with a rocket and tomato salad. The breakfast recipe contains 40 to 42g of carbohydrates, 86 to 104g of proteins, and 137 to 157g of fats.
4. Try a 1\4 cup of a spiced Banting granola with a cup of yogurt, 1\4 mango accompanied with one or two eggs. This meal will offer you: 58 to 60g of carbohydrates, 113 to 121g of protein, and 129 to 149g of fats.
5. Take two to three fried eggs accompanied with ½ an avo, grated cheese, and grilled tomatoes. This is a simple, yet very nutritious meal. It contains 62 to 72 g of carbohydrates, 110 to 129g of proteins, and 113 to 128g of fats.
6. On the same note, you can serve two to three scrambled eggs accompanied with one or two pork or beef sausages without fillers, grated cheese, and sautéed spinach. The recipe contains 46 to 48g of carbohydrates, 114 to 138g of proteins, and 158 to 189g of fats.
7. Finally, try this: 2 to 3 low carbohydrate pancakes accompanied with one to one and a half small sized bananas. You may also include 2 to 3 tablespoons of nut butter, a dollop of yogurt, and cinnamon accompanied with 2 rashers of crispy bacon. This may contain 63 to 87g of carbohydrates, 91 to 99g of proteins, and 117 to 125g of fats.
The above Banting diet recipes can be accompanied by your preferred low sugar drink and fruit.
Banting recipes for lunch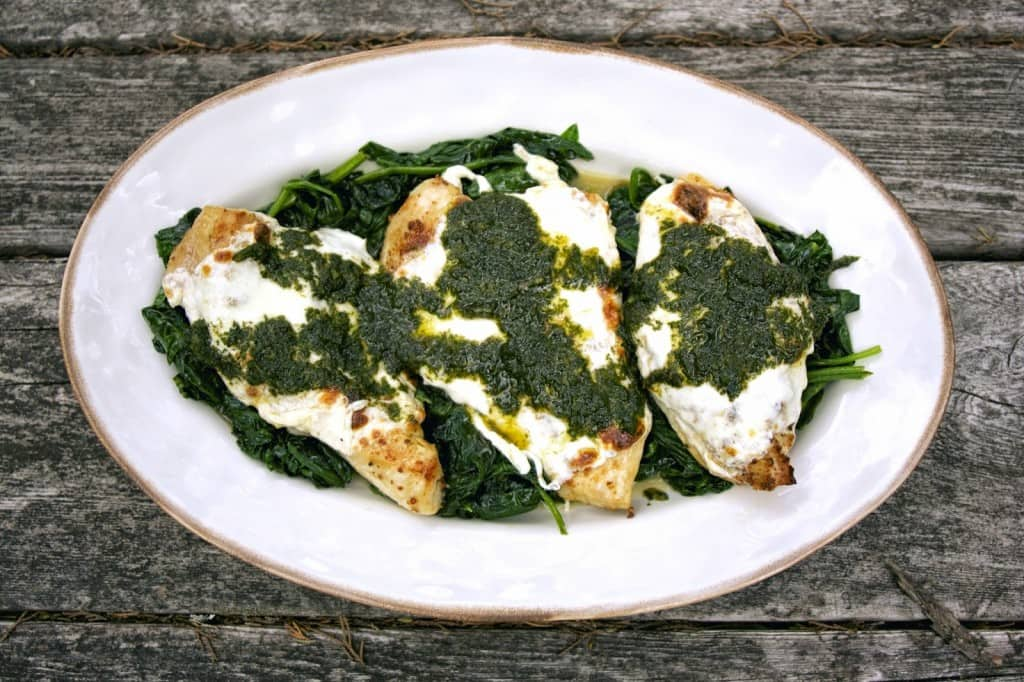 It's not easy to quit taking high carbohydrates and sugary snacks. In several occasions, we have all quite on the journey to feeding healthy due to the lack of ideas. Below are some of the Banting Lunch ideas that you can try out.
1. A 1/2 to 2/3 tin tuna in brine accompanied with 2 to 3 Teaspoons of the Banting mayo, 1/2 to 3/4 of a diced mango, diced cucumber with salad (dressed with olive oil) and apple cider vinegar or an apple cider vinegar.
2. A 1\2 to 1 cup Banting mince-left over (made with onion, tomato paste or tinned tomatoes, seasonings, and green vegetables), a 1\2 to a cup of cauli-mash and at least a cup broccoli.
3. You can also take a salad containing 50g to 70g of the chicken leftover with Salad (with brined pickles), ½ cup of asparagus, 2 to 3 teaspoons of the Banting mayo and a boiled egg.
4. An egg mayo(2 boiled eggs) or Tuna(1/2 tin) accompanied with 2 tablespoons of the Banting mayo, ½ to a full avo, brined pickles, radishes, seed crackers, and watercress.
5. Take some Crispy grilled pork chop (leftover) with a mixture of sautéed onion, 1/2 cup cauli-mash, fennel and apple, and 1/4 cup sauerkraut, with a gravy made from pan juices and chicken stock.
6. You can take 2 fish cakes made from the leftover fish and mayo accompanied with the red cabbage, grated carrots, crunchy spinach salads, apple cider dressing or apple vinaigrette, and radish with olive oil.
7. Serve a Banting mince (leftover), a half to full buttered sweet potato accompanied with ½ smashed avo, one to two teaspoons of the sour cream, and grated cheese.
The above recipes can also be used as Banting dinner ideas. You only need to include a glass of hot or warm drink and a favorite fruit.
LCHF recipes (low carbohydrates high fat)
LCHF stands for the low carbohydrates high fats recipes. Below are ideas of the LCHF recipes that you can try at home. Similarly, the below LCHF recipes may be suitable for Banting super ideas.
1. Low carbohydrates pork pies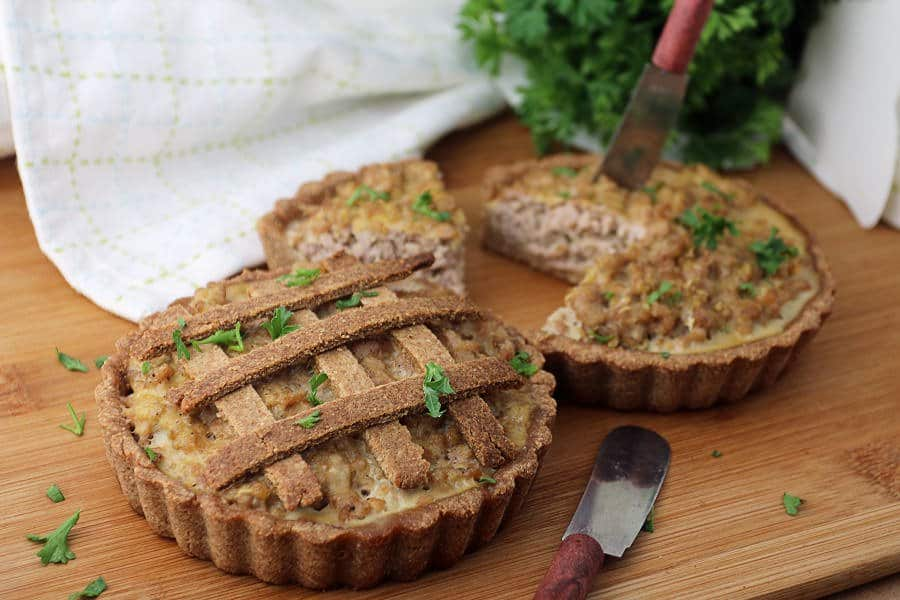 Ingredients
Pie crust
200g coarsely grated butter
100 g ground flaxseeds
100 g almond flour
45 ml psyllium husks
45 ml Chia seeds
200 g fat cream cheese (full)
Pork filling
30 ml coconut oil
15 ml garlic
1 chopped onion
5 ml fennel seeds
3 to 4 sage leaves (finely chopped)
4 pork bangers, meat pressed out from their casings
Salt
Cooking procedure
1. Preheat the oven to a temperature of 200 degree Celsius.
2. Grease 6- two small sizes of the hole muffin pans with butter.
Cooking procedure for the pastry
1. Mix the ground flax seeds, psyllium husks, butter, Chia seeds and almond flour in a bowl.
2. Pulse the contents well until it is crumbly. Add the cream cheese to the ingredients and then continue pulsing to make a dough.
Cooking procedure for the filling
1. Heat the coconut oil 3 to 5 minutes in a pan.
2. Add the garlic and onions and then fry them until the mixture softens.
3. Then, add the sage, fennel, and meat. Fry the contents for another 7 minutes and set the pan aside to cool.
4. Divine enough pieces of the pastry for the tops into the muffin holes.
5. Evenly pass the pastry against the sides and bottoms of the muffin holes and then fill the mixture with the pork filling.
6. Press a piece of the pastry in between your palms to form a disk and then top each pie with a disk.
7. Press also the side of the disks into the already lining pastry into the muffin hole and then pinch it together.
8. Bake the mixture for 30 minutes and let it be cooked until it becomes golden.
Your low carbohydrate pork pie is now ready for consumption.
2. Sausages and bacon baked with spinach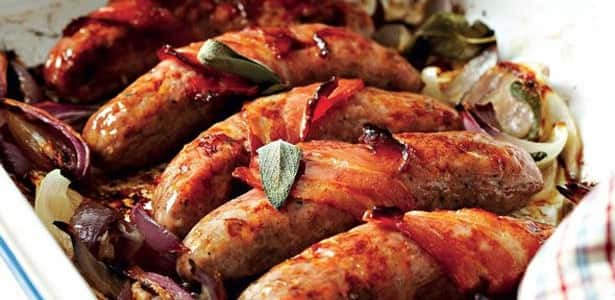 Ingredients
8 quality pork sausages
8 rashers streaky bacon
2 red onion cut into eighths
15 sage leaves
2 tablespoon of duck fat
1 cup of white wine or verjuice (if available or necessary)
2 tablespoon of butter
150 g of baby spinach
Himalayan salt and black pepper
Cooking procedure
1. Preheat the oven to a temperature of 220 degree Celsius.
2. Place the wrapped piece of bacon in a roasting tin with the onions and sage leaves. Then, add the ingredients over the duck fat, especially the onions.
3. Roast the mixture for about 30 to 40 minutes on the middle rack of your oven.
4. Turn the ingredients until the sausages turn brown and then cook them through.
5. Deglaze the pan with wine or verjuice until it thickens.
6. Finally, heat the butter in a pan and then add your chopped spinach. Sauté the ingredients until it wilts and then season well.
Your sausages drizzled with gravy is ready. You can serve it side by side with spinach.
Banting dinner ideas
If you are still researching on the Banting supper ideas, below are some easy Banting recipes for various Banting meals which would be taken comfortably for dinner;
3. Coconut porridge with yoghurt and berries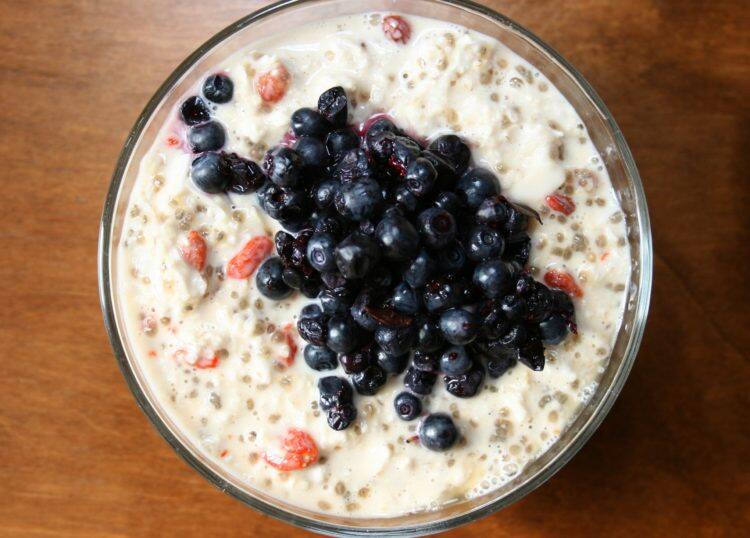 Ingredients
1 cup of coconut milk (approximately 250 ml)
½ cup of full cream milk
1 cup of coconut flour
⅓ Cup of desiccated coconut
Seeds from 1 vanilla pod
2 eggs, lightly whisked with a fork
Cooking procedure
1. First, cream the yogurt fully and add the fresh raspberries.
2. You can mint the ingredients to garnish (if necessary).
3. Pour the milk, coconut flour, coconut milk, vanilla, and the desiccated coconut into a saucepan.
4. With medium heat, pour the contents gradually as you stir continuously. Do this for five minutes.
5. Remove the heated contents from the heat to cool down.
6. Using a fork, whisk in your eggs lightly to prevent scrambling.
7. When the contents cool down, add the whisked eggs.
8. After adding the whisked eggs, heat the mixture under low heat for about two minutes as you whisk continuously.
9. Sweeten the mixture by adding some coconut milk and flour (sweetens naturally). To meet your expectation, you need to taste as you add the sweetening contents.
10. Your coconut porridge with yoghurt and bellies is ready. You can serve it with a dollop of yoghurt and few raspberries garnished with a sprig of fresh mint.
11. Finally, serve the porridge with a dollop of yoghurt and a few raspberries. Garnish with a sprig of fresh mint.
4.Coconut Granola with nuts and Goji bellies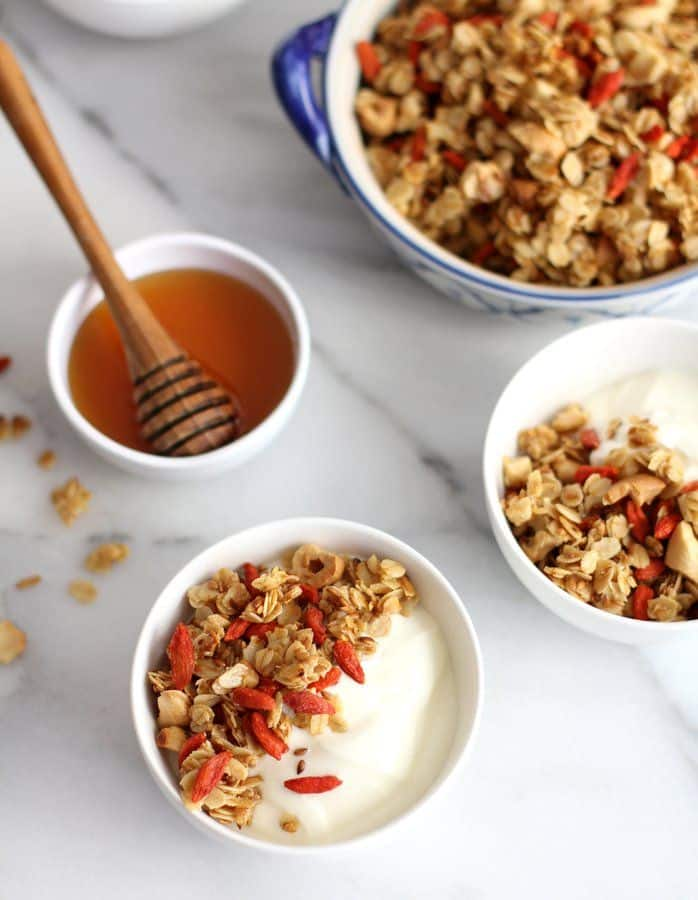 Ingredients
Three cups of coconut shavings (about 750ml)
One cup of flaked almonds (about 250ml)
One cup of crushed walnuts (about 250ml)
Two teaspoons of Chia seeds (about 10ml)
Three teaspoons of melted coconut oil (about 45ml)
A half cup of Goji berries (about 125ml)
Cooking procedure
1. First, pre-heat the oven to a temperature of 100 degree Celsius.
2. Mix all your cooking ingredients except for the Goji berries, and then place the mixture on a roasting tray of an oven.
3. Mix your contents well to ensure that the coconut oil coats your ingredients.
4. Place the mixed contents in the oven until the coconut shavings start to cover (at least 10 to 15 minutes).
5. Remove the ingredients from the oven, chillthem, and then add your Goji berries.
Your coconut granola with nuts and Goji berries is ready. You can serve it with a drizzle with maple syrup, double cream yoghurt, and fresh berries among others.
5. Zucchini noodles with chicken, feta and Kale meatballs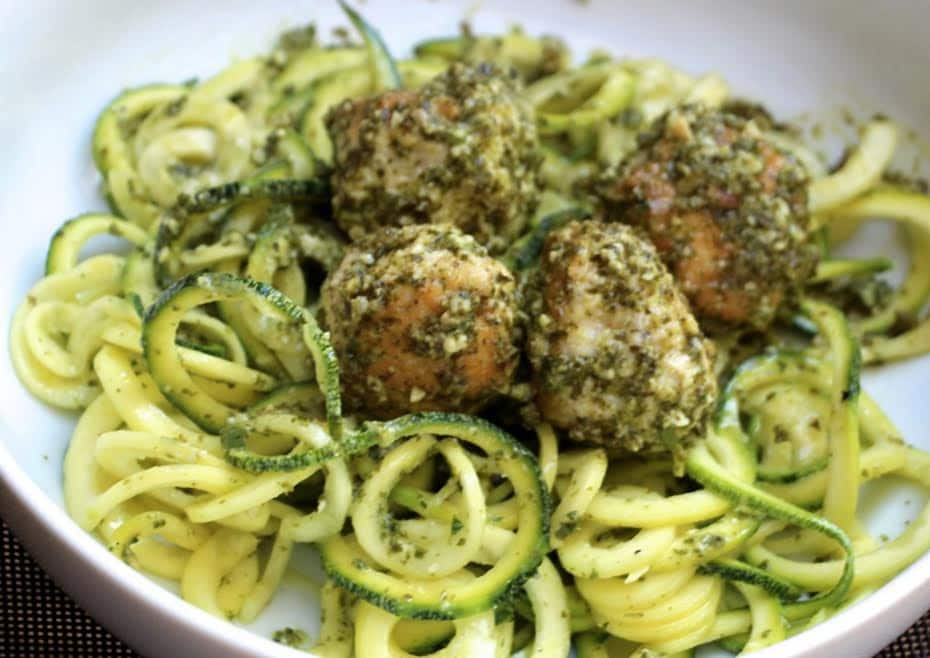 Ingredients for meatballs
4 pieces (about 600g) of skinless, boneless, and chopped chicken breasts
250ml or 35g or one cup of chopped kale
45gs or ½ of a chopped red onion
1 teaspoon or 15ml of Dijon mustard (about 1teaspoon)
2teaspoons or 10ml of chopped origanum
2.5ml or ½ tablespoon of fine salt
A pinch of pepper (if necessary)
1 or 70g of round-crumbled feta
Cooking oil
Ingredients for Zucchini noodles
2 teaspoons of butter (approx.30ml or 30g)
700g of zucchini noodles (using a spiralizer)
2 tablespoons or 10ml of finely chopped garlic
2 teaspoons or 10ml of lemon zest
2 teaspoons or 10ml of lemon juice
To serve, you can use finely grated Parmesan, basil leaves or micro herbs or finally lemon wedges.
Cooking procedure for meatballs
1. Preheat the oven to a temperature of 180 °C
2. Place the boneless chicken breast in a food processor.
3. Add the origanum, chopped onions, mustard, kale, salt, and pepper to the ingredient
4. Process the contents until fine. For your information, the mixture doesn't have to be smooth. A Little texture may be necessary. Finally, stir in the feta.
5. Make 16 meatballs. Remember to slightly wet your hands when rolling the balls to prevent the mixture from sticking to your palms.
6. Pour some cooking oil in the frying pan and then deep fry the meatballs for about 5 minutes over a medium heat.
7. Turn your balls regularly to ensure that they turn brown evenly.
8. Finally, put the brown balls in the oven for about 10 minutes until they are cooked.
Procedure for cooking zucchini noodles
1. Use a large frying pan to heat half of your butter over high heat.
2. Add 1\2 of the garlic and 1\2 of the zucchini noodles, lemon zest, and juice. Fry the contents for about a minute. Season to taste and then remove the mixture from the frying pan.
3. Cook the remaining noodles with the remaining contents (Preferably 2 batches at a time to prevent sogginess and over-cooking).
4. Your zucchini noodles are ready.
Serve the meatballs on top of the zucchini noodles with lemon wedges (use the grated parmesan to scatter them).
However, for better output, use a spiralizer to make the zucchini noodles. If you don't have one, you can buy ready-made zucchini noodles in the local retail shops and the supermarkets. To serve, scatter the finely grated parmesan cheese on top of the gnocchi accompanied with the Basil. Besides the Banting dinner recipes, citizens should equally embrace Banting diets for other meals.
Conclusively, the above Banting recipes may be used interchangeably since sticking to a single recipe may be monotonous. Secondly, the department of health should create awareness of the effects of taking high sugar and carbohydrates plus fatty diets. The truth is: no one would wish to acquire hear diseases among other proven ones caused by such foods. Fortunately, all the necessary ingredients to prepare the stated Banting foods are affordable and available in the local retail stores and supermarkets.
READ ALSO:
Source: Briefly.co.za