- The South African government is investigating the merits of introducing a fuel price cap
- Minister of Energy Jeff Radebe confirmed that a task team was looking into setting a flat rate for the price of unleaded fuel
- The cap would only apply to 93 octane unleaded fuel which accounts for only around 20% of fuel sales in the country
PAY ATTENTION: Click "See First" under the "Following" tab to see Briefly news on your News Feed!
The South African government has seemingly caved into pressure from civil society and announced it is investigating the merits of introducing a fuel price cap which would in effect introduce a flat cost rate for fuel and provide relief to millions of strained motorists, taxi operators and consumers.
Minister of Energy Jeff Radebe confirmed that a special task team had been established to look into the matter. The team is comprised of members of the Department of Energy and the National Treasury and have been given until 18 October to gather information.
READ ALSO: 10 Years of fuel prices compared and the reasons for the price rises
Now for the bad news, the cap would only apply to 93 octane unleaded petrol which according to businesslive.co.za accounts for roughly 20% of the total fuel sales throughout South Africa at any given time.
Briefly.co.za gathered that 93 octane is easier and cheaper to refine than 95 octane and at reef altitudes, the difference between the two grades of petrol is reported to be negligible. South Africans tend to use the higher grade because it is perceived to provide better performance and less engine wear.
According to a report in businesslive.co.za about half of all vehicles in South Africa can happily chug along on the lower grade fuel with absolutely no ill effect on performance or reliability.
The government hopes this proposal will cause a shift in usage patterns from 95 octane to 93 octane petrol. The proposal has been sent to the South African fuel retail and wholesale sectors for comment and input.
The price consumers pay at petrol pumps per litre of fuel is (unlike that of diesel) already regulated by the government. The investigation into a price cap comes after multiple consecutive fuel price hikes which have placed millions of already struggling South Africans under ever greater financial pressure.
PAY ATTENTION: Save mobile data with FreeBasics: Briefly is now available on the app
According to the Automobile Association (AA) of South Africa the inland price of fuel in South Africa for each month of 2018 was as follow: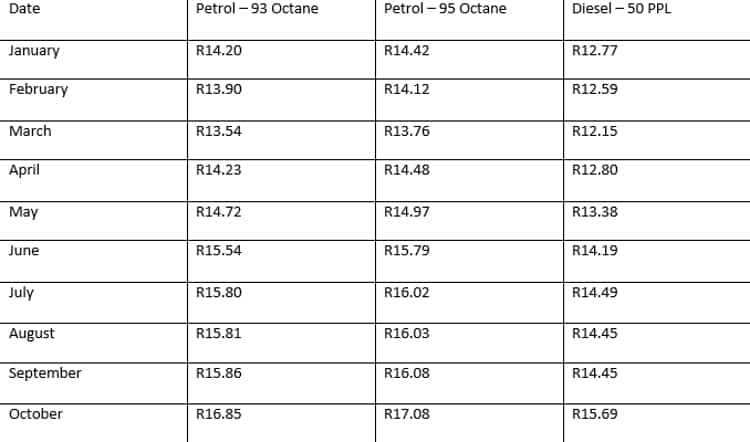 This dramatic rise in the cost of fuel has led to a rise in the living expenses for most ordinary and poor South Africans in multiple ways. Firstly South Africans are paying more to get to and from work and secondly the increase in farmers input costs and transportation of goods has led to an increase in the sticker price of basic foods and virtually every other item sold in shops.
South Africans have begged the government to take action and lower the price of fuel by temporarily reducing the general fuel levy and RAF levy on fuel which is currently at 37% per litre.
While this scheme could help some South Africans, assuming the government can pass the appropriate legislation and amend the relevant laws, the scope will be limited to mostly inland motorists and will do little to alleviate the input costs of farmers or the transportation costs of goods.
READ ALSO: Ramaphosa delays trip to Democratic Republic of Congo due to ill health
Do you have a story to share with Briefly? Visit our Facebook page where you can send us a message or leave us a comment. Your story could be shared online.
For more amazing, funny and informative videos, please visit Briefly South Africa's YouTube Channel.
To stay up to date with the latest news, download our news app on iTunes or GooglePlay today.