Reiloe Maele Phoolo, popularly known as Cassper Nyovest, is a South African rapper and music producer. He is considered to be among the wealthiest celebrities in South Africa. Cassper was born in 1990 in 16 December in Mafikeng, South Africa. The record label owner has earned his popularity through the several albums he has produced, for example the well-known Doc Shebeleza. His hits rock clubs and restaurants and we may not resist the urge to shake a little when the tunes come on.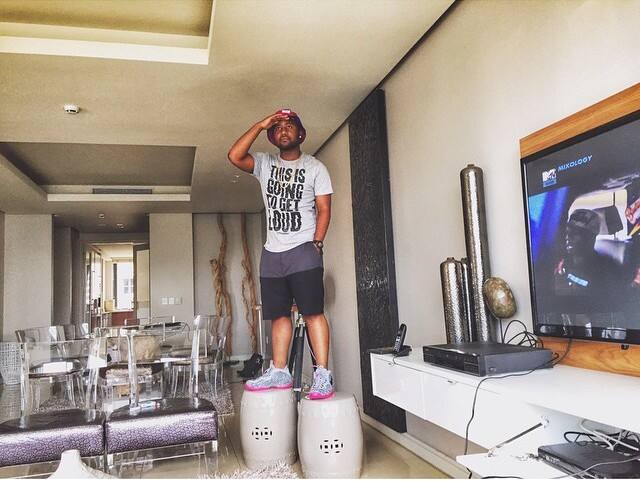 Cassper Nyovest dropped out of high school in 2006 to chase his dream. He had told his family that it's better for him to pursue something that would work instead of regretting all his life for not going after his career. The next year he left home and came to Johannesburg to pursue a career in music as a rapper and a music producer. Nothing could stop him from achieving his dream o being a rapper, and since then he never stopped chasing his dream
Cassper Nyovest crib
June last year Cassper dropped a whopping R10 million house. In may 2018, Cassper revealed on his Twitter account a photo of this luxurious house he bought. '#tbt to when I bought my dream house and made my mama proud' he captioned the photo. Before he even posted this photo he had been teasing his fans with partial pictures of the interior of this house. The Cassper Nyovest crib is nothing short of luxury!
The inside view of Cassper Nyovest house
In between last year June 2017 and may 2018, Cassper had posted some photos of the insides of his house. From the pictures, the home is very luxurious with classy interior decors. For instance, the living room is packed up with different levels of craftsmanship all around the house. There are also L-shaped seats that ensure luxury and class.
To keep his living room vibrant he has used different colors and texture to break the monotony of the house. The rapper also has a studio apartment which he thinks is his favorite room just like any other artist. The 10 million rand mansion also comes with four garages and a cigar lounge. Some of his fans are very fond of trolling the rapper on account of being a little rude on poor people, but this time everyone seemed to congratulate him on his achievement.
He was also interviewed with Tshisalive where he admitted not to have come to the reality that finally, he had bought the house of his dreams.
"We got a new spot. It has so many rooms. I have place for everyone. I still haven't digested it (having a new place). We also have a new studio at the new place and an entertainment area. I have been wanting to built for some time, and I finally have it now. A lot of good music is going to be coming from it" the rapper said.
The garden outside of this house is even more significant, luxurious and glamorous and with a gigantic swimming pool. The swimming pool is surrounded by the nature of this garden which makes it even more luxurious.
READ ALSO: Cassper Nyovest gloats about his new and improved easy to dress body
The top billing houses
Top billing is a South African television programme that airs different interviews, especially from various famous people. The show talks about different houses and even features the best homes in South Africa. The Cassper Nyovest house top billing is a family home that is worthy of the R10 million it costed. This is why the 'Tito Mboweni' hit-maker's house is simply a sight to behold!
The luxurious life of Cassper Nyovest
To Cassper Nyovest, luxury is just another common name he is used to. This rapper loves the good life. The Cassper Nyovest car collection is made up of two Bentleys which he is particularly very fond of. He once posted a photo of him standing on top of both of the cars. The picture went viral with people doing what they called the Cassper Nyovest challenge, and people were standing on top of all sorts of crazy things.
The 'Tito Mboweni' hit-maker added another top class Mercedes Benz V-class to his fleet of fancy cars. Cassper went ahead to post this achievement when his fan tweeted of craving a V-class.
Tito Mboweni house remix
This song was released by Z effect as a remix from the Cassper Nyovest's 'Tito Mboweni' single. The single was named after the current South African finance minister.
This is the single from the Thuto album that got so many people interested and was even mentioned at the CNN. Tito Mboweni net worth is definitely high due to the traffic it gets.
Cassper Nyovest news
If you thought that the Cassper Nyovest new house is the latest story that the rapper is involved in, you thought wrong. Cassper was recently engaged in a saga that took the Twitter world by storm concerning 'people's boyfriends' as it was popularly phrased.
This happened when the South African rapper held a Ciroc pool party. A Twitter user twitted tagging the pool party, he tweeted claiming that her girlfriend had lied that she was sick only for him to confirm her presence at the pool party. The man thought that her girlfriend had ditched him for a party.
Cassper, however, tweeted back with two tweets showing that the party was all for fun and a result he had some 'people's boyfriends' calling them to ask what went down at the party. This thread was hilarious, if you have not had a good laugh for a long time, then this is your time. Follow @casspernyovest on Instagram and Twitter to get more updates and details about his music and life in general.
READ ALSO: