Bonang Matheba, popularly known as Queen B, is a much celebrated personality in the South African media and fashion sectors. She currently has over three million followers in South Africa on her Instagram page. She is a renown TV and a radio presenter who is celebrated for her strong work ethics. You wonder why she has that much of attention being attributed to her? Her style, fashion and achievements are the reasons for this. The promise to award three matric ball dance winners with her favorite red carpet dresses might also be a reason. In this article, we dig deeper into Bonang dresses 2018; her favorites, her matric dance dresses story and also her red carpet dresses.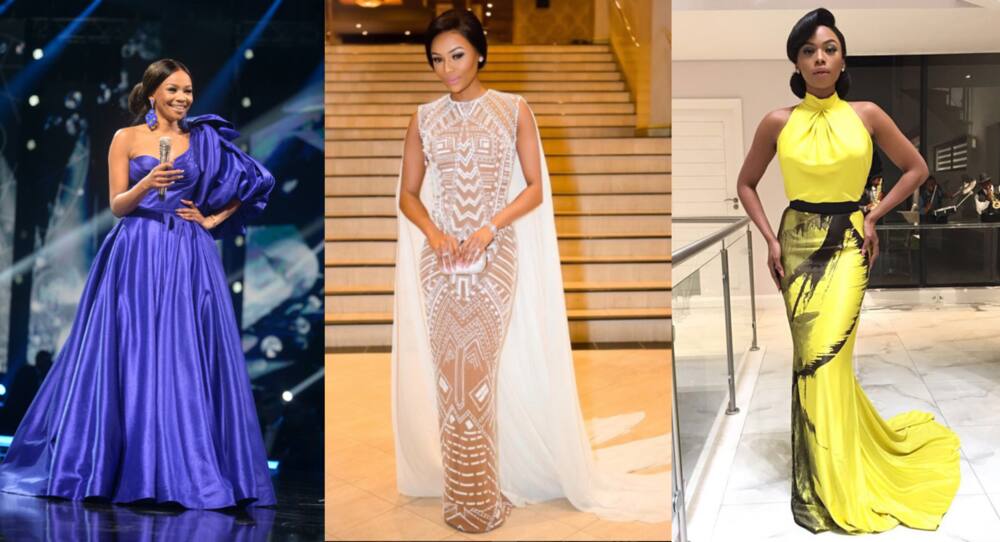 Bonang Matheba showed her resilience and hard-working nature at a young age. She started working when she was just 15 years old. Her first gig was with Manhattan's fantasy challenge. She then co-hosted on the SABC Music Show. During the five years that she was there, she helped make the show a hit. She also has a proven track record of being a hard worker.
Currently, Bonang has several jobs. Bonang has a career as a presenter for both Afternoon Express and Top Billing. She also has another role as a radio host for the Metro FM show, and the Front Row, which frequently trends on Twitter.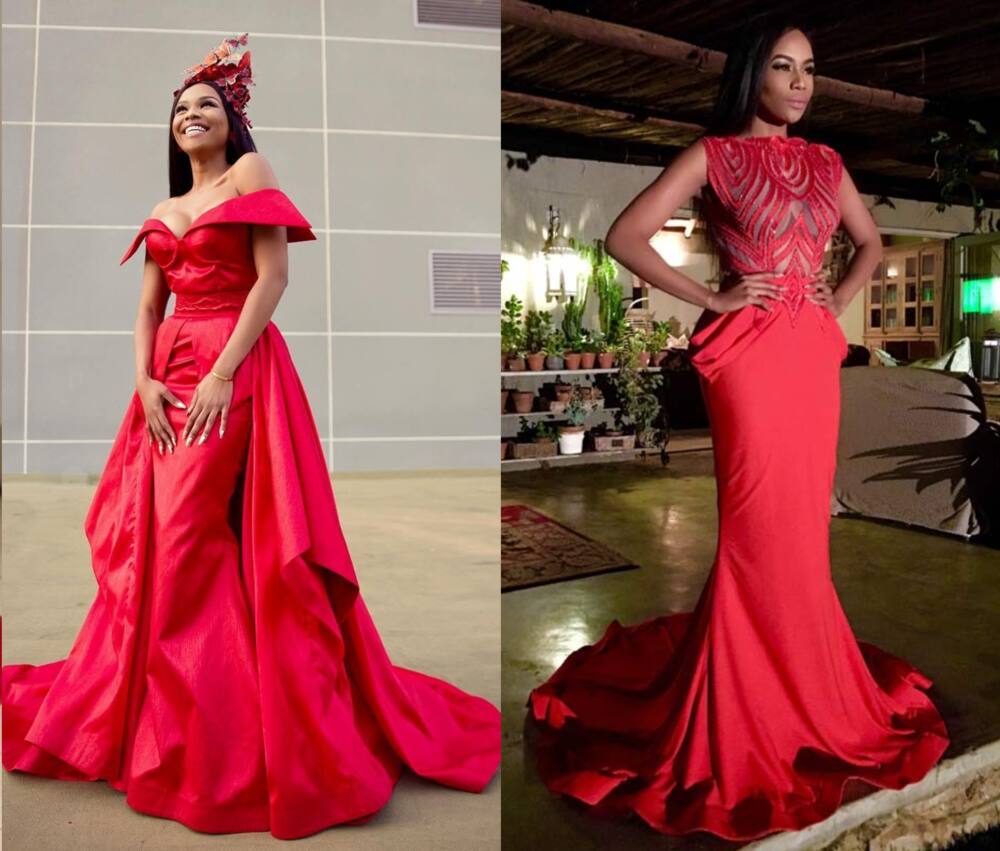 Bonang Matheba has her own company, Bonang Matheba entertainment. She is also the among the most stylish media personalities in South Africa, and it is all thanks to the passion she has for fashion. Due to this passion, she has ventured into many fashion businesses in her life. Bonang is always gorgeously dressed whether she is working or just on vacation.
In 2008, the TV and radio personality launched a clothing line when she partnered with a retailer known as Legit. After a year, her handbag line, Baby Star, was buzzing the shelves. In 2014, she again partnered with Woolworth's to start her lingerie line known as 'Bonang for distraction.'
READ ALSO: Latest Kitenge designs for short dresses
Bonang Matheba's dresses
Considering that she started working at the tender age, Bonang is a very focused and goal-oriented woman. These two characters, in addition to being bold, have seen Bonang achieve many awards. The passion she has for fashion is unmatched.
Below are Bonang Matheba dresses that will take your breath away.
1. Bonang in a yellow dress - Bonang dresses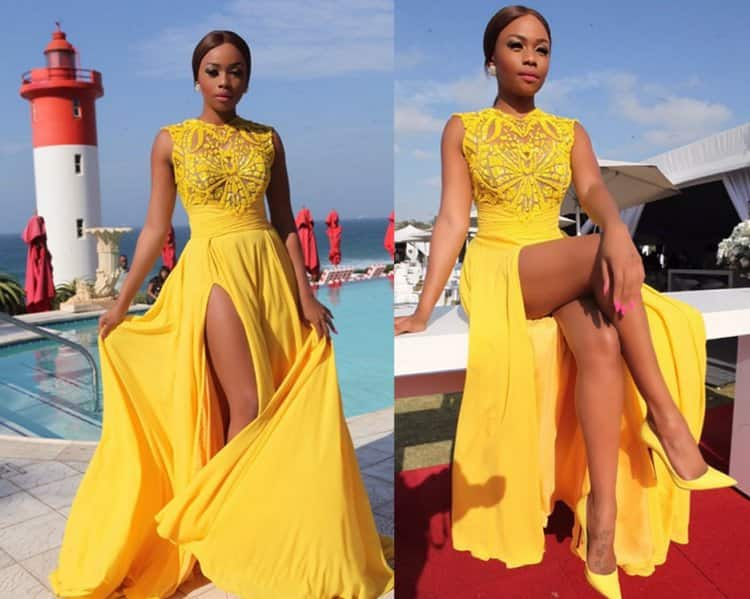 Her chief stylist gert Johan Coetice seems to know her well. He comes up with dresses that bring out what is simply amazing. The slits bring out the sexiness from her long silky legs, which make her look great on camera.
2. Lady in red - Bonang Matheba red carpet dresses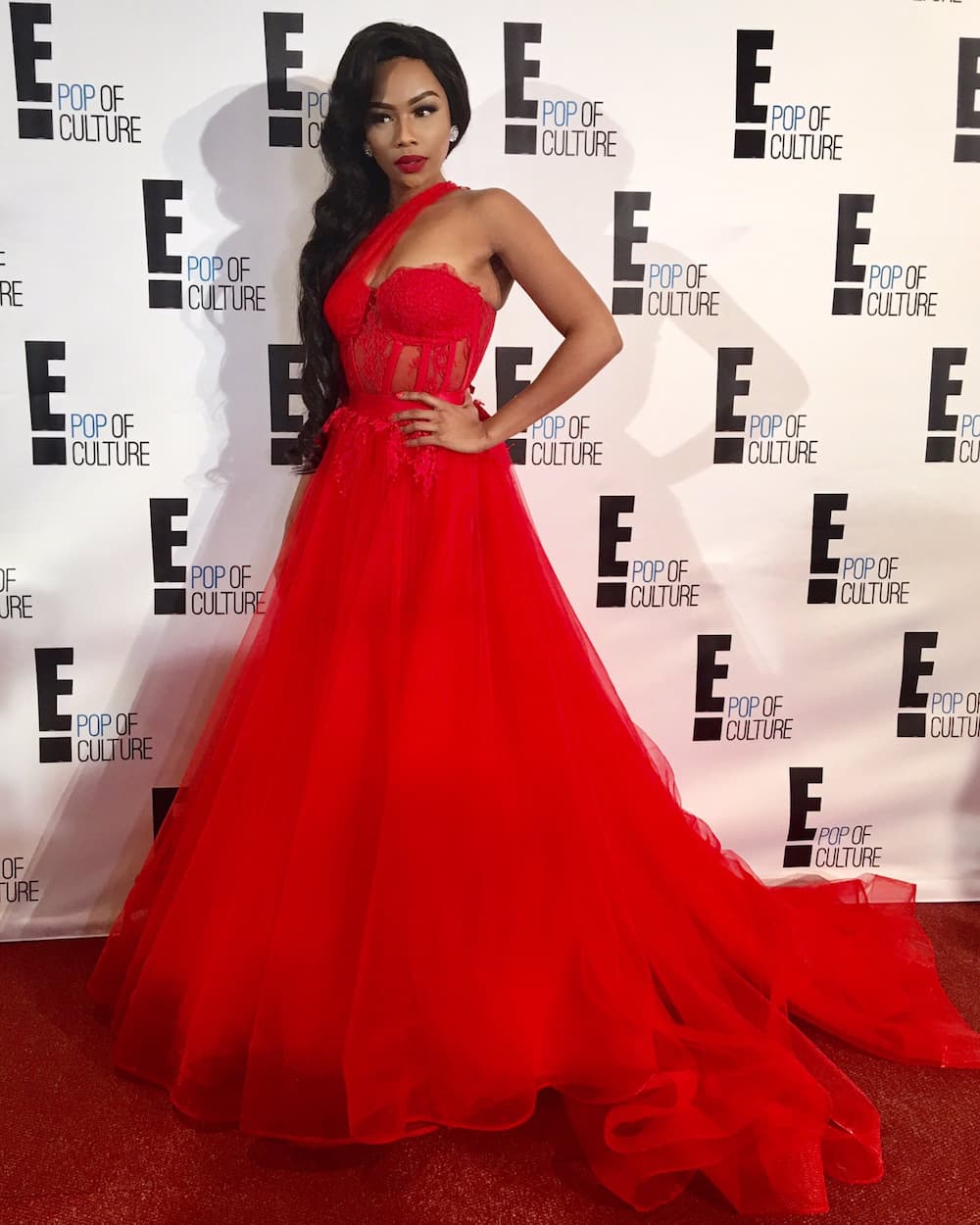 You can never go wrong with red dresses, and you can never go wrong with Bonang in a red dress. This one, for instance, is a long off-shoulder dress that gives her extra silky skin and an extra gorgeous look. It even looks like she loved the dress way too much. In this photo, she captioned ' ....last night was a DREAM COME TRUE!! Thank you for tuning in.... #MissSA #Host '.
This elegant dress complemented her ever beautiful and heartwarming smile.
3. The grey dress - dresses for matric dance
Earlier this year, Bonang announced that she was going to give away three dresses to some lucky girls. While this is not one of the dresses that she is willing to give away, it might show you that she probably still loves the dress. This beautiful long ball dress is definitely in the list of the most elegant dresses Bonang has ever worn. This dress was made by one of the best fashion designers who is known as Zeina Mnabalusi. Cynthia F Crite did the neck piece.
4. Bonang in green - matric ball dresses 2018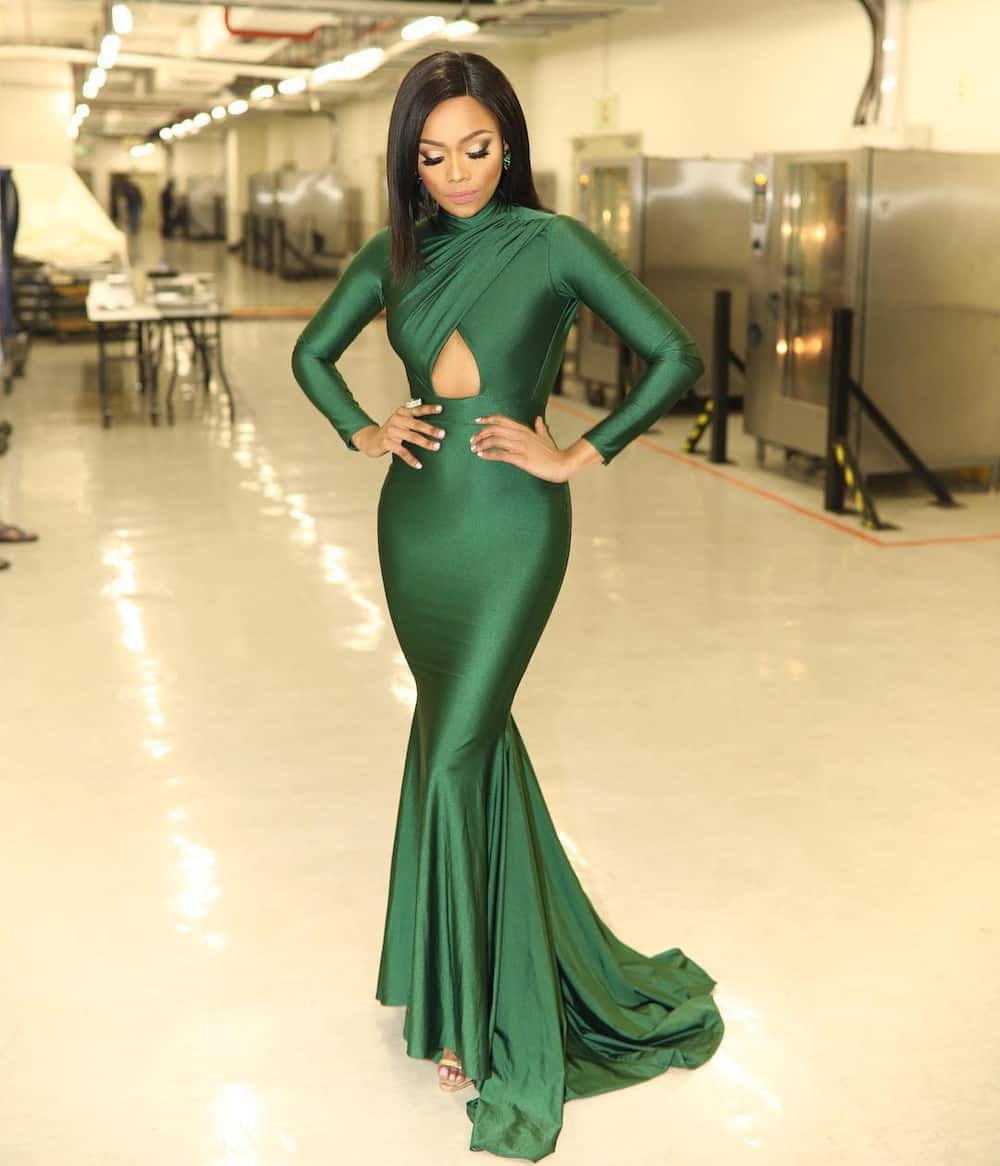 This dress got Bonang admitting that it was her favorite during the night that she had to wear different outfits as a host for the Mzansi Viewers Choice Awards. The dress fit her perfect like a glove, and the fact that she's got that body that all women crave for made her even more gorgeous. This beautiful dress got her looking like the queen B she really is. It did not need any more accessories to compliment it; it was all packed with elegance and style.
READ ALSO: 10 inside facts on the multi-talented Bonang Matheba
5. The dress at her birthday party - matric ball dresses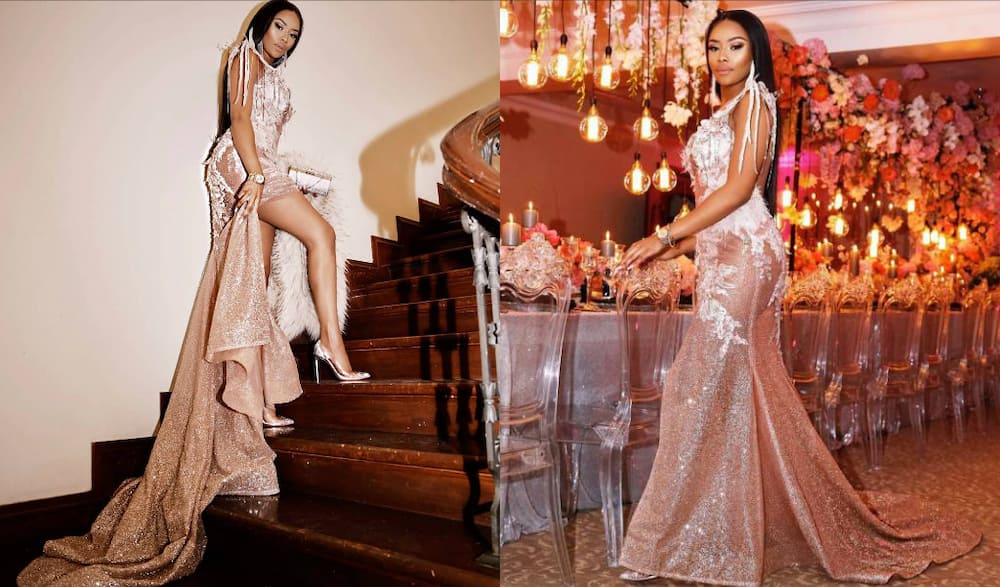 This dress is the one she wore during her 31st birthday, which means that it had to be perfect. It is evident that she was pleased on her birthday. Apart from the fact that it was her birthday, a dress is also one other reason a girl would be satisfied.
6. Floral dress Bonang Matheba
You would wonder why someone is so much in love in such long dresses. Well, long dresses seem to give Bonang Matheba an exclusive look and feel too. This off shoulder long dress is quite a magnificent one, and it provides just that elegant look she deserves.
Matric dance dresses 2018
Earlier this year, Bonang had announced that she would give out some of her red carpet dresses to three lucky girls for their matric dance. If you haven't come across the dresses she is giving away, then you are in the right place. The dresses are just breathtaking.
Below are the dresses for matric dance that Bonang will be giving out.
1. The cream dress - matric dresses 2018
Remember the glamour in the dresses that your favorite radio and TV presenter wore one time, and you were thrilled? Well, what if she decides to give one of those dresses or that dress you loved in particular? Yes, yes, I know it would be great, and that's just what Bonang decided to do to three of her favorite dresses. One of these dresses is a long cream dresses that took away the breath of many.
2. The white dress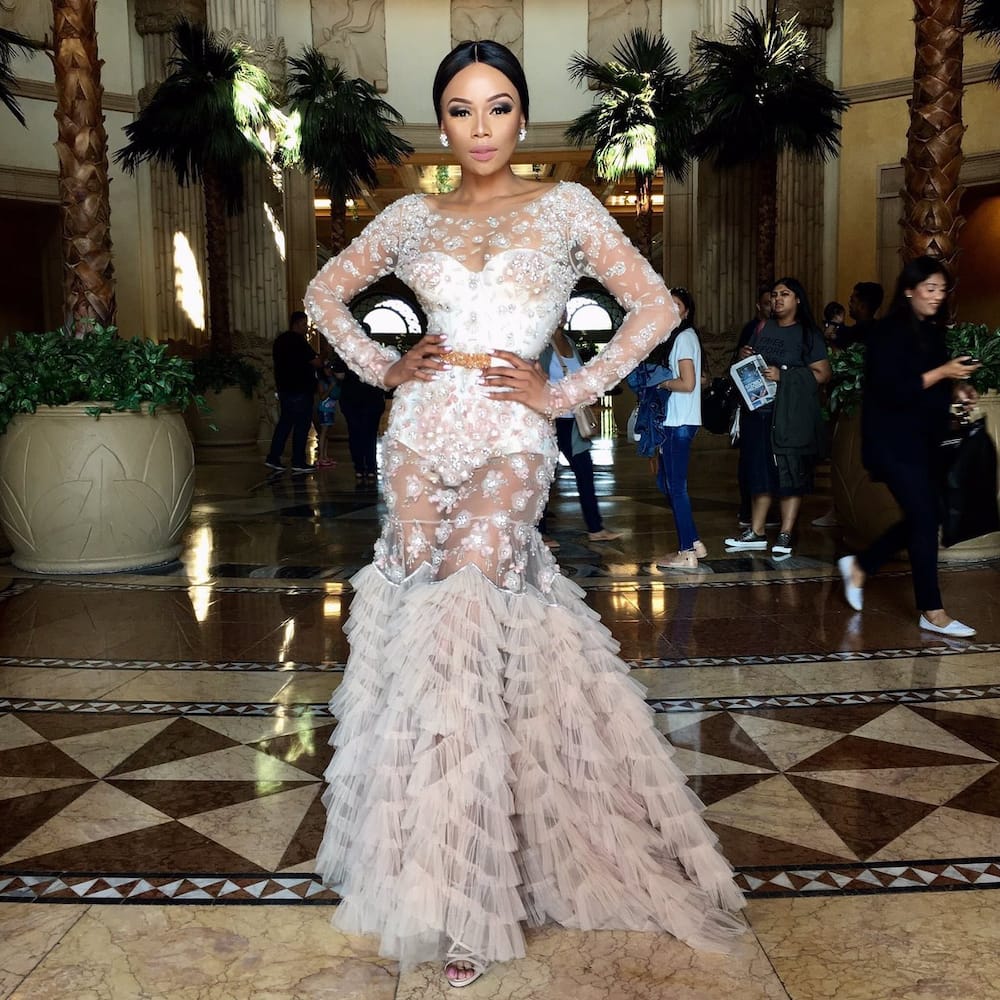 This is the long white dress by her designer Warrick Gautier. This dress is just on a higher level that most of her fans really loved and she it loved too. She wore this dress at the SAFTAS red carpet, and it sure caught the eyes of so many people.
3. The red dress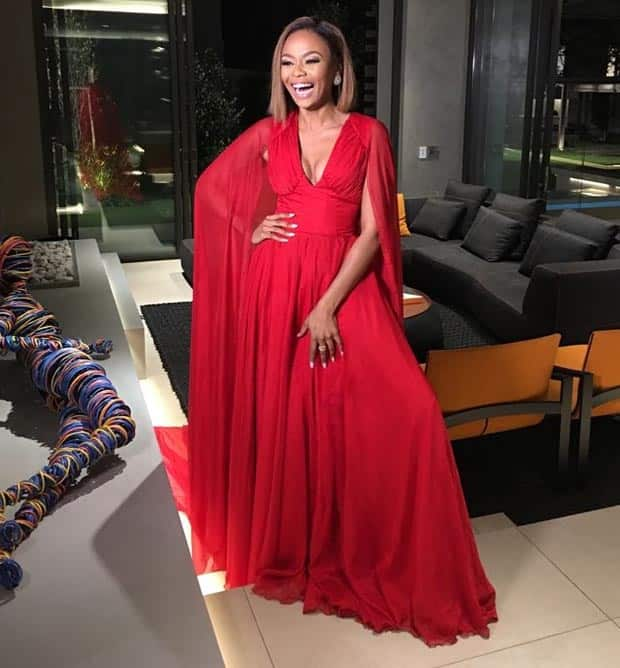 This red dress is worth the competition since it is just a thrilling to see someone in it. This dress is one of the three dresses that Bonang Matheba wishes to give to some three lucky women.
Spree.co.za dresses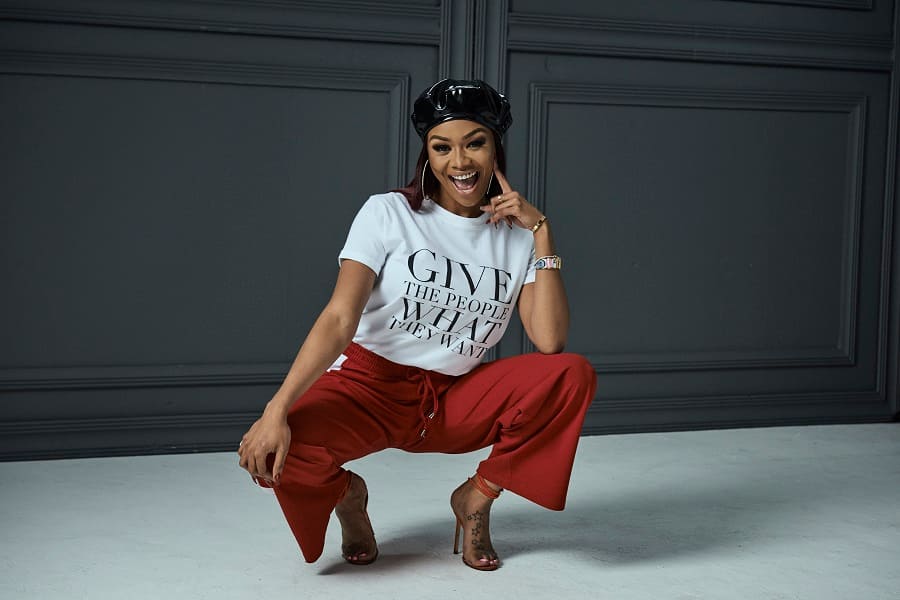 Despite Bonang being so busy, this woman is way more intelligent than you think. She partnered with Spree to bring about a t-shirts line, and she hasn't failed to introduce her fans into her venture. One of the slogans for this Bonang by Bonang Matheba is #iamBonang.
The T-shirts have some catchy phrases like 'give the people what they want' and ' Mo'ghel' which is a famous slogan in her favorite reality TV show, Being Bonang. This is quite an intelligent venture, and this idea is excellent for Bonang Matheba enthusiasts.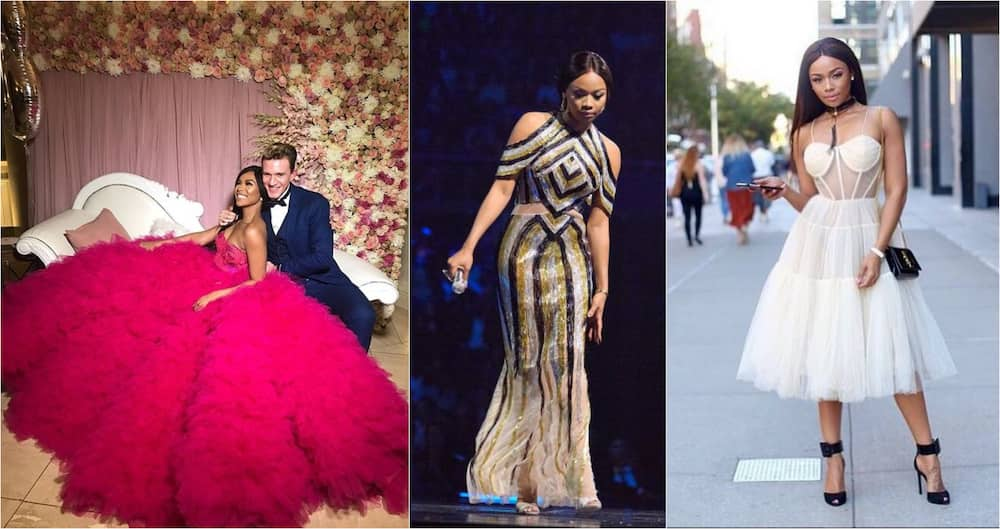 On July 6, 2018, Bonang was able to introduce the T-shirt line. This was welcomed with open arms from most of her fans on Twitter and Instagram. Her cousin pinky is also featured alongside Bonang Matheba, which makes this line of clothing even more interesting. She has also given her fans the opportunity to sign up and to keep checking in for content now and then.
This seems to be an exciting move considering that this fantastic media personality has always got tremendous fashion insights. The T-shirts are guaranteed to have the best fashion designs. Every Bonang fan should be looking forward to this.
READ ALSO: