- A woman, who hails from Mitchells Plain, said she was wrongfully arrested and thrown into jail over R3.99 bread roll at Pick n Pay
- According to the lady, she forgot to pay for the roll, which she ate while browsing the rest of the store
- However, security guards accused her of theft and she ended up spending three hours in jail
PAY ATTENTION: Click "See first" under the "Following" tab to see Briefly news on your News Feed!
The mother of two claimed she was humiliated by security guards after they arrested her over a R3.99 bread roll at Pick n Pay in the V&A Waterfront store on 13 October. She was then taken to the Table Bay Harbour Police Station holding cells.
However, the woman claimed the entire incident was a misunderstanding and the guards failed to give her an opportunity to explain.
According to IOL, the woman is a local at the store since she works nearby and on the day the incident took place she merely forgot to pay for the cheese roll.
She explained she got a cheese roll from the bakery section and started to nibble on it while browsing the store.
The mom added she got distracted while walking through the store and she placed the roll's packet in her pocket.
PAY ATTENTION: Save mobile data with FreeBasics: Briefly is now available on the app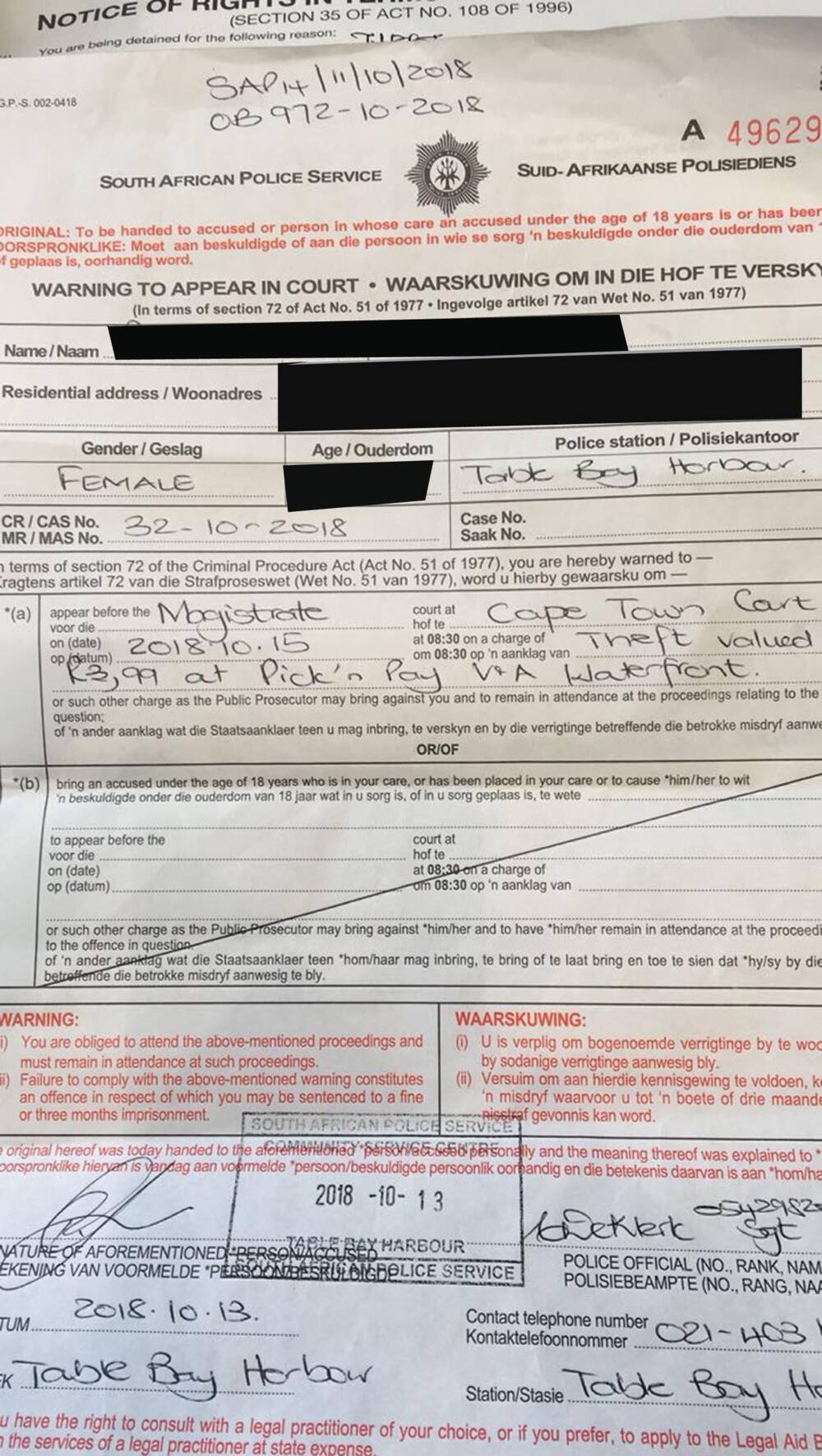 READ ALSO: SA left divided after another video went viral of a drunk on-duty cop
By the time she got to the till she completely forgot about the roll and she paid for her salad. However, after she paid for the other goods, a security guard approached her and accused her of theft.
The woman was dumbfounded by the allegations and she realised what happened- but, the guards did not want to hear her excuse, instead they made fun of her and took photos.
Police came to fetch her and she was taken to the holding cells, where she had to wait three hours.
The case has since been dropped and Pick n Pay released a statement, adding they were serious about preventing people from shoplifting- yet, they were regretful about how the situation was handled.
The statement added, "We plan to meet the customer directly to apologise for what she experienced."
Do you have a story to share with us? Inbox us on our Facebook page and we could feature your story.
Justin Bieber Joke: When Your Mom Hears Baby, Baby, Baby, Oh! Check out more videos on Briefly's YouTube page.
To stay up to date with the latest news, download our news app on Google Play or iTunes today.