The Daily Show boss Trevor Noah is a talented comic personality with limitless rib cracking jokes for his broad base of global fans. The comedian is now better known for his hilarious quotes and jokes on the controversial leadership of President Donald Trump. Trevor Noah quotes about love and life are particularly thrilling for their insightful composition. According to Trevor, comedy is an ingredient to life helping anyone to readily accept the pain and live through it for a better tomorrow. Let us face it, the world around us is crazy, what can we do about it? Trevor insists that we should laugh through hardship as we struggle to bring about change; otherwise, we will all go crazy. If you think about it, this argument is reasonable and applicable in our daily lives. Continue reading to discover more of his thoughtful quotes.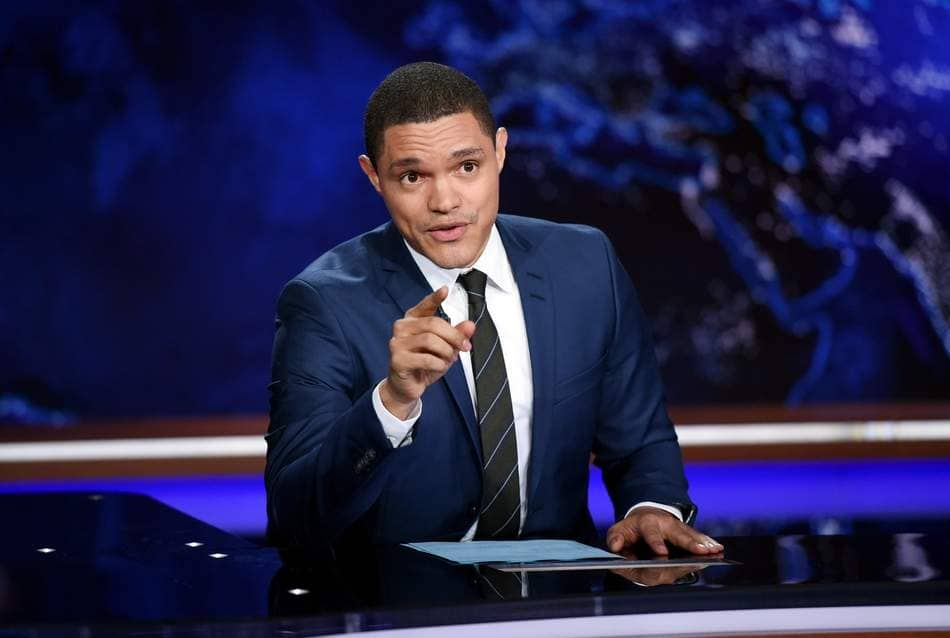 READ ALSO: Trevor Noah salary - How much does he earn?
From Apartheid to Trump and most certainly the Guptas, we have a collection of Trevor Noah's appealing quotes that will leave your day brighter. Trevor Noah jokes are enriched with culture and are universally appealing, thereby stretching across borders. The man can make it in almost any country in the world. This fact explains why the comedian has attracted large numbers of fans who regularly keep in touch with his materials. The celebrity amuses his audience not only with his smartness but also with a mastery of everyday experiences that amount to comic content. Let us now explore Trevor Noah's resourceful quotes relating to love and life.
Trevor Noah love and life quotes
Some are funny while others are philosophical; nonetheless, essential in leading a quality life full of love. Here are some of our best pick quotes that will undoubtedly leave you inspired.
1.
2.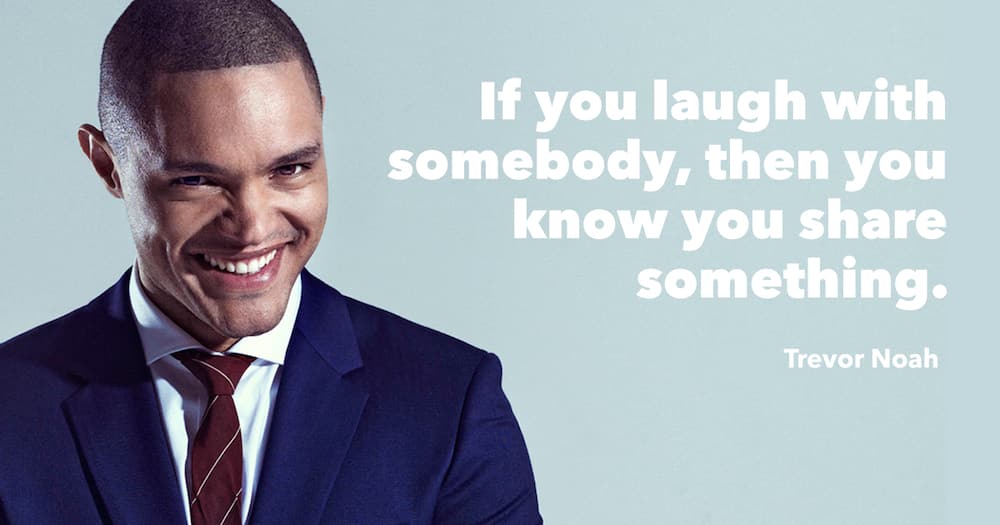 3.
4.
5.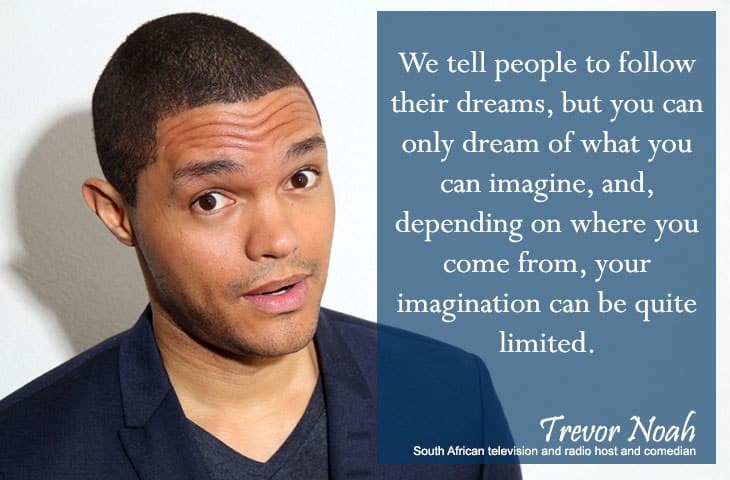 6. If there is one thing that makes white people angry, it is taking back what they took from you...hey, two wrongs don't make a right.
READ ALSO: Trevor Noah book review and summary
More Trevor Noah quotes on love and life
Trevor is particularly reckoned for his funny Afrikaans quotes alongside other featured quotes on racism, governance, corruption, and other progressive topics. Below is a comprehensive list of his best pick jokes and quotes on love and life.
I know that I cannot change the entire world, but I've always believed I can at least affect change in my world.
People love to say, 'Give a man a fish, and he'll eat for a day. Teach a man to fish, and he'll eat for a lifetime.' What they don't say is, 'And it would be nice if you gave him a fishing rod.' That's the part of the analogy that's missing
When you see someone as a human being, you begin to understand most people are doing what they believe is right. I ask myself, "What if you were wrong? How would you want someone to engage with you?"
Freedom is hard work. Just because you achieve it, does not now mean that everything is going to be good. And a lot of the time, the fault falls at the feet of those who delivered the promises of liberation. If we look at the stories across the board, the promises that are made by the politicians are those of a better life
We get angry about the small things sometimes, I feel, so that we feel like we're doing something, so that we don't have to tackle the big things. And it's fine; let people do that. But I'm not gonna now change because of that. You know? Like, the worst thing that happens to me is you don't like me. And then what?
ISIS without guns is just basically a blog
I have never been afraid to fall in love, nor impatient to find it.
Often, people who can do, don't because they are afraid of what people that cannot do will say about them doing.
Now everyone has eyes, and now everyone has evidence. That is really changed how we tell the news and what we get from it.
The truth is, people don't know me. When people don't know you, they're going to try to get to know you as quickly as possible, because you're now taking the place of somebody that they love dearly, or somebody that they hate sincerely, and so they need to know who you are.
I don't think I have thick skin, but I heal fast. It's easy to break through, but I heal fast.
The older you get, the more you start to realize that you can't win an argument in a relationship. You can't win a fight with your woman. Because if you lose, you lose. And if you win, you lose.
I am not a confrontational person or comedian. I think we can explore more things if one of us is not fighting with the other. I take it easy. But I do like comedians who are very different from myself: I love dry comics with deadpan one-liners. I look on and think, 'That's amazing; why didn't I think of that?'
I was the first in my family to board an airplane. I was the first in my family to get kicked off an airplane.
When you are honest in your comedy, you have to acknowledge the world that you're in. Through a comedic voice, you're talking about what needs to be talked about, whether it's race relations or politics or anything that's happening on a global or an American scale.
I've come to learn as an adult that love is a hell of a drug. It's one of the most dangerous things that human beings can have. It's also one of the most beautiful things that human beings can possess because love, on one hand, gives you the ability to care for a human being sometimes more than you would care for yourself. Love, unfortunately, sometimes gives you the ability to forgive somebody and blind yourself to the truth.
In my world, a woman was the most powerful thing that I knew. Still is. A woman made the money in my house; a woman made my food. A woman beat my ass when I wasn't a good kid. Women were behind a lot of what spurred South Africa toward democracy.
As an outsider myself, I always mixed myself with different groups...I've never been afraid to go into a different space and relate to those people, because I don't have a place where I belong and that means I belong everywhere.
Progression, in my opinion, is often identifying shortcomings - whether it's views or the things you're doing in your life, your relationships - and trying to find the places where you improve on those.
I became a chameleon. My color didn't change. But I could change your perception of my color.
I grew up in a world where authority was female. I never thought to call myself a feminist because of branding. I had this skewed idea of feminist: I thought it meant being a woman who hates men. When I read Chimamanda Ngozi Adichie's We Should All Be Feminists, I was like, "Oh, this is what my mom taught me. This is simple. I don't understand why everybody is not this".
Comedy is a great tool. We [comics] are trying to find ways to use humor to enlighten people without preaching to them.
Nelson Mandela was in jail when I was really young, and Winnie Mandela was one of the biggest faces of the movement. In South Africa we have a common phrase - it's like a chant in the street and at rallies: "Wathint' abafazi, wathint' imbokodo." Which means, "You strike a woman, you strike a rock."
READ ALSO: Best friend birthday quotes
I often feel like the woman in your life is your driving force. She's your muse. She plays a big role in determining how confident you feel when you walk out the door. She can add 1,000 kilowatts of energy - or drain that out of you. She said, "No, you're not that funny." I thought, she knows better than anyone.
I think all of us should seek help, and not help is in a - you know, help shouldn't be seen as a frightening thing. Help shouldn't be seen as a weak thing.
Families were living separately from the fathers. And so although, according to African culture, men were the head of the household, the truth is women were the ones who were raising everybody, including men. And growing up with my mother, that was something I really learned to appreciate.
I do feel like I have a sense of the times. A lot of the things America is experiencing now, I feel like I have lived through. I think there is a cause for concern.
I've just come to realize I'm going to share my point of view. Some people won't like me for it. Some people will. I will work every day to be as honest as I can because I do believe that we're all trying to get to the same place. But various people have tricked us into believing that we are not. And I see America going into that space.
Traveling the world I've learned that progressives, regardless of their locations, think in a global space.
In life only three things are certain: death, Adobe updates and taxes
[Languages] became a tool that served me my whole life.
Traveling the world I've learned that progressives, regardless of their locations, think in a global space.
Even now in America, you know, when people say they hate immigrants, they're not referring to a Canadian immigrant. You know, they're not referring to somebody who has an accent who's slightly different to theirs.
People are willing to accept you if they see you as an outsider trying to assimilate into their world. But when they see you as a fellow tribe member attempting to disavow the tribe, that is something they will never forgive.
Relationships are built in the silences. You spend time with people, you observe them and interact with them, and you come to know them—and that is what apartheid stole from us: time.
The first thing I learned about having money was that it gives you choices. People don't want to be rich. They want to be able to choose. The richer you are, the more choices you have. That is the freedom of money.
We tell people to follow their dreams, but you can only dream of what you can imagine, and, depending on where you come from, your imagination can be quite limited
I've always been a fan of issues around race and racialism, and I've loved playing with it. People act as though it isn't an issue, but it's a recurring theme in our lives globally.
As a kid I understood that people were different colors, but in my head white and black and brown were like types of chocolate. Dad was the white chocolate, mom was the dark chocolate, and I was the milk chocolate. But we were all just chocolate.
Language, even more than color, defines who you are to people.
People should always be wary of that because the precedent is set. And it's so much easier to build on a foundation than it is something that doesn't exist. So you see it as something that's happening to people that are not you. And then it expands, and it expands further. And then, one day, you're on a registry
There are many people out there who don't even think of themselves as being averse to facts, but the truth is, they are not getting it.
I think we need to get rid of is improving our minds and our mental health. You know, when when you suffer from depression, you go this is something that I have and I can work on it, you know? I often think of depression, though, as more of a - as more of a symptom than a cause.
I don't even remember hearing about [Immorality Act of 1927]. I just knew about it. I was born into it, so I don't remember my parents ever saying it to me. I don't remember a conversation ever being had around this. I just knew this to be the law because that's what I was growing up in during that time in South Africa.
I think it was something I inherited from my mother, who learned to do it. You know, I, like a baby duckling, was merely mimicking the survival traits that my mother possessed. And I came to learn very quickly that language was a powerful, powerful tool.
You get help at the gym. No one complains about that. You get help from your trainer. That's commonplace, and I think we need to spend more time doing that with mental help. You know, a lot of us have issues that we don't work on and we don't deal with, and I try. I try my utmost.
I think any show has the potential to bring about social change. I do not think any one show in isolation can do it. I think it is a groundswell that needs to continue to be bolstered from all ends.
I guess that is the strange part of the human brain that people have studied for eons - is hatred and self-hatred. You can convince people that the problem is not coming from the top but is, rather, being created by the people who are being oppressed.
I'm not a political progressive, but I consider myself a progressive person. What makes me a progressive, in my opinion, is the fact that I try to improve myself and by large improve the world that I'm in - in the smallest way possible.
I want to be in a position where I get to start off fresh. I don't have any preconceived notion of how I should feel.
When I was learning how to box, that was the number one thing my trainer taught me. He said you can't get angry at every single time I hit you because that's why you're here. You're going to get hit. Acknowledge that you're going to get hit and now focus on how you're going to fight properly. And living through the times is exactly the right way to put it because I have seen a slice of this only on a different continent.
I go - I trace depression back to things. So I go, ok, I look back and I say my self-esteem was affected because of my skin and because my family had no money and I was ashamed of how poor I was. And I look at all of that and I was trying to hide myself. And so I felt like I was less than I was. And so that then leads to you being depressed. And I work on these things.
We all do that as human beings, you know? It's what my mom would call shopping on an empty stomach. You're going to buy food that you shouldn't because, at the time, you are reacting to your hunger.
I think it's despicable. I also think it's frightening that we seem to live through history over and over again. And I don't know if I'm the only one. I feel like, when you read through history books, you always judge those people in that time.
READ ALSO: Hottest Bonang Matheba pictures 2018
Trevor Noah memes
For a comedian of his caliber, there is no doubt we have fascinating memes for you.
1.
2.
3.
4.
5.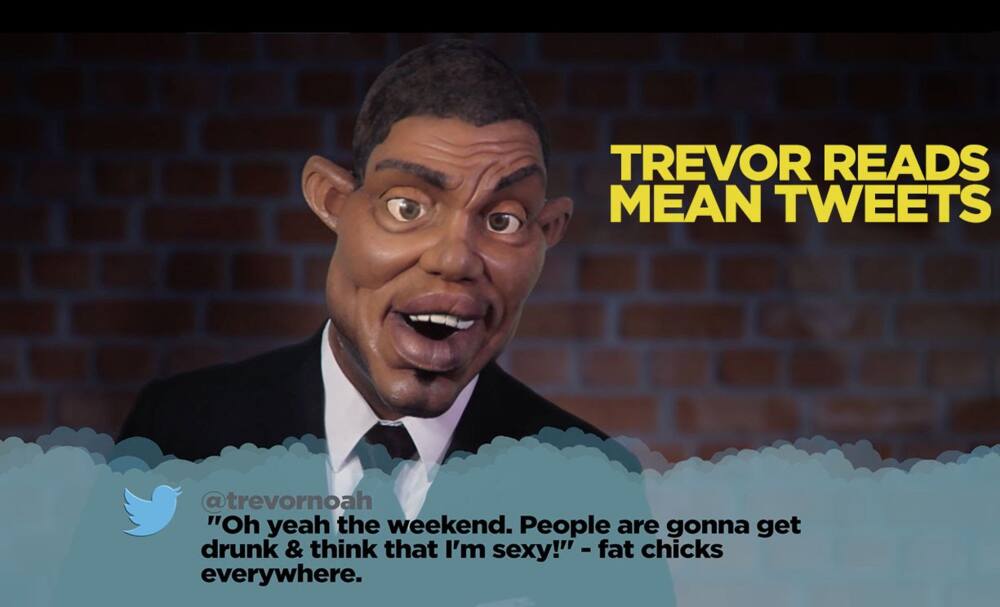 6.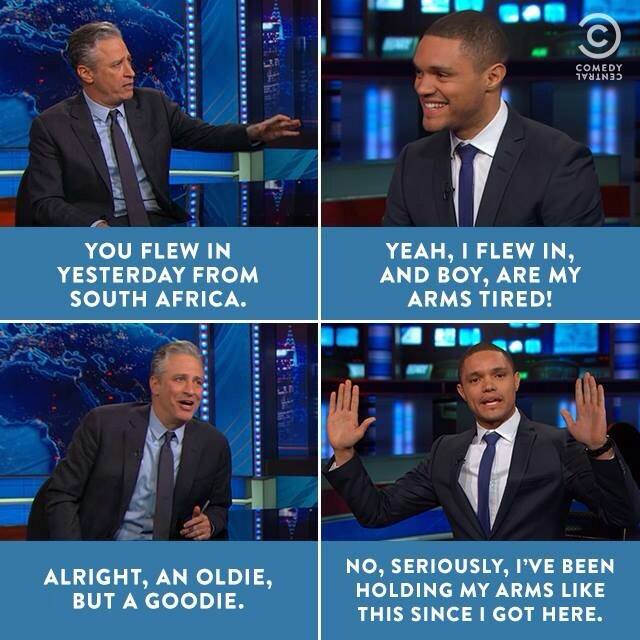 About Trevor Noah
It is no longer a secret that Trevor Noah is a top in the list of comedians across the world. The prolific comedian has written thousands of thoughtful jokes on his book, stand-up comedies, and The Daily Show. Trevor has threaded the ladder of success from his stand-up comedy shows in South Africa and now The Daily Show in the United States of America.
Trevor Noah mom and dad often feature in his shows and writings that have inspired millions of his online fans. If you have watched his stand-up comedy productions, you will certainly agree with us that Trevor Noah Swiss father, Robert, is a prevalent character, especially for his strictness in observing time. The Daily Show host is now a household name in the US but regularly flies to his motherland in SA. Based on his descriptions, we can conclude that Trevor Noah's father is a charming man with a distinct taste of life. Take for instance the stand-up comedy joke whereby he sends the young Trevor to fetch him a watch. It is here that we discover him as a strict man to the meanings of the word and preciseness to time. Trevor Noah's dad and mom are both instrumental to the development of this Soweto born comedian.
Trevor Noah Welcome to America performance in Washington D.C is one his recent shows that provides a closure to life in America. This performance explores major and minor issues surrounding the American lifestyle in contrast with the rest of the world. Trevor Noah Pay Back the Funny is another material that is sparkling to his fans. If you are seeking some laughs, Trevor Noah Nationwide downloads will serve the purpose. Besides, you can catch Trevor Noah Daywalker Show and many more through his YouTube channel.
The South African comedian, writer, actor, political commentator, producer, radio and Television host was born in 1984. Trevor Noah birthday runs in on the 20th of February a time when his fans throw in well wishes for his impactful life.
READ ALSO: Short best friend birthday quotes
Trevor Noah quotes are an endless source of inspiration to many people, and they share da story about a life well lived with the sole purpose of changing the world, one person at a time through laughs. The comedian not only went to America to chase his dream of becoming black but also gained a higher stage to share his vision with a unique and an analytical world-view.
READ ALSO: