Peppermint crisp tart in a glass is easy to prepare, and it is a very popular creamy dessert for many people in South Africa. It is very delicious and easy to make at home as you can see from the recipe discussed below. There is a lot to love in a peppermint crisp tart in a glass. It is a combination of coconut at the base. Then there are tennis biscuits that make it heavenly. The whipped cream, caramel, and the condensed milk that is usually combined keep one longing to have more of the peppermint tart. The topping of peppermint crisp chocolate bar makes the whole delicacy amazing. This popular dish has inspired the preparation of different kinds of recipes, and this explains why it is versatile.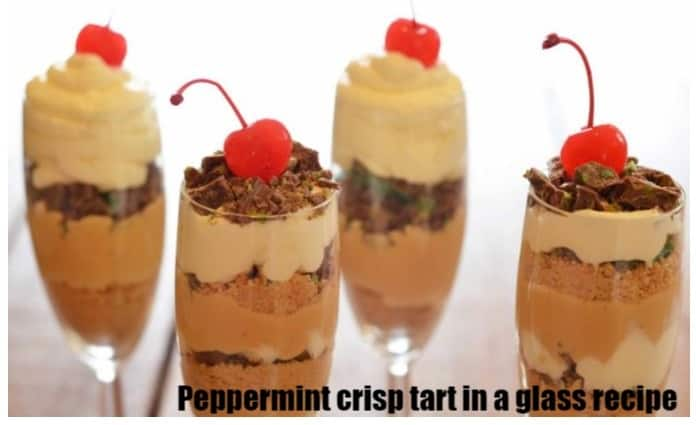 This popular dish is mainly made from peppermint crisp, which is a bar made of milk and chocolate that is filled with several think pieces of mint-flavored cracknel. Interestingly, this peppermint crisp was invented in South Africa and is now produced by big companies such as Nestle. As such, many South Africans enjoy it with pride as it is part of their culture. The peppermint crisp is then used to make peppermint tart.
Easy peppermint crisp tart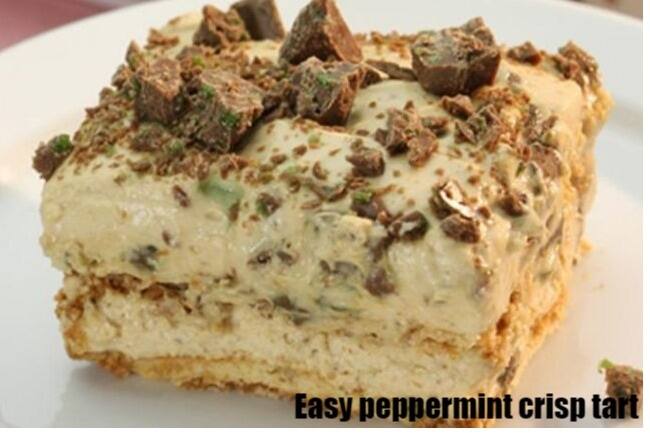 Here is an easy peppermint tart in a glass recipe.
Ingredients
1 packet tennis biscuits
1 can caramel treat
2 cup fresh cream
400 G Peppermint Crisp chocolate
Procedure
1. At the bottom of a glass, spread tennis biscuits. Ensure that the bottom of the glass is fully covered with the biscuits. As such, it is best to spread them in rows.
2. Take a mixing bowl, pour the caramel and mix it thoroughly until it is smooth.
3. In another bowl, pour the cream, whisk it until it forms stiff peaks. Do not overdo the whisking
4. In the caramel bowl, add the whipped cream and 100 gram of the peppermint crisp chocolate that has been grated. Mix them well.
5. After mixing, spread the mixture on top of the tennis biscuits generously and evenly.
6. Spread another set of tennis biscuits and pour the mixture again on top of them. This process continues until the dish is complete.
7. Finally, you can sprinkle the remaining pieces of peppermint crisp on the top.
8. You now have the peppermint tart, and you can place it in the fridge until it is ready to serve.
With this procedure, you can easily prepare a peppermint tart in a glass. It is easy to prepare and does not consume a lot of time. The dish prepared above is suitable to feed six people.
As mentioned earlier, peppermint crisp can be prepared in a variety of ways such as peppermint crisp dessert and peppermint crisp pudding. Many South Africans have found different tricks that have worked to give them a wide range of flavors as well. In the recipe below, you can see how to prepare peppermint fridge tart at home.
How to make a peppermint fridge tart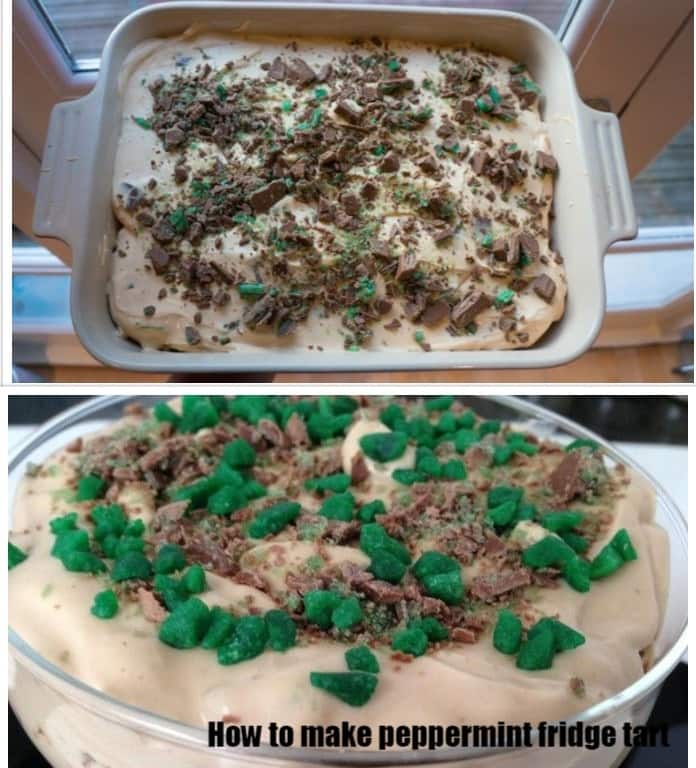 Ingredients
375 ml condensed milk that is sweetened
40 ml lemon juice
200 g tennis biscuits
500 ml custard
Procedure
1. Take a mixing bowl. Add the condensed milk and 5 ml of lemon juice. Mix the ingredients thoroughly. You can add another 5 ml of lemon juice while stirring until it suits your taste. The main aim of adding the lemon juice is to give the milk a lighter color and change its texture. While mixing the two ingredients, be sure to end up with a tangy mixture. Now you can prepare a fridge tart that suits your taste.
2. Ensure to make about 500 ml custard.
3. Take a glass or an oven dish and spread a layer of tennis biscuits at the bottom. Then, spread the custard and cover the tennis biscuits. Ensure that the layer of the custard is 1 cm thick. Be gentle while doing this so as not to displace the position of the biscuits.
4. Spread another layer of the biscuits. Then, spread the condensed milk over the biscuits. Continue with this process until the ingredients are entirely used or when you reach the desired volume of the dish.
5. With the remaining pieces of the biscuits, crush them and sprinkle them on the top. The decoration on the top can be composed of other sprinkles; they do not have to be the biscuit crumbles.
6. Place the dish in the refrigerator for around 5 hours. Make sure to cover it with a tin foil to ensure that it does not get the fridge flavors.
7. Once ready, cut it into small portions and serve.
This recipe is used to prepare the original South African fridge tart. It is easy to prepare and the ingredients are readily available.
For every 88 g of a peppermint fridge tart, there is 30% calories, 9% cholesterol, 12% sodium, 19% carbohydrate and 16% protein. The carbs are essential as they provide the body with energy to carry out various functions. Proteins are also important as they contribute towards the growth of the tissues in the body. However, this dish should not be excessively consumed. This is because of the high amounts of calories and cholesterol. Too much accumulation of fats in the body can lead to problems such as obesity and heart diseases. Therefore, consumption should be once in a while.
Peppermint crisp tart in a glass and peppermint fridge tart are great desserts that any person can try out. They are very easy to prepare. The ingredients are also accessible within the country, and they are not costly. Most importantly, this is not a dish you have to take a long to prepare. Perhaps the refrigeration time is long but preparation only takes a few minutes. You can prepare the peppermint crisp tart in a glass during events such as birthdays.
READ ALSO: