Is smoked Eisbein your family's favorite dish? Are you looking for a recipe on how to cook smoked Eisbein? Do not look further. This content is a reliable guide for the Eisbein recipe. Eisbein stands for a bone that is used in the ice skates' blades though it's a German meal that consists of the cured and partially boiled ham hoc. Read down below to learn how to prepare Eisbein.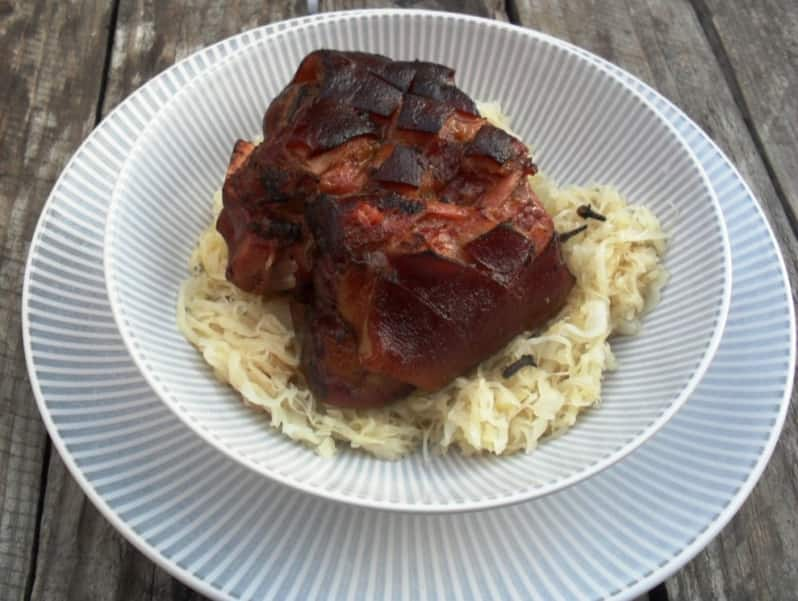 Below are some easy South African recipes for homemade Eisbein with available and affordable ingredients.
How to cook smoked Eisbein
Before you settle on cooking Eisbein, it's essential to learn on how to smoke the pork hocks at home. The process on how to cook Eisbein is quite easy and straightforward as far as you have access to a smokehouse. Below is the procedure on how to make Eisbein at home.
Requirements
Pork hocks (depending on the number to serve)
Stainless hook (depending on the number of hocks)
Spacious smokehouse
Smoking procedure
1. Pierce through an edge of your pork hock using a stainless hook. Repeat on other pork hocks.
2. Hung the pork hocks using the hooks in the hot smokehouse.
3. Allow the hocks to swing freely for even smoking.
4. Once they are smoked and soft (you can test this using a knife), remove it from the smokehouse.
After you get your smoked pork Eisbein, you can either cut it into chuckles to prepare a variety of Eisbein South African meals or serve it side by side with rice, mashed potatoes, and gravy. Below are other recipes to try while cooking smoked Eisbein;
1. Glazed or Pork Eisbein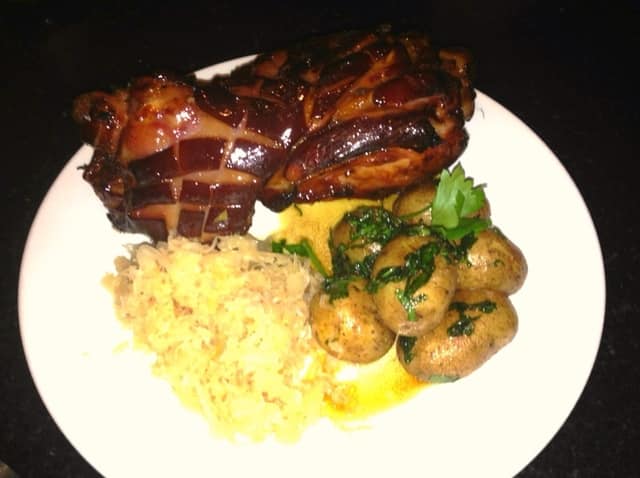 Ingredients
Four pork hocks (smoked)
One onion (peeled and halved)
Twelve garlic cloves
90 ml of sugar (preferably brown)
Six bay leaves
Grounded black pepper
60 ml of the Dijon mustard
60 ml of honey
60 ml of melted butter
Cooking procedure
1. Transfer the pork hocks in a pot.
2. Insert the cloves and onions on the surface of the meat in a protruding way (stud), and then add the bay leaves, brown sugar, and black pepper.
3. Pour in some water unto a level above the hocks and allow it to boil.
4. Lower the cooking heat and simmer for a maximum of two hours or until the meat softens.
5. Heat the oven to a temperature of 220°C.
6. Transfer the soft pork into a roasting tin.
7. Separately, mix the melted butter, honey, and the mustard and scatter over the soft pork.
8. Roast the mixture in the preheated oven until the skin crisps.
9. Your pork Eisbein is ready. You can serve alongside sauerkraut and mashed or baked potatoes.
2. SA's Eisbein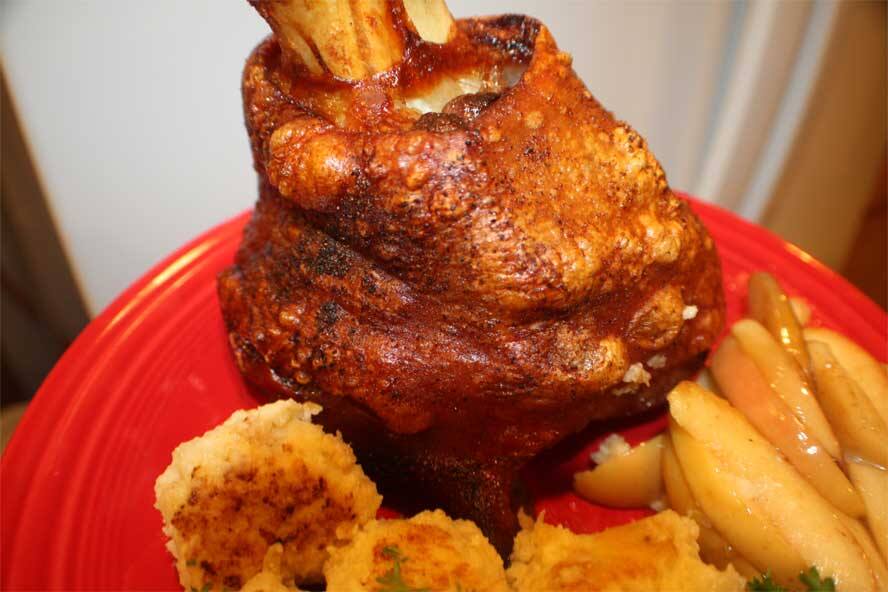 Necessary ingredients
Two smoked hock
Two teaspoons of fruity chutney
Two teaspoons of Worcestershire sauce
Two teaspoons of tomato sauce
One knorr spare rib marinade
Two tablespoons of sugar
100ml of olive oil
150ml of water
A pinch of black pepper
Cooking procedure
1. Cook your smoked hock with some water using a pressure cooker until they soften. Do not overcook.
2. Crack the pork skin over the pork meat. Pour the marinade over the crackled pork meat.
3. Mix the remaining ingredients and then add them to the meat. Do not season with salt since marinade naturally salty.
4. Allow the contents to rest for at least four hours and grill over a mild fire or the oven. Pour the remaining marinade to keep your meat moisturized. Be careful not to scorch the marinade.
5. Your Eisbein will be ready when the rind is sticky and lovely. You can serve it alongside mash or chips and gravy.
3. Deep-fried Eisbein with applesauce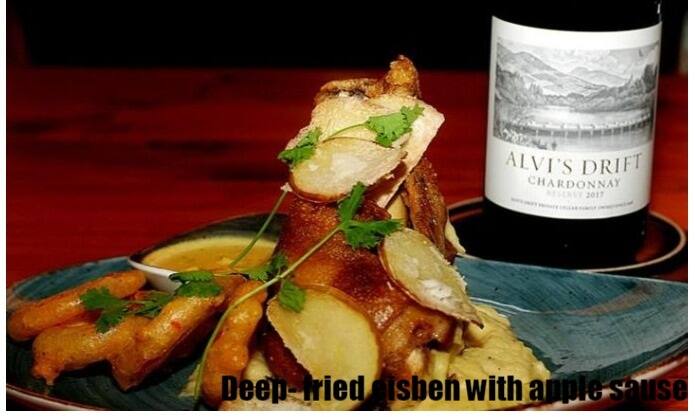 Necessary Ingredients
800g of Eisbein
Eight by leaves
Two grams of cloves
Two grams of PnP black peppercorns
A liter of water
One carrot
One PnP onion
One stalk of PnP celery
Three PnP garlic cloves
Cooking procedure
1. Mix the above ingredients in a cooking pot and cook over medium heat for three hours.
2. Separate the cooked Eisbein from the stock and set aside to cool.
Ingredients for applesauce
100ml of Eisbein stock
40g of Dijon mustard
Two grams of black pepper (coarse)
50g of PnP granny smith apples (sliced into tiny cubes)
Cooking procedure
1. Boil a combination of black pepper, stock and Dijon mustard in a cooking pot.
2. Pour in the apple cubes and cook to form a sauce. Ensure that your sauce is slightly thick and doesn't stick on the pot base.
3. Set the ready applesauce aside.
Ingredients for tomato mash
Two medium PnP potatoes
100ml of water
Two grams of PnP salt
20g of PnP butter
50 ml of PnP cream
Cooking procedure
1. Clean your potatoes and drop them in a pot with boiling water.
2. Peel out the potato skin while hot.
3. Return the dry skinless potatoes in the pot then add cream and butter.
4. Mash it until smooth.
5. Since your favorite Eisbein meal is ready, serve your Eisbein alongside the mashed potatoes and the made applesauce.
4. Fried Eisbein with peas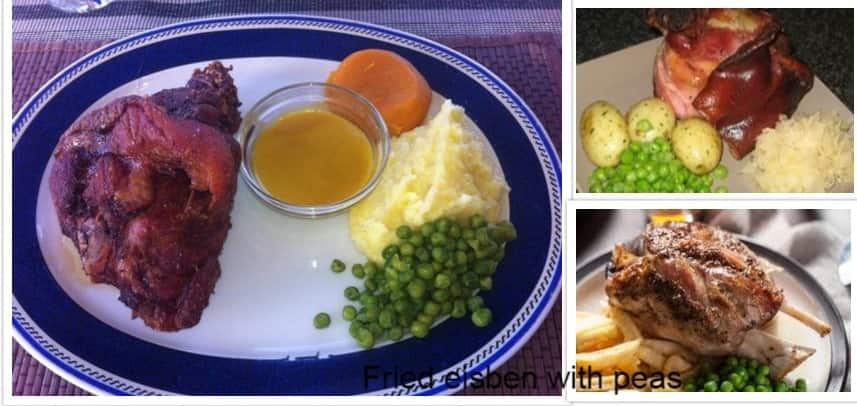 Ingredients
Four sliced onions
Two chopped celery stalks
Cooking oil
Two picked pork knuckles (cleaned and sawn into preferred portions)
15 ml of lemon juice
Some hot water
Four sliced carrots
Four sliced potatoes
410g of onion and tomato mix (if necessary)
410g of drained peas
Nutmeg
Salt and black pepper to season
Lemon slice to garnish
Cooking procedure
1. Fry the celery and onions using little oil in a pressure cooker until they soften.
2. Pour in the pork knuckles, 250 to 500ml of hot water, and the lemon juice.
3. Cook for about 20 minutes or until the meat debones. If knuckles are still rubbery, continue cooking.
4. Add the tomato and onion mix; sliced carrots then simmer over low heat until the ingredients soften.
5. Pour in your peas some minutes before serving.
6. Add pepper, salt, and nutmeg to season.
7. Since your Eisbein is ready, you can serve it alongside rice garnished with a slice of lemon.
How to cook Eisbein in the oven
If smoked Eisbein is your favorite meal, you can always find a way to curb the boredom that comes from getting used to a typical recipe. Below is a procedure to prepare the grilled Eisbein at home;
5. Grilled Eisbein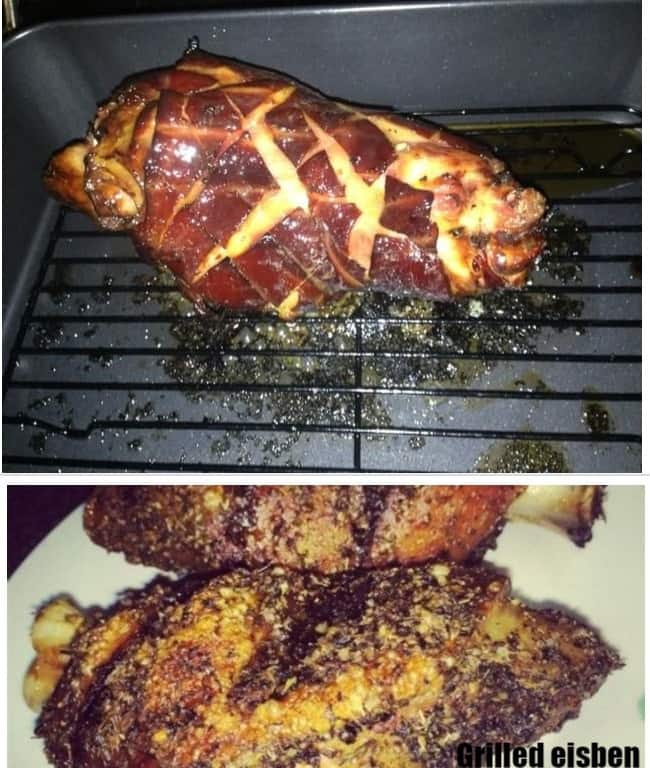 Ingredients
A cup of olive oil
Two tablespoons of dried marjoram
Two tablespoons of dried basil
Two tablespoons of fresh thyme (chopped)
Two tablespoons of rosemary (fresh and chopped)
Two tablespoons of sea salt
A teaspoon of paprika
One teaspoon of black pepper (ground)
A teaspoon of vegetable bouillon powder
Six pork sharks
Cooking procedure
1. First, preheat the oven to a temperature of 350 degrees Celsius
2. Mix the rosemary, marjoram, thyme, olive oil, black pepper, sea salt, paprika, vegetable bouillon powder, and basil in a large bowl.
3. Rub your pork shanks with the herb rub and align them on the baking pan.
4. Roast in the oven for about three hours or until the pork shanks soften, and the outer skin is crispy.
Finally, pigs are among the cheapest yet profitable domestic animals to rear especially if you keep them in herds because you can feed them on food leftovers until they mature. Secondly, the above procedures on how to cook smoked Eisbein are simple since you only need the local ingredients plus your favorite spices and flavors. Nothing should separate you from enjoying your smoked Eisbein; you need to try the above Eisbein recipe South Africa.
READ ALSO: